Are you someone who is research-oriented & has a passion for academics? Well, a Ph.D. is surely the best option for you! It will help you explore all the details of your particular field & will make you a master in that. Moreover, your passion for research & innovation will be satisfied with the learnings of this doctorate program. So, what are you waiting for? Just go & grab the opportunity you have dreamt of! Wait a minute, are you questioning your eligibility for the same due to a PG degree in an online MBA?
Well, this blog is going to be a perfect read for you. Let us clear your doubts by addressing all of the questions that have kept you waiting to join a PhD program for working professionals.
An Overview of Ph.D.
Doctor of Philosophy or Ph.D. or PhD is a doctorate-level education that requires a high level of dedication & focus. It is one of the most sought-after degrees among the candidates aspiring to become professors or lecturers at the university level. At most universities, the duration of this program ranges between 5 and 7 years. In some universities, this duration reduces to 3-5 years. Candidates who have completed their postgraduation program in any major are eligible to join this doctorate course.
The common entrance exams conducted in India for the PhD program include UGC NET, CSIR NET, GATE, & IIT JAM. To enroll in a reputed government-approved university for this program, you need to crack any one of these exams with the minimum cut-off marks. To get it from a foreign university, you need to clear the TOEFL & GRE/GMAT exams based on your selected country & course specialization.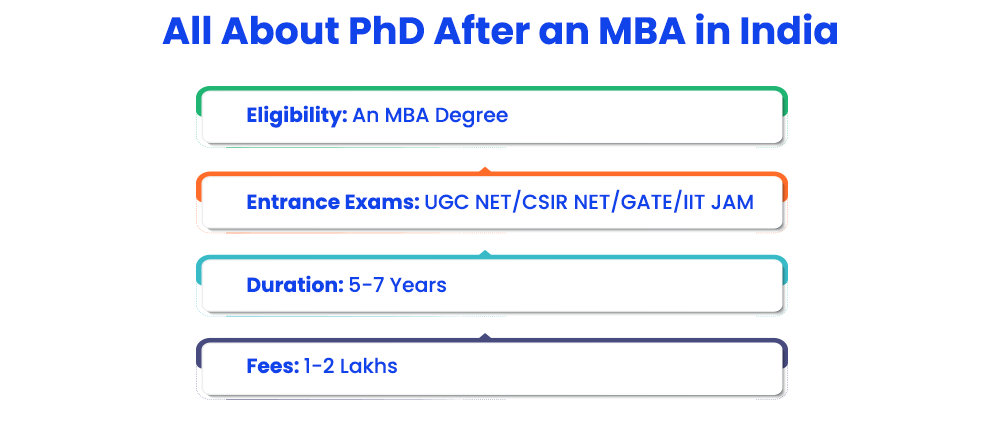 After getting enrolled in the course, you need to carry out your course work in terms of research which will be submitted in the form of a thesis/dissertation towards the end of your program. Moreover, you need to clear the viva or the personal interview to get your PhD degree from the university.
Is Your Online MBA Degree Eligible for a Ph.D. Program?
Online education has taken over the education industry in the past few years. Apart from its positive impact on the learner's career, there are still a lot of myths associated with it. The number one on that list is that online degrees are less respected in the market & are not considered for higher education.
To settle this argument, we have this simple example of the fact that your online MBA degree does not make you any less eligible for a PhD program. The only thing that matters here is that your online degree must have been completed from a UGC-approved university. With valid documents including a mark sheet, degree, & provisional certificates of online MBA, you can apply for this doctorate-level program.
Not only in India but international universities also entertain candidates for PhD admission who have completed their online MBA in any specialization.
Top Specializations of Ph.D. After Online MBA
After completing your online MBA program, you will be familiar with the specialization domains with a good future scope & the ones that favor your interests in the business industry. Some of the trending majors in the business field that are quite popular at the doctorate level are listed here.
| | |
| --- | --- |
| PhD in Finance | PhD in Marketing |
| PhD in Operation Management | PhD in Organizational Behavior |
| PhD in Management Studies | PhD in Business Economics |
| PhD in Human Resource Management | PhD in Accounting |
| PhD in Information & Technology | PhD in Commercial Law |
The admission process, eligibility criteria, & duration of these above-mentioned doctorate specializations are the same but differ in terms of fee package & curriculum.
Top Colleges for Ph.D. After an Online MBA in India
There is a range of authentic universities that offer doctoral courses even after an online MBA program. These universities not only help you achieve your professional goals but also provide you with global recognition in the business industry. Based on the entrance exams & specializations offered, you can choose your university for this program.
IIT Madras

XLRI Jamshedpur

IIT Bombay

KIIT Bhubaneswar
The admission process, fee package, eligibility criteria, curriculum, & duration of the doctorate programs in the business domain differ based on your choice of the university.
Trending Specializations in DBA/Ph.D. After Online MBA
Career Scope of Ph.D. After Online MBA
The most opted career after completing a PhD program even in the business domain is teaching. Nearly 80% of doctorate candidates choose teaching as their profession & the remaining 20% make their way to the corporate sectors.
The addition of a doctorate-level program to your resume will help you attain stability in your career in terms of finances & designation. The in-depth knowledge of research-oriented business strategies will make you an expert in the business industry.
Your innovative approach to an organizational issue will help you stand out from the crowd of business professionals. Apart from the research field, here are a few top profiles that you can explore upon completion of your PhD after online MBA.
| | |
| --- | --- |
| Research Analyst | Management Consultant |
| Professor/Lecturer | Entrepreneur |
| Chief Financial Officer (CFO) | Chief Executive Officer (CEO) |
| Business Development Consultant | Academician |
The salary package offered to a PhD candidate in India is between 7 to 17 lakhs which varies with their skills & experience in the corporate or academic sector. This package applies to candidates who have completed their doctoral program after their MBA.

Is There Any Easy Alternative for Regular Ph.D. After Online MBA?
Since we live in an era where digital transformation is at its peak & is creating an impact in almost every sector of the industry, how can we forget about the education industry? Starting from 12th grade to the doctorate program, every level of education is now being offered in flexible modes at authentic government-recognized universities & institutions. These modes include both hybrid & online formats.
After completing an online MBA program, you can go for two modes of doctorate program, i.e., regular or online. For the regular one, you need to attempt & clear the entrance exams & give a full-time commitment for around 5 years.
Online PhD courses are introduced by universities to make the higher level of education accessible to all. With a busy work schedule & growing financial needs, everyone can't take up a regular doctorate program & dedicate 3-5 years completely to it. Because of this major reason of time commitment, most of the aspirants step back from taking up this program.
Thus, universities not only in India but in foreign countries as well are offering online & hybrid doctorate programs with a direct admission process without any tests or interviews. This way these programs become more feasible for working professionals. Moreover, the affordable cost & shorter duration (3 years) attract many individuals who have been planning on a PhD degree for a long time.
At international universities, a PhD in the business domain is referred to as the Doctorate of Business Administration (DBA) which is the highest qualification in business administration. Upon completion of your online MBA, you can even apply for a DBA program at your chosen foreign university.
Top Trending Articles
Conclusion
Upon completion of your MBA program, you can either go for a job or a regular PhD program or pursue an online/hybrid PhD program along with your job. These choices are available to you even if you have acquired an online MBA from a government-approved university. Moreover, your online MBA degree makes you eligible for a DBA course offered by reputed international universities in regular/online/hybrid mode.