Tableau is a tool used for data visualization at a faster and more efficient pace. The use of this tool in every sector has made the data more descriptive and interesting which is helpfu
An online tableau certification equips individuals with the basic knowledge of data extraction from different sources and its processing to get the desired visualization that fulfills the main purpose. This course provides a deep understanding of related tools like Tableau Prep Builder, Charts, LOD expressions, Tableau Desktop, and Tableau Online which are essential to be known as a certified Tableau professional.
The curriculum of this program provides adequate knowledge of BI tools, Data Visualization, and Data reporting techniques. The practical skills learned in this program enable individuals to create meaningful and innovative data visuals that can fast pace the decision-making process dependent on that data.
Key Highlights of Online Certificate in Tableau
An upskilling tool in data visualization can be gained by learning Tableau in just 3-6 weeks.

All the dependent tools for Tableau can be learned in the same course

.

Online lectures delivered by highly qualified and experienced industry experts deepen the subject knowledge theoretically as well as practically.

Study material, e-books, recorded lectures, and PPTs are accessible for life long period after getting enrolled in this program.

Project-based practical knowledge is one of the highlighted features of this course.

The doubt-clearing sessions by faculty members hold great value in providing a clear and in-depth understanding of the topic.

The technical skills taught in this program cover all the essential aspects of the related field.

Hands-on training on tools enables learners to implement the changes on the dataset.

Industrial recognition and a certificate are earned on completing this course.
Curriculum Design of Online Certificate in Tableau
The syllabus of this course is set by industry experts who hold a significant experience in the field. The course structure of this program is designed to provide technical learning of topics covering basic to advanced levels. The core subjects of this topic involve:
| | |
| --- | --- |
| Data Preparation using Tableau Prep | Data Connection with Tableau Desktop |
| Basic Visual Analytics | Calculations in Tableau |
| Advanced Visual Analytics | Level Of Detail (LOD) Expressions in Tableau |
| Geographic Visualizations in Tableau | Advanced Charts in Tableau |
| Dashboards and Stories | Get Industry Ready |
| Exploring Tableau Online | Project |
Projects Involved in Online Certificate Course in Tableau
The application-based projects that are allocated during the ongoing session of the course are based on the specific real scenarios of the industries of different sectors.
- Media and Entertainment-Based Project
You need to analyze and correlate a movie rating based on the reviews of audiences and critics. Use the knowledge of this program to represent your data.
- Retail-Based Project
You need to extract data from purchasing patterns of consumers and develop it into a data visualization to monitor and scale business sales.
- Transportation Project
You need to develop data for investment on behalf of a transport company to benefit its future prospects through this investment.
- Life Sciences Project
Create a dashboard to monitor the consumption of FDA drugs, their effectiveness, and the ratio of companies that produce drugs with the least side effects.
Eligibility Criteria for Online Certificate in Tableau
Applicants must have a 10+2 Pass out/ Diploma/ Graduation degree completed from a reputed university or college. A prior understanding of SQL and R programming provides an edge to the candidates over other course learners.
Duration of Online Certificate in Tableau
The shortest period in which this course can be completed is 3 weeks and the maximum it can take is 6 weeks. This change in the duration is due to the different choices of batches available in this course. The 2 batches in which one can complete this course is the weekday and weekend batch.
Fee Structure of Online Certificate in Tableau
The fee package of this online program is quite affordable and ranges between 19,000 INR and 22,000 INR. This range covers the special discounts one can get during admission and GST charges.
Admission Procedure for Online Certificate in Tableau
The process of admission to the Tableau certification is quite simple and can be completed quickly. You just need to:
Sign Up at the website

Select the course

Select the batch

Pay the fees

Skills Learned During Online Certificate Course in Tableau
The skills that will be taught in this course are quite beneficial in understanding the workflow using Tableau. The list of the technical skills that can be learned through this course is provided here.
Data comprehension

Tableau Statistics

Effective Storytelling

Analyze Data for Decision Making

Analytical and Visualization

Arithmetic Logical LOD Calculations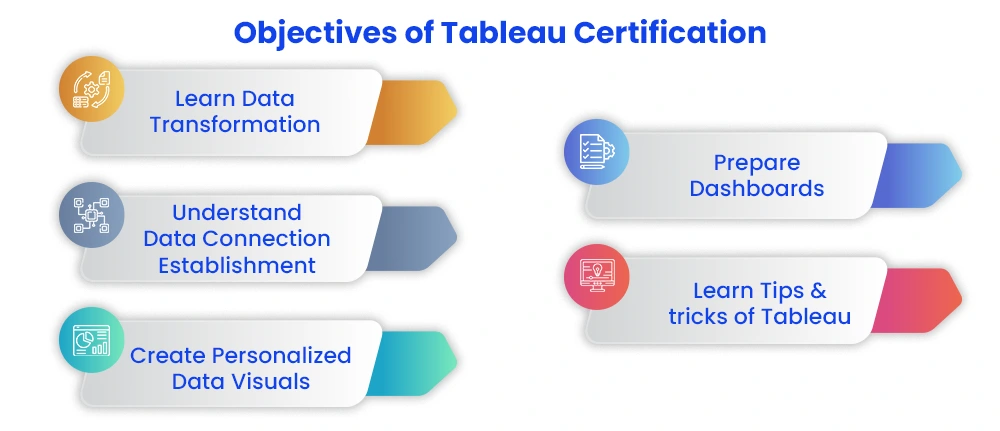 Tools Learned During Online Certificate Course in Tableau
The tools that improve and enhance the working of Tableau when incorporated into the data visualization process are also a part of the curriculum of this program. The tools that are widely used in data processing and analysis involve:
Tableau Desktop

Tableau Online

Tableau Public
In-Demand Other Online Specialized Certifications
| | |
| --- | --- |
| Online Certificate in Advanced MS Excel 2016 | Online Certificate in Microsoft Power BI |
| Online Certificate in MSBI | |
Salary Package After an Online Certificate in Tableau
The salary package of a certified Tableau executive starts from 4 Lakhs and goes to the annual package of 9 Lakhs. Some top MNCs and firms offer high packages to these professionals depending on their skill sets and their demand rate in the market.
Career Opportunities After an Online Certificate in Tableau
A certified professional in Tableau has a proficient knowledge of expressing data analytics in the forms of charts and graphs. The emerging need for these professionals has increased their demands in the different sectors of the market like information technology, eCommerce, the stock market, banking, aviation, etc. for different job roles as mentioned here.
Data Analyst

Senior Data Analyst

BI Developer

Analytics Manager

Analytics Consultant

Business Intelligence Analyst

Data Scientist
Top Companies Hiring for Certified Tableau Professionals
The surging field of Tableau has made it one of the hot markets for business analytics professionals. The increasing demand for Tableau professionals is not limited to any particular domain rather it is a requirement in almost all fields.
Top recruiters, that hire certified Tableau Professionals include:
| | |
| --- | --- |
| Microsoft | Johnson Controls |
| KPMG | Dell |
| IBM | VITAS Healthcare |
| MicroStrategy | GoodData |
| Tableau Software | Google |
| Facebook | Verizon |
| Tibco | SAS |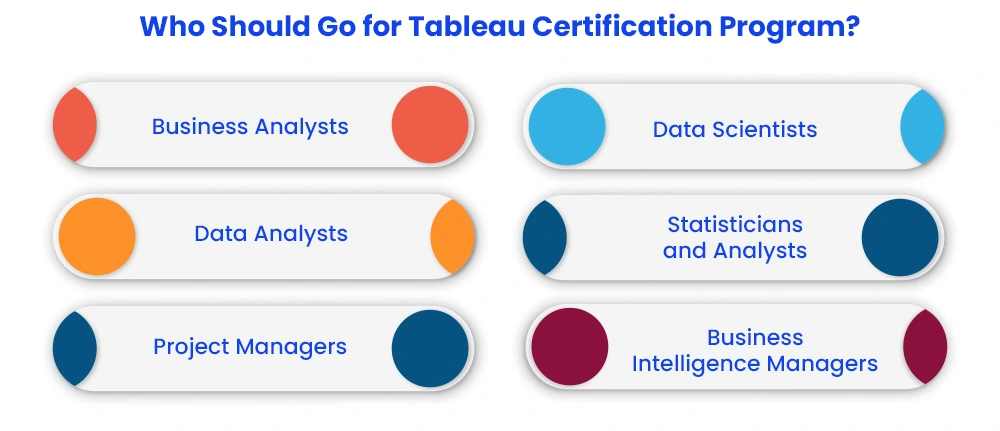 How to Choose an Online Course?
There are a varied number of factors that must be taken into account before finalizing an online course. These factors include course recognition, career scope, fee package, and others.
Some of the key points are highlighted here to help you in making a better choice for yourself:
Choose a course that you can take and pursue in the long run.

Look for the career scope one gets after completing that particular chosen course.

Check whether the chosen online program is approved and recognized in the market or not.

Check the involvement of advanced tools and skills in the curriculum design of the course.

Compare the other options & finalize the one that is in favor of your pocket.