A dual degree is always more beneficial than a single specialization degree & if it is available in the same duration & fee structure as that of a single degree, you should not miss that opportunity. The online availability of this dual degree program provides unmatchable career options for working professionals or executives. The flexibility that you get in the learning module of this program is something that makes this course quite popular among executives.
An online dual degree program in executive MBA aims to provide experienced business professionals with the required skills & training that make them find their place in the panel of Board of Directors or top leaders in the same or different organizations.

The curriculum of this program covers a wide range of specializations that strengthens your theoretical understanding of the topics. The projects, assignments, case studies, & other technical aspects of this course structure play a vital role in equipping you with the latest methodologies being used in the industry. Hands-on training on the relevant tools makes you work efficiently & provides you an edge over others in the industry.
Another highlight of this program is the 100% career assistance that is provided via a number of services including webinars with industry experts, mock interviews, grooming programs, and others. The career options that you get after completion of this online dual degree in EMBA are similar to those that you get in full-time dual degree courses. Moreover, most universities offer such dual programs only in the online mode of learning to maintain the choice of flexibility for its aspirants.
Key Highlights of Online Dual Degree in EMBA
Earn AICTE & UGC-approved degrees in the duration of 27 months.

Learn the technical aspects of interdisciplinary fields even after serving the industry for many years in an online dual EMBA program.

Keep your learning going with the flexibility of online programs at any age.

Develop industry insights & get professional training on the recent tools for efficient workflow.

Expand your professional network & interact with top industry experts via online classes.

Learn the real-world development & implementation methods with an industry-relevant curriculum.

Build your job-ready skills & improvise your career prospects by working on a capstone project.

Get assisted by a highly committed Student Support Team for academic & non-academic help.

Avail of 100% placement assistance services & secure a job with a high-ending package by the end of the course.
Specializations Offered in the Online Dual Degree in EMBA
| | |
| --- | --- |
| Modern Project Management | Marketing Management |
| Technology & Operations Management | Finance Management |
| Human Capital Management | Human Resource Management |
| Construction And Project Management | Project Management |
| Strategic Marketing Management | Operations Management |
| Global Logistics and Supply Chain Management | Supply Chain Management |
| Banking & Financial Services Management | |
Eligibility Criteria for Online Dual Degree in EMBA
Each university set its own specific eligibility criteria for the admission of candidates in an online dual EMBA program. However, some of the basic requirements that you must fulfill before applying to this program are listed here.
Candidates must have completed an EMBA in any specialization from a recognized university.

Candidates who have completed their graduation from any discipline or equivalent & have 5+ years of experience in the related field can also apply for the course.

Aspiring candidates need to have a LOR (letter of recommendation) from professional or academic references to represent their potential for the course.

A statement of purpose (SOP) is also required for the program that justifies your motives & purpose for pursuing the program.

The medium of instruction used in this program is English & some universities offer admission to the program based on the scores of TOEFL or IELTS exams.
Duration of the Online Dual Degree in EMBA
The duration of this online dual EMBA program is 27 months which is not much longer than a regular MBA degree. Thus, in just 3 extra months, you can acquire a dual degree in EMBA with much wider career prospects & opportunities.
Fee Structure of the Online Dual Degree in EMBA
The fee package for such a technical online program is quite economical & costs around 1,75,000 INR to 1,85,000 INR. This range in the fee package reflects the variation of fees depending on certain relaxations offered by a specific university.
The fee structure provided here is generally offered for a single degree course at most universities but now you can avail of the benefits of a dual degree program within the same fee range.
Admission Process for Online Dual Degree in EMBA
The admission process for an online dual EMBA degree is university specific & is different for different universities. However, the basic steps followed are listed below:
Step 1: Access the admission portal & fill out the admission form provided. You need to fill in all the mandatory fields & then submit it along with the documents listed in the form. The list of documents might include your educational mark sheets, certificates, resume/professional brief, LORs, and SOPs.
Step 2: After submitting your admission application, you need to wait for the university's admission committee to respond. This might take 2-3 business days as the committee verifies your details for a background check & then gets back to you.
Step 3: After getting shortlisted by the university, you will be invited for a personal interview in-person/video conference. The interview is aimed to analyze your communication skills & capability to pursue this program.
Step 4: If you have given GMAT or EA exams, you might get admission based on the results of those exams. However, you still need to provide all the docs, go through the verification, & a personal interview to confirm your seat.
Step 5: After the interview, you will receive a confirmation of admission in the form of a University Offer Letter.
Step 6: Candidates enrolled via a scholarship need to deposit the amount mentioned on the offer letter for successful admission. Others can simply deposit the course fee & reserve their seats in the program.
Career Scope After Getting an Online Dual Degree in EMBA
An Executive MBA offers a diverse option of careers in the area of specialization chosen in the program. These opportunities increase by a great number with a dual EMBA program that can be done in 2 different specializations. With a choice in the fields, this online program is something that can make you achieve the topmost position in your firm.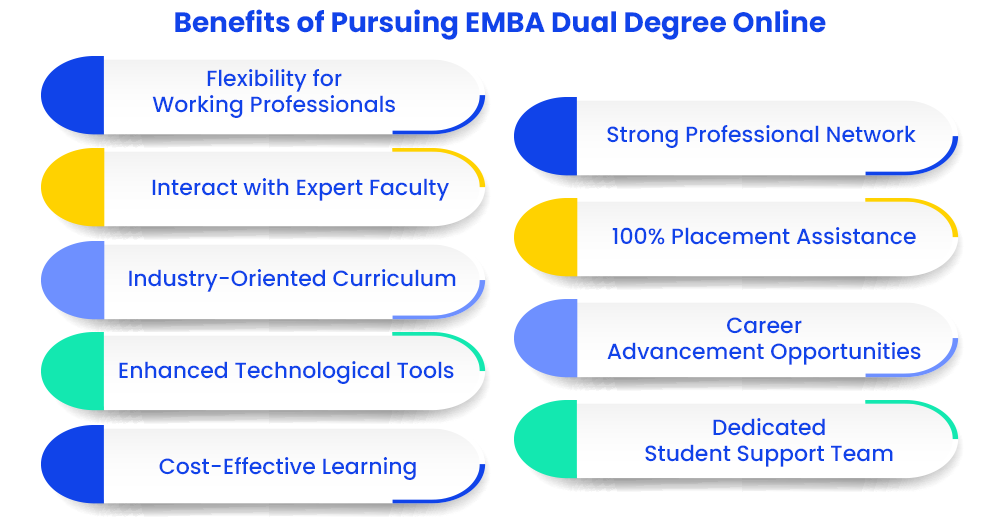 With the technical aspects learned in this program, candidates can secure high-paying jobs in different sectors of the industry. The versatility in the career is one of the most alluring features of this dual degree program.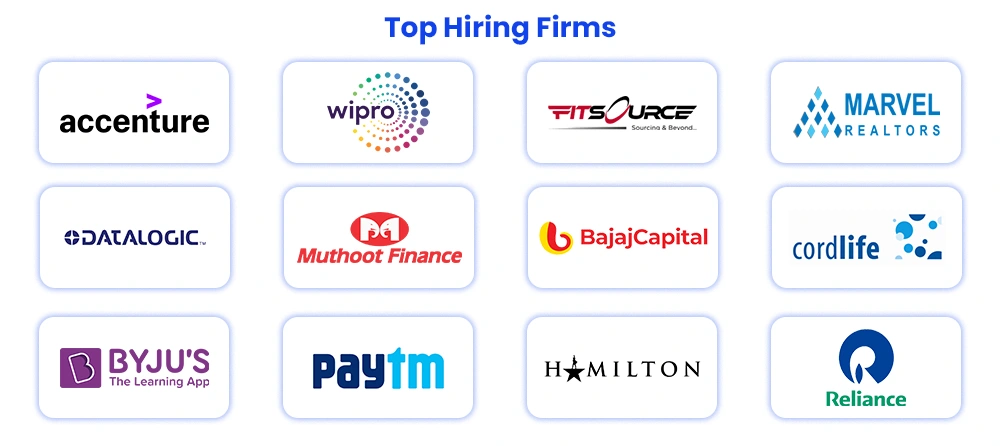 Some of the career roles that you can take after completion of an online dual EMBA degree include:
| | |
| --- | --- |
| Chief Compliance Officer (CCO) | Chief Human Resources Manager (CHRM) |
| Chief Analytics Officer (CAO) | Chief Green Officer (CGO) |
| Chief Security Officer (CSO) | Chief Marketing Officer (CMO) |
| Chief Data Officer (CDO) | |
| | |