An online executive MBA (Executive MBA) or PGDM Executive in the specialization area of Human Resource Management (HCM)is designed to equip you with the latest technologies & tools used by the Human Resource Department of any organization. A HCM professional is responsible for acquiring & managing a team of employees in an organization.
The learners of this online program get to know about the strategies to retain the talent pool in the organization by providing physical & mental well-being to them. Through this online Executive MBA course, you develop the skills & tactics to build the image of an organization as a good employer in the market.
This online Executive MBA program in HCM covers the basics & advanced topics of Human Resource Management. It also provides you with an overview of global HR practices & Laws along with the latest tools & information systems. The course structure of this online program is revised from time to time as per the AICTE guidelines for any updates.
The syllabus for the program is designed by industry experts & professors holding an experience of more than 10 years which not only enhances your core learnings but also the practical knowledge of the field. The career prospects of this online course are identical to those offered after the completion of an on-campus program. Moreover, the career assistance services that you avail of in this online Executive MBA in HCM are quite promising & make you job-ready by equipping you with all the industry needs.
Key Highlights of Online Executive MBA in Human Resource Management
Learn the recent innovations & methods of human resource management in the duration of 15 to 21 months.

Build your concepts through highly qualified professors-led online lectures.

Get equipped with the need & usage of technical HR tools for an efficient workflow.

Learn in-depth concepts of the field from an easy-to-navigate & 24*7 accessible learning platform like CANVAS.

Grow your people management skills with real case studies & assignments to get prepared for the industry.

Improve your practical learnings through an industry-relevant project & learn time management skills by submitting it within the deadline

Maintain a balance between your personal, professional, & academic circle by earning an online Executive MBA degree in Human Resource Management.

Strengthen your knowledge with self-study through e-books, recorded lectures, & other digitized academic resources available on the hi-tech learning platform like CANVAS.

Learn the global practices & Laws operating in the HR domain & develop skills to implement those in the work field.

Avail of a number of career opportunities via webinars, mock interviews, professional grooming, & other services offered in the career assistance services.
Topics Covered in the Online Executive MBA in Human Resource Management
Semester 1

Semester 2

Foundations of Business Management

Research Methodology and Management Decision

Legal Aspects of Business

Human Resource Management

Strategic Management

Learning and Development

Management Information System

Compensation Management and HR Audit

Business Analytics

Strategic Human Resource management

Project Management

HR Analytics

Desk Research

Project Work
Eligibility Requirements for Online Executive MBA in Human Resource Management
An online Executive MBA in Human Resource Management can be pursued by working professionals after fulfilling the below-mentioned eligibility criteria.
Individuals with a minimum of 5 years of work experience in the same or related field. The experience years are university specific & subject to change.

A bachelor's degree from a recognized university is required to be eligible for this online postgraduate Executive MBA course. There are no specific streams that are preferred for this program in most universities. However, the exact information regarding that can be earned from the official university website.

Basic knowledge of "English" is a mandate for this program. Universities often conduct the enrollment process based on the results of common exams like TOEFL or IELTS.

Professional training in Human Resources Management is usually preferred for this program.

A Statement of Purpose (SOP) stating professional objectives & interests for pursuing this program is also demanded by some universities.

A Letter of Recommendation (LOR) from professional or academic references is asked by the universities for verifying the potential of the candidates for an online Executive MBA in Human Resource Management.
Duration of the Online Executive MBA in Human Resource Management
The minimum duration of an online Executive MBA course in HCM is 15 months & the maximum duration for completing it is 21 months. The course duration of 15 months is divided into 2 semesters of 6 months each & a project term of 3 months. Online exams are conducted at the end of each semester & the project is submitted by the students via the online LMS portal for final evaluation of the results.
Fee Structure of the Online Executive MBA in Human Resource Management
The cost associated with this online Executive MBA program ranges between 85,000 INR to 90,000 INR. A range for fee structure reflects the variation in the program fee, special discounts, & mode of fee payment as per the university chosen for the course.
For e.g., some universities offer a fee waiver to their alumni, specially-abled persons, & Defence personnel while others do not provide any relaxation in the fee at all. Similarly, some universities provide printed study materials at an additional cost while others only provide access to digitized content available on their LMS portal.
Admission Process for Online Executive MBA in Human Resource Management
The admission process to enroll in an online Executive MBA in Human Resource Management is jotted down below.
Step 1: Fill out the mandatory details in the application form & submit it on the official website along with other documents like educational certificates & mark sheets, a cover letter, LORs, and SOPs.
Step 2: Get your application evaluated by the admission committee of the university for the verification of all the details provided by you in your application form. This verification revolves around your academic qualifications and professional achievements as mentioned in the form.
Step 3: After that, if you get shortlisted by the university committee, you will receive an invitation for personal interviews either in-person or via video conference. The interview is conducted to analyze your communication skills & learning aptitude needed for this program.
Step 4: Some universities conduct admissions based on the scores of GMAT or EA exams. After getting shortlisted on that basis, candidates go through the background check of the university & then receive an interview invitation.
Step 5: After cracking the interviews, candidates will receive a University Offer Letter as a confirmation of admission.
Step 6: Candidates who applied for the scholarship need to reserve their seats in the course by immediately paying the amount mentioned in the offer letter to the university.
Career Scope After Getting an Online Executive MBA in Human Resource Management
A good team of recruiters builds a strong base for any organization. Organizations become a Brand just because of the continuous efforts of professionals working in their talent acquisition team. An online Executive MBA program in Human Capital Management enables you with the required knowledge & training on tools to make the recruiting process more efficient.
The responsibilities of a HCM professional involve the recruitment of candidates, taking care of their compensation, ensuring their training, maintaining their performance chart, & other major roles of people management. All these key responsibilities can only be executed in an organized way after getting professional training in HR management or related field.
Salary Trend Post-Completion of an Online Executive MBA in Human Resource Management: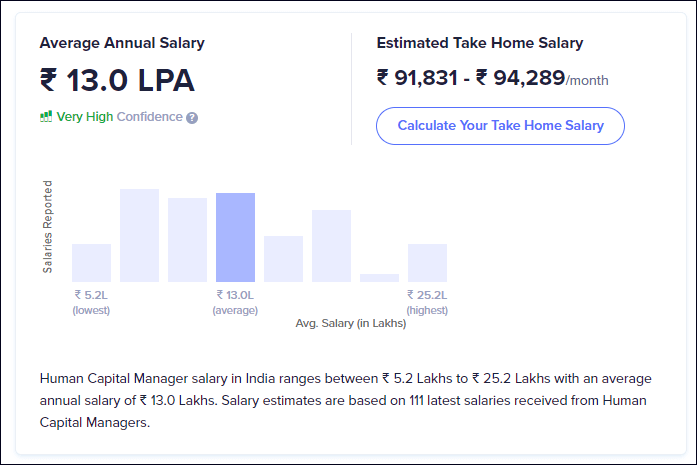 Some of the job profiles available after completion of this online program are listed below:
| | |
| --- | --- |
| HR Generalist | HR Executive |
| HR Manager | HRBP |
| HR Specialist | Technical Recruiter |
| Employee Relations Manager | HR Consultant |