Microservices can be referred to as a collection of services incorporated in one application. Designing these services is not very simple and requires a deep knowledge of software development tools. The plan of action in this software development field is highly dependent on cloud computing tools and techniques. A certified professional in the same field has adequate knowledge of Docker, Kubernetes, etc. to deploy their application on the cloud.
Online certification in microservices will give industry recognition to the professionals who are working in the related industry or are planning to move their careers in this field. This course will give you an understanding of recent innovations in application development. You will also get an idea of implementing Spring Framework for designing microservices.
The curriculum of this online microservice certification training program involves cloud computing tools to build a foundation of cloud computing that will enable individuals to implement certain application deployment tools effectively. This course will give you a comparison of monolithic and microservice designs and equip you with the technicalities to convert monolithic designs to microservice designs.
After this online course, professionals will contribute to the improved service delivery or client satisfaction of the organization by providing them with efficient services using Spring Boot framework, H2 memory, Redis Cache, Spring Security, and OAuth 2.0.
Key Highlights of Online Microservices Certification Program
Get equipped with the technicalities of this specific technology in just 4 weeks.
Become a proficient microservice designer with interactive live classes delivered by industry experts.
Get lifelong access to e-books, PPTs, recorded lectures, and other study materials from anywhere.
Gain practical knowledge of the subject through assignments and projects based on real industry cases.
Clear your concepts with instructors in a one-on-one live session that is available 24*7 for learning assistance.
Get a performance certification that holds a vital role in the professional growth of certified professionals.
Grab attractive job opportunities in top-ranked organizations post-completion of this program.
Curriculum Design of Online Microservices Certification Program
The subjects taught in this course are quite helpful in building an understanding of the topic from scratch. It covers a wide range of subtopics that must be studied and covered before getting started with a career in the same field. The list of subtopics involved in the curriculum of this online program is provided here.
| | |
| --- | --- |
| Introduction to Microservices | Microservices Design and Architecture |
| Introduction to Springboot and Spring framework - I | Spring Boot and Spring Framework - II |
| Microservices with Springboot and Cloud | Microservices Security |
| Docker with Microservices using Spring Boot - I | Docker with Microservices using Spring Boot - II |
| Projects | Practicals |
Projects are assigned to the students of this course by the faculty members from a list of certain selected titles. The title may be chosen by the student or it may be allocated by the instructor as applicable during the course session.
Practicals are performed in any integrated development environment (IDEs) like Eclipse, IntelliJ, and STS to run the application on the local server.
Eligibility Criteria for Online Microservices Certification Program
This online post-graduate certification program can be done by any interested graduate candidate. The basic requirements for enrolling in this online program are listed below.
10+2 Pass out/ Diploma/ Graduation from an esteemed university
No age limit
No prior technical experience needed
Candidates with a basic knowledge of Java & SQL have an upper hand in this course over the other learners.
Duration of Online Microservices Certification Program
The maximum time period that needs to be dedicated to this course program is 4 weeks. Online classes are delivered in this period under 2 batch options, i.e., weekday and weekend. The duration of the course might get completed before 4 weeks depending on the choice of the batch.
Fee Structure of Online Microservices Certification Program
The fee of this online course is the best in the industry that can be offered for such a demanding course. The exact fee of the course is 17,795 INR but there are some variables like institute discount and GST charges that can make this amount vary a little bit from the exact figures.
Admission Procedure for Online Microservices Certification Program
The process of admission to earn a certification in the same is quite simple and easy. The steps followed to take admission to this course are mentioned below.
Click on the "Sign Up" tab on the institute's website.
Fill in some basic personal details to Sign Up successfully.
Choose the course and click on the "Enroll Now" tab.
Select your preferred batch.
Pay the fees either in one go or using the "No Cost EMI" option.
Skills Learned During Online Microservices Certification Program
Some of the necessary skills that must be learned to become a successful microservice developer include Java and Spring-based App Development, Microservices Architecture, Spring Boot RESTful Web Services, App deployment via Docker, Microservices Patterns, and App Security using OAuth 2.0. All of these learnings can make you a competent professional in the field.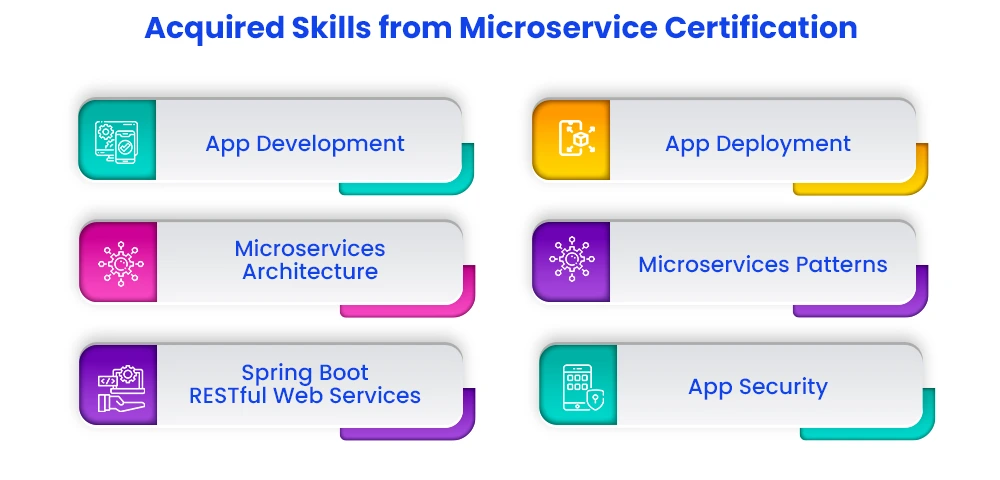 Tools Learned During Online Microservices Certification Program
The technicalities of a program are learned by learning the functioning of its tools and technology. To become a remarkable microservice developer, individuals must have hands-on experience with the related tools used in microservices.

In-Demand Other Certification Courses
| | |
| --- | --- |
| Online Certificate in Cloud Computing | Online Certificate in Software Testing |
| Online Certificate in Full Stack Web Developer | Online Certificate in Project Management and Methodologies |
| Online Certificate in Visualization Tools | Online Certificate in Database Management |
| Online Certificate in Data Science, AI & ML | Online Certificate in RPA |
| Online Certificate in IoT | Online Certificate in Salesforce |
| Online Certificate in Cybersecurity | Online Certificate in Programming languages, Scripting and Frameworks related courses |
| Online Certificate in Big Data Engineering | Online Certificate in DevOps |
| Online Certificate in Digital Marketing | Online Certificate in Blockchain |
| Online Certificate in Snowflake | Online Certificate in Six Sigma Green Belt |
Salary Package After an Online Microservices Certification Program
The earning package of microservice developers is quite tempting as compared to other IT profiles. The starting package for this profile is 7 LPA which gets higher with relevant experience to an approximate package of 14 LPA. The average salary of a microservice professional is 12 LPA in the country.
Career Opportunities After an Online Microservices Certification Program
A varied number of career opportunities are available to candidates who have been trained or completed online certification in the same topic. Freshers and IT professionals, who want to advance their careers with the latest developments in technology can pursue this program to avail some lucrative career benefits.
Some of the highly promising job roles available post-completion of microservices certification cum training include:
Microservices Developer
Software Architects
Microservices Application Developer
Senior Web Developer
Microservices Java Developer
Software Developer
Spring Boot Microservices Developer
Top Companies Hiring for Certified Microservices Professionals
The emerging field of microservices is increasing the demand of trained professionals of the same profile in the market significantly. This alluring opportunity can be grabbed by IT professionals, freshers, and others to get closer to their career goals.
Top Companies Recruiting Certified Microservice Professionals include
| | |
| --- | --- |
| Microsoft | Amazon |
| KPMG | Dell |
| IBM | COMCAST |
| Uber | Oracle |
| TCS | Google |
| Facebook | Netflix |
| Cognizant | SAS |
| VMware | Google |
| SBI | Pokarama |
Points to be Checked Before Choosing an Online Course
Before investing your time & money in any of the online courses, you must get familiarized with some of the fundamental points. These points need to be cleared before making a final decision to fulfill the purpose of upskilling through an online program.
The checklist of points that must be cross checked before enrolling in an online course is discussed here.
Career Scope: Do look for the career prospects of the chosen course. It should be according to the industry trends and your interest areas.
Recognition: Check for the recognition and accreditations of the online program. It should hold value among employers.
Curriculum Design: Review the curriculum of the course for the involvement of the newest technology of the related topic.
Fee Structure: Compare the cost structure of the course and then opt for the one that best fits your pocket.