Online Bachelor of Arts (BA) degree is a bachelor's degree that can be pursued either as a BA general degree or as a BA Honors degree. In the case of a BA general degree, students get an overview of all the primary subjects. However, in the case of BA Honors, students get a deeper knowledge of the one subject they choose to specialize in.
BA from online education provides all-around knowledge to students and widens their career scope. There is a vast pool of subjects from which a student can pursue their BA degree. Depending upon the area of interest a student can go for BA in various major subjects such as History, Political Science, Literature, Philosophy, Foreign Language, etc. So, if you are 10+2 pass out from any stream you can pursue online BA according to your area of interest.
Key Highlights Of Online BA
The curriculum of online BA is divided into 3 years and includes 6 semesters of 6 months each.
The candidates who are 10+2 pass out can pursue the program in both online mode.
The student has numerous options to choose majors from such as History, Political Science, Language, Philosophy, Psychology, Literature, etc.
The curriculum is designed in a way that makes this course job-oriented.
The online BA program can be of much benefit to those who are preparing for competitive government job exams.
Subjects Of Online BA
The subjects for the Online BA degree will depend entirely upon the specialization you choose. However, following is the structure of the degree course.
Semester I
Semester II
Core Subject1
Core Subject 1
Core Subject 2
Core Subject 2
Environmental Science
Advanced English Communication Skills
English Communication Skills
Generic Elective 1
Semester III
Semester IV
Core Subject 1
Core Subject 1
Core Subject 2
Core subject 2
Generic Elective 3
Discipline-Specific Elective IV
Discipline-Specific Elective 2
Skill Enhancement Course IV
Skill Enhancement Course 1
Capstone Project Or
2 Courses from the GE Basket 2 and 3 of the same area from which courses are chosen in Term Paper
Skill Enhancement Course 2
----
Eligibility Criteria Of Online BA
As the whole concept of Online Education is to provide ease and flexibility of learning to the students, online BA eligibility criteria are also very flexible.
To pursue an online BA one has to be 10+2 pass out from any recognized school board. Some online universities ask for a minimum of 45% to 50% marks in 10+2 to be eligible for online BA. There are no entrance examinations for admission in online BA courses. Thus, you can easily pursue the course.
Duration Of Online BA
The duration of an online BA is 3 years and the curriculum is divided into 6 semesters of 6 months each. The curriculum of the course includes basic subjects like Economics, Political Science, English, etc. The maximum period for completing the course is 6 years.
Admission Process Of Online BA
First, visit the official website of the university.
Register as a New User on the website.
Then, fill in all the details in the application form.
Upload the necessary documents on the portal.
Then submit the academic fee online and then submit the form
After the above process, the university will give you a confirmation message along with the enrollment number.

In Demand Online BA Specialization
Scope After Online BA
Business Processing Outsourcing Units
Broadcasting and Media
Advertising and PR Agencies
Journalism
Community Services
International Relations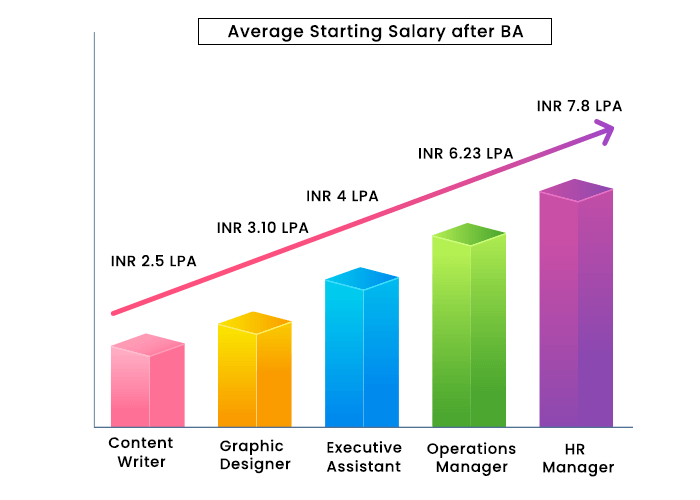 Are BA Programs Eligible for an Education Loan?
The answer is a big yes whether it is any course or program, one can apply education loan for the same. One only needs to meet the minimum eligibility criteria to apply for an education loan. So coming to the BA programs one can surely apply for an education loan for the same. There are no specific criteria for programs on which one can only pursue an education loan. Additionally, whether the program is offered in online or regular mode one can also get an education loan for both modes of education.