A Digital Marketing Analytics Online Certificate Program is a specialized training program that equips learners with the information and abilities to analyze and understand data from various digital marketing channels. It is intended to provide individuals with the tools and strategies required to properly exploit data to optimize marketing campaigns and promote corporate growth. It is a short-duration three months program designed for individuals looking forward to developing their skills in digital marketing analytics. Anyone who is either 10+2 passed or graduated is eligible for the course.
Participants in such a program learn how to gather and evaluate data from many sources, including website analytics, social networking platforms, email marketing campaigns, and online advertising. In addition, they learn about fundamental ideas, processes, and tools in digital marketing analytics, such as data tracking, segmentation, attribution modelling, and performance assessment. The course delves deeply into digital marketing analytics, including using analytic tools like Facebook Analytics, Google Analytics, SEMRush, etc. Some of the core topics that student gets to learn during the digital marketing analytics program are:
| | |
| --- | --- |
| Introduction to Digital Marketing Analytics | Data Visualization |
| Data Technologies | Decision Optimization |
| Data Analysis | - |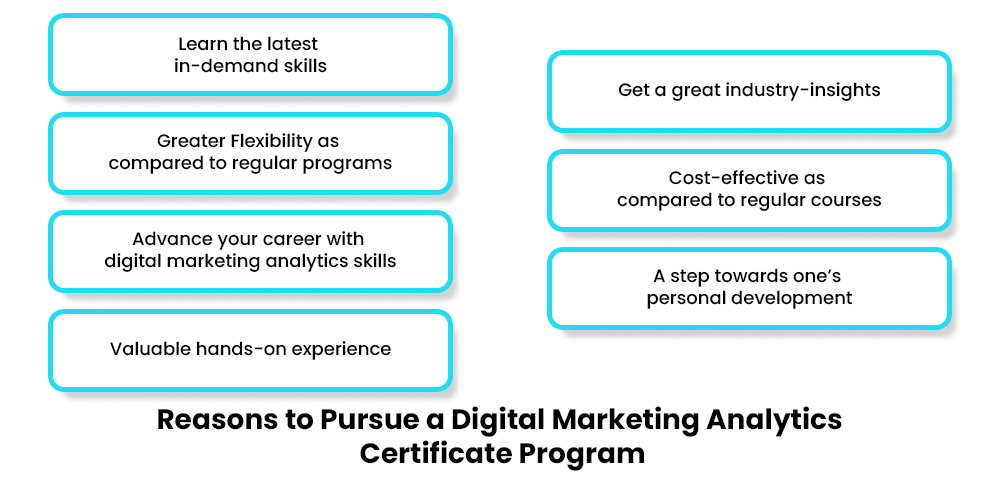 Key Highlights of Online Certificate Program in Digital Marketing Analytics
Data collection, analysis, interpretation, reporting, and advanced analytics approaches are all covered in this comprehensive curriculum.
Instructors with industry expertise provide real-world perspectives and practical knowledge.
Hands-on projects for putting skills into practice, case studies, and examples to help you grasp ideas better.
For convenience and accessibility, a flexible online learning approach is available.
The online certificate program in Digital Marketing Analytics is three months.
The online certificate course in Digital Marketing Analytics is a UGC-DEB-approved course.
Eligibility Criteria for Online Certificate Program in Digital Marketing Analytics
Because the Online Certificate Program in Digital Marketing Analytics has few qualifying restrictions, it is open to many people. In addition, there are no required educational criteria; you can apply for this certificate program whether you are a 10+2 student, a graduate, or a working professional.
The curriculum is designed to suit learners at all stages of their careers, whether they are just starting in digital marketing or want to expand their current skill set.
You are invited to apply for the program regardless of your school background or professional standing if you love digital marketing analytics and want to learn. Accept this unique opportunity to learn essential information and skills in the ever-changing world of digital marketing analytics.
In Demand Online Certifications
Course Duration of Online Certificate Program in Digital Marketing Analytics
The online certificate program in digital marketing analytics program is around 3 to 6 months, depending on the university where one wishes to pursue the course.
How to Apply for this Program?
Go to the admission page of the concerned university.
Complete the registration process by entering the details asked in the form.
Now start filling out the application form available on the webpage.
Attach all the required documents along with the admission form.
Pay the mentioned amount of fee and submit the form.
Career Prospects
The certificate program in Digital Marketing Analytics in online mode is a professional certificate that imparts the skills of analytics tools like Google Analytics, SEMRush, Facebook Analytics, etc. The online certificate program helps students learn to make data-driven decisions with the help of a structured decision-making framework. After the completion of this program, students will get an edge over others in job positions like
| | |
| --- | --- |
| Digital Account Manager | Digital Marketing Analyst |
| Digital Marketing Specialist | SEO Analyst |
| SEO Manager | Content Strategist |