Online MBA (Masters of Business Administration) in Business Analytics is a 2-year course in management designed to address the educational needs of those wishing to pursue business analytics and data interpretation as a career. The programme teaches the in's and out's of the business along with how to use data effectively to hack the growth of a business. The online course offers you to get specialized knowledge in this domain. A business analytics role is meant to empower the flow of programming, statistical analysis, management, and customer analysis involved in a business.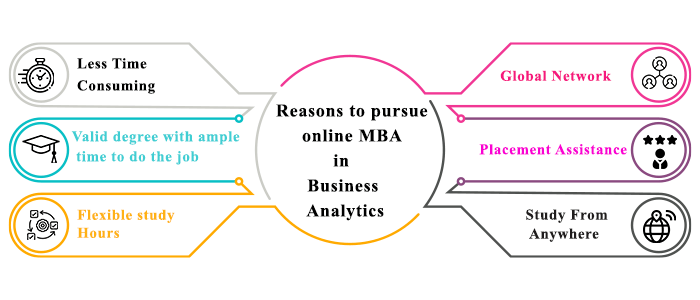 The curriculum of an online MBA in Business Analytics covers core business fundamentals while providing practically-oriented training needed for managerial functions. Online MBA in business analytics includes major topics like:
Management
Leadership
Finance
Marketing
Operations Management
Economics
Some of the data-focused topics commonly covered in this course include:
Database Management
Social Media Analytics
Data Mining for business analytics
Data Science in markets
Regression Analysis
Marketing Analytics
A professional business analytics approach takes the business and data-driven decisions to a higher level. Professionals of business analytics utilize big data, visualization, and implementation decisions to grow their businesses. This approach has been practically used in every industry ranging from Banking and Finance services, E-commerce to Retailing.
Key Highlights of Online MBA in Business Analytics
This online MBA in business analytics programme focuses on areas like artificial intelligence, decision analysis, statistics, predictive modelling, marketing etc.
This course has a duration of 2 years being a PG degree programme. There are 4 semesters in this course.
The average fees of this programme range between INR 60,000 to INR 5,00,000. However, the exact fee amount varies on the basis of the university you choose to take up the course from.
This course includes a curriculum that covers both the basics of management and the nuances of business analytics.
Some of the common topics in this course include data management, business intelligence, big data analytics, predictive modellng etc.
The course being in the online mode, offers a sufficient degree of flexibility in learning as students can learn at their own pace alongside other commitments.
The course usually includes a full-time dissertation or major project which is based on thorough research.
Subjects Of Online MBA in Business Analytics
| | |
| --- | --- |
| Semester I | Semester II |
| Economics & Management Decisions | Human Resource Management |
| Financial Management | Customer Relationship Management |
| Marketing Management | Project Management & Contract Administration |
| Quantitative Techniques for Management Applications | Strategic Management of Technology & Innovation |
| Operations & Material Management | Research Methodology |
| Semester III | Semester IV |
| Data Environment | Data Visualization |
| Data Management | Big Data Analytics |
| Business Analytics | Social & Web Analytics |
| Business Intelligence | Predictive Modelling |
| Data Mining | Programming for Analytics |
| ---- | Dissertations |
Eligibility Criteria for Online MBA in Business Analytics
This is an ideal management course for those who are highly interested in domains like business management, strategization, data and business analytics etc. Let's look at the eligibility criteria for the course:
Candidate must have a Bachelor's degree from a recognized university.
Candidates from any stream can apply to the course.
Candidate should have a minimum score of 45% to 55% aggregate marks at the graduation level.
Students who have appeared in their final exam of graduation or are waiting for their results can also apply for this course.
Working professionals who are graduates and are working/ want to work in the field of business analytics can also pursue this course.
Duration Of Online MBA in Business Analytics
The minimum duration of an online MBA in Business Analytics is 2 years and the maximum duration is 4 years. The course comprises of 4 semesters across 2 years.
Other Types of MBA Also Available
Admission Process of Online MBA in Business Analytics
Visit the official website of the university that you want to pursue the course from.
Register yourself as a new user on the website using your personal details like contact number of email ID.
After logging in using your user credentials, fill the application form along with your details.
After filling in your personal and academic details, upload all your necessary documents in digital format.
Then submit the application form with the academic and registration fee.
The university will send you the confirmation mail along with the enrollment number after the verification process.

Academic Fee Of Online MBA in Business Analytics
The average academic fee of an online MBA in Business Analytics is INR 60,000 to INR 5,00,000. However, the exact academic fee of online MBA in Business Analytics differs as per the university.
Other Online MBA Course specialization 2023

Career Opportunities after Online MBA in Business Analytics
Online MBAs degree opens a range of lucrative positions across industries for the graduate. This degree can not only be the cornerstone of the student for developing a successful career in business analytics but also for moving up their career ladder to senior and top leadership positions. This degree equips you with problem-solving and analytical expertise. Mentioned below are some of the job domains for students of MBA in Business Analytics:
Marketing Manager
Big Data Analyst
Management Consultant
Business Analytics Specialist
Senior Data Scientist
Business Risk Analyst
Predictive Modeller
Top Recruiters
Maruti Suzuki
Google
Randstad India Pvt. Ltd.
Genpact
Infosys
Amazon
WIPRO
IBM