The classes for the B.Tech for Working Professionals are conducted either in the evenings or on weekends and holidays to suit the schedule of working professionals and provide them maximum flexibility. This course is offered across various branches such as Mechanical, CS, Civil, Electronics, and more.

Key Highlights of B.Tech for Working Professionals Programme/WILP
Candidates must have passed the Diploma/Polytechnic.
The course duration is between 3 years- 3.5 years based on your last qualifications.

For Diploma holders, B.Tech for Working Professionals program is for a duration of 3 years.

The fee for B.Tech for Working Professionals program costs less than that of the regular mode.

This course has an industry-related updated curriculum.
This course is similar in value as a regular B.Tech.
Who is this program for?
Students who have recently passed Diploma/Polytechnic.
Working professionals with at least 1 year of work experience.
Course Specialisations for B.Tech Working Professionals
Job Prospects After B.Tech for Working Professionals/WILP
Higher Studies:

If you wish to continue higher studies, then after B.Tech, you can pursue a Master of Technology (M.Tech) degree through IITs, NITS, or any reputed national level colleges by passing the GATE exam. You can also venture into Management by pursuing MBA after completing your B.Tech program to get managerial-level jobs.

Enter Ever-Growing Private Sector:

A B.Tech degree combined with industrial experience will enhance your salary multifold and provide you with opportunities to explore more in relevant industries.

Enter PSU and Government Sector:

Various PSUs such as NTPC, BHEL, ONGC etc. regularly release vacancies for B.Tech professionals with relevant experience. Also, government bodies like the Indian Army, Navy, Airforce, PWD, and Electrical Department of states give direct entry to professionals with relevant qualifications and experience.

Campus Placements:

Campus placement is one of the best ways to get a job instantly after your B.Tech. The campus placement drives give you the necessary exposure and the right opportunities to be hired by highly reputed MNCs.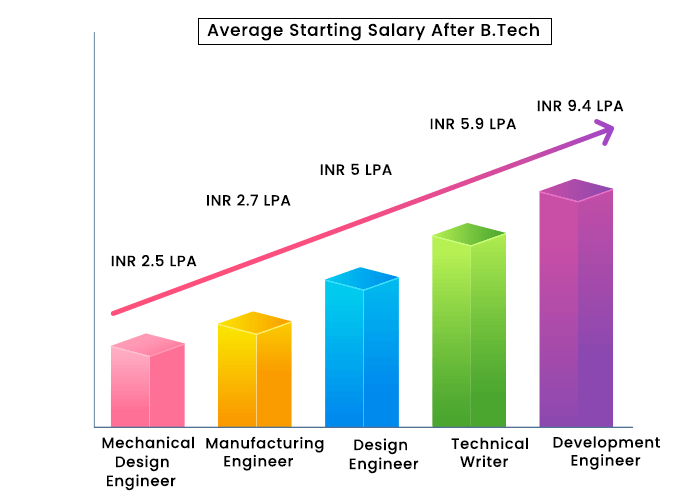 Why Opt for an education loan for B.Tech for Working Professionals Program?
B.Tech is always been a popular program in the field of engineering. And many students wish to pursue the same. But looking into the expensive academic course fee one drops its wish to pursue the B.Tech Program After Diploma. This is because even in the top premier engineering institutes like IITs, and NITs the course fee for the program is quite high.
But now no need to worry about this issue more as one can opt out of various education loan options for pursuing this program. Considering the popularity of this engineering course one can easily get an education loan.
Additionally, it would be simpler for you to obtain an education loan and repay it with the help of manageable EMI instalments if you are a working professional pursuing a B.Tech Part Time. So it is necessary to investigate these choices and develop a sense of pride in your ability to finance your education.
Is Online B.Tech (Distance Education) Valid?
The B.Tech degree earned via online/distance education is not valid. This is due to the Indian Supreme Court's and All India Council of Technical Education's declaration that the online B.Tech degree is invalid. Consequently, it is not possible to obtain a B.Tech degree online/distance mode.
Therefore, don't fall for it if any university claims to offer online / distance B.Tech programs; it's a scam. The B.Tech curriculum is presented in a Work Integrated Learning Program (WILP) format rather than an online/distance one. With the help of the WILP format, it is simple to balance B.Tech studies with getting job experience in the related field.
***Note: B.Tech/M.Tech for Working Professionals is recognized by AICTE as B.Tech/M.Tech with Flexible Timings.***