Distance BBA programs usually last 3 years and are intended to give students a thorough grasp of numerous facets of business administration, such as management, marketing, finance, human resources, and entrepreneurship. These programs provide a well-rounded curriculum that integrates academic knowledge with practical application, ensuring students establish a solid foundation in business concepts and receive real-world insights.
Technology is used in distance BBA programs to create a comprehensive learning experience. Students can access study materials, lectures, interactive sessions, and assignments via online platforms. Using multimedia technologies and virtual classrooms improves learning.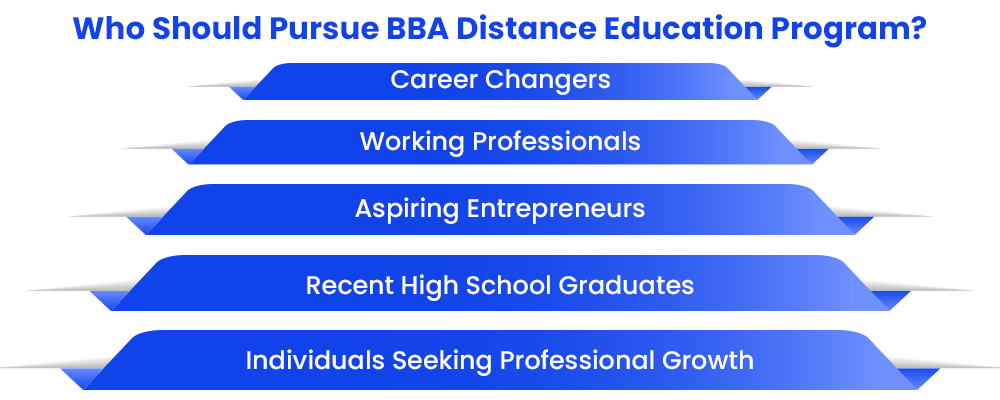 Furthermore, case studies, projects, and internships are frequently included in distance BBA programs to give practical exposure and hands-on experience. Students may apply their academic knowledge to real-world circumstances, developing critical thinking, problem-solving, and decision-making abilities. Such hands-on learning experiences bridge the gap between theory and practice, ensuring graduates are well-prepared to face corporate difficulties.
Why Distance BBA?
One of the primary advantages of studying a BBA via distance education is the flexibility it provides. Students can study at their speed and convenience, allowing them to mix their education with other responsibilities such as employment or family responsibilities. This adaptability is especially beneficial for working professionals who want to improve their business acumen and grow their careers while fulfilling their professional commitments.
One of the common misunderstandings regarding distance education programs is the educational quality they provide. Reputable colleges offering distance BBA programs, on the other hand, maintain high academic standards and deliver rigorous curricula devised by experienced faculty members. Accredited programs guarantee that students obtain a high-quality education recognised and respected by industry employers.
Who Should Pursue Distance BBA?
There is a wide range of people who can benefit from distance BBA programs. These people want to get into business and management or advance their careers. This program is great for
Working Professionals: People who want to improve their job chances by learning more about business while juggling work obligations.
Recent High School Graduates: People who just graduated from high school and want to work in business and want to learn openly.
Career Changers: People from various backgrounds who want to move into business find that online learning is an easy way to be successful.
Geographically Diverse Students: Aspirants from different places who prefer the ease of online learning so they can get an education without really having to move.
People with Personal Commitments: This includes students with family or personal obligations who need a free learning mode while going to college to study business administration.
When to do a Distance BBA?
At different points in your life, getting a Distance BBA can be helpful. Starting a Distance BBA right away after high school gives new graduates a solid background in business and management, paving the way for future efforts. At any point in their jobs, working people can start a Distance BBA program to improve their skills or look into making a career change in the business world. Individuals who want to balance personal obligations with higher education can also benefit from Distance BBA. It offers a complete business education that can be easily adjusted to fit their needs and plans.
Top 5 Affordable Universities for Distance BBA
Many universities offer good, low-cost Distance BBA programs. Even though scores change over time, some universities were praised for offering affordable Distance BBA programs:
| | |
| --- | --- |
| University | Distance BBA Average Fees |
| | 72,000 INR |
| | 1,20,000 INR |
| | 80,000 INR |
| GLA University Distance | 55,000 INR |
| | 72,000 INR |
| | 1,00,000 INR |