BCA Distance Education Programs usually last 3 years and are meant to give students a thorough grasp of different elements of computer applications, such as programming languages, software development, database administration, web technologies, networking, and others. Students obtain a solid foundation in computer science and practical abilities that are highly regarded in the business through a well-structured curriculum.
BCA Distance Education uses various educational modalities to provide high-quality education. Students can engage in meaningful learning experiences using online platforms, multimedia materials, virtual classrooms, and interactive discussion forums. Furthermore, students receive ongoing assistance from certified faculty members through online mentoring and problem-solving sessions. Thanks to innovative technology, students can easily access course materials, submit assignments, and engage with classmates and teachers.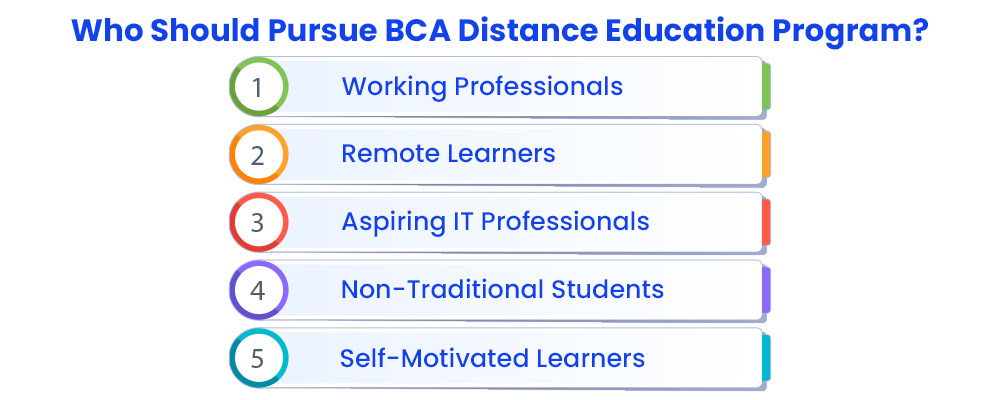 Graduates of Distance BCA programs have several employment options available to them. They can work in various fields, including software development, IT consulting, web development, database administration, system analysis, etc. They can also pursue entrepreneurship and launch their businesses in computer applications. The need for qualified workers in this field is always increasing, making this a perfect moment to start a career in computer applications.
Why Distance BCA?
One of the primary benefits of studying a BCA Distance Education program is the flexibility it provides. Students can plan their study schedules around their personal and professional obligations. They may study at their own speed, allowing them to efficiently juggle careers, families, and school. Because of this flexibility, distance learning is an excellent alternative for working professionals, people living in remote places, or those who prefer a self-paced learning strategy. Also Available: BCA Online!
Students studying BCA Distance Education can learn vital skills in the employment market. Problem-solving, critical thinking, teamwork, and effective communication skills are emphasized in these programs. Students are encouraged to work on real-world projects that allow them to apply academic principles in real-world circumstances. This hands-on learning equips individuals to face obstacles and contribute productively in the workplace.
Students can also use distance BCA programs to create a solid professional network. Collaboration and contact with peers, industry experts, and alums online develop vital relationships that can lead to career opportunities, internships, and mentorship. In today's competitive employment market, having a strong professional network is essential, and distance learning programs provide networking opportunities and increase one's relationships.
Who Should Pursue Distance BCA?
Distance BCA (Bachelor of Computer Applications) is appealing to a wide range of people who are interested in software creation and computer applications. This program works well for:
Working Professionals: People who already have jobs in the tech field and want to learn more about computer programs while still balancing their work duties.
High School Graduates: These are recent high school graduates who want to work in IT or software creation and like the freedom of distance learning.
Career Changers: People from various backgrounds want to move into the tech industry and use online learning to make the change easier.
lifelong learners: People who always look for ways to learn new things or improve their skills in computer programs and software creation.
Geographically diverse: Candidates who live in different places and would rather learn from home so they don't have to move for education.
When to do Distance BCA?
People at different points can benefit from pursuing a BCA. Starting a Distance BCA right after high school is a structured way for new high school graduates who want to get into computer applications and software creation to get started right away. No matter what part of their job, working people who want to improve their IT abilities and skills can start a Distance BCA. Also, people who want to change careers and work in technology might find that getting a Distance BCA is a good way because it gives them freedom and a good education in computer applications.
Top 5 Affordable Universities for Distance BCA
| | |
| --- | --- |
| University | Distance BCA Fees |
| | INR 1,00,000 to 1,20,000 |
| | INR 1,20,000 to 1,30,000 |
| | INR 70,000 to 1,00,000 |
| | INR 80,000 to 1,10,000 |