Distance B.Com programs usually last 3 years and are intended to give students a thorough grasp of many facets of commerce and company management. A Distance B.Com program might be an ideal choice if you are a working professional wishing to improve your business acumen or a recent high school graduate hoping to kick-start your career in the business world.
A Distance B.Com program's curriculum is designed to give a well-rounded education in several areas of commerce. Accounting, economics, business law, finance, marketing, and entrepreneurship are common courses students study. The program is designed to give students the information and abilities they need to succeed in today's dynamic business environment.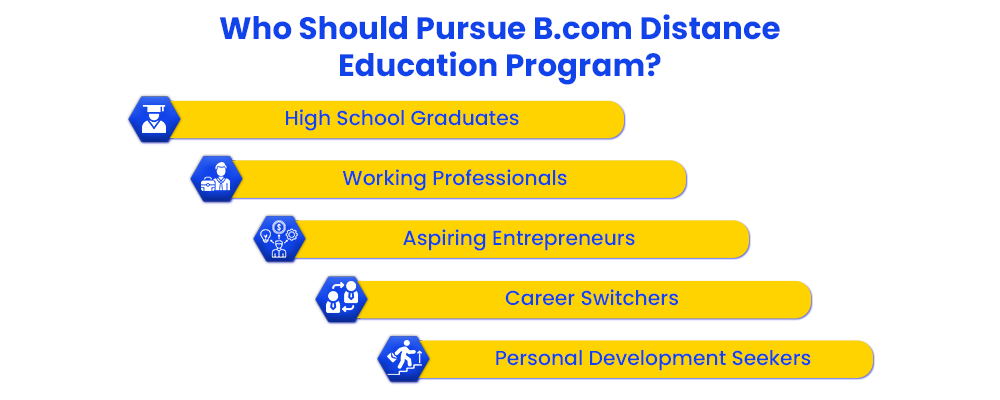 There are advantages to doing a Distance B.Com degree. It offers time and geographical flexibility, allowing students to integrate their education with personal and professional obligations. Second, it allows students to learn practical skills such as accounting, finance, and marketing, which is highly appreciated in the corporate world. A Distance B.Com degree has the same recognition and worth as a traditional on-campus degree, allowing graduates to pursue various job options.
Why Distance B.Com?
People who want to get a bachelor's degree in commerce can benefit from Distance BCom programs that offer a unique mix of academic quality and freedom. Distance education allows students to get a good education without physically attending colleges or universities. Accounting, finance, economics, and business studies are just a few important subjects covered in the varied program. These subjects help students get a full idea of the field. Distance learning is convenient because it lets students study at their own pace and access course materials and lessons from anywhere with an internet connection. Students just have to physically appear for the semester exams.
Professionals who work, people with family obligations, or people who live in remote places will benefit the most from this freedom. Besides, online sites usually have discussion boards, digital libraries, and interactive events that make learning fun. According to the institution's accreditation and name, the degree's credibility and acceptance rest on it. Graduates can find jobs in finance, accounting, banking, and other business areas. Online BCom programs are a good option for people who want to learn about business but also have other obligations. They are handy and trustworthy.
Who Should Pursue Distance B.Com?
Working Professionals: This course is perfect for people who already have jobs and want to improve their skills without taking time away from them.
Remote Residents: Distance education mode is best for people who live where they can't easily get to a standard campus-based school.
People with Family Responsibilities: This helps people responsible for their families by allowing them to balance school and home life.
Self-Paced Learners: is for students who like to study on their own and choose how fast they learn.
Career Aspirants Seeking Flexibility: This program gives people who want to get a degree in business the chance to do so while also juggling personal or professional obligations.
When to do a Distance B.Com?
Choosing to get a Distance BCom depends on your situation and work goals. It's helpful for people who want to get a degree in business but also have to balance work, family, or other obligations. It's a great option for people at any stage of their jobs who want to improve their credentials without changing how they live. Getting a Distance BCom allows you to reach your educational goals without the restrictions of standard on-campus education, whether you want to learn new skills, move into the business world, or move up in your current job.
Top 5 Affordable Universities for Distance B.Com
| | |
| --- | --- |
| University | Distance BCom Starting Fees |
| IGNOU | INR 6,000 |
| | INR 22,700 |
| | INR 50,000 |
| | INR 21,000 |
| | INR 40,000 |
| | INR 35,000 |
Key Highlights of Distance B.Com In India
Distance Bcom program allows students to learn quickly and organise their study schedule around their convenience and personal obligations.
To give a well-rounded learning experience, distance bcom combines online lectures, interactive study materials, and occasional on-campus events or workshops.
Practical case studies that imitate real-world business problems are frequently included in the curriculum.
Distance Bcom program provides students with a wide range of specialisations and optional courses, allowing them to customise their degrees to their individual interests and professional aspirations.
Some B.Com Distance Education Programs allow students to gain professional certifications and degrees.
Guest lecturers and industry experts are commonly invited to offer lectures or lead interactive sessions in distance education programs.
B.Com Distance Education Programs may include virtual laboratories and simulations for hands-on experience.
The program provides access to specialised faculty members who give advice and assistance through online communication channels.
B.Com Distance Education Programs emphasise developing important soft skills such as communication, teamwork, leadership, and problem-solving.
Students are more prepared for global employment due to their exposure to international business methods and cultural diversity.
Distance BCom Course Subjects
The B.Com Distance Education Program syllabus may vary depending on the university or institution offering the program. However, here are some common topics that are typically covered in a B.Com Distance Education Program:
Foundation Courses:

English Language and Communication Skills
Business Communication
Financial Accounting
Business Economics
Business Mathematics and Statistics
Business Environment and Ethics

Core Courses:

Cost Accounting
Income Tax Law and Practice
Corporate Accounting
Business Law
Financial Management
Marketing Management
Human Resource Management
Entrepreneurship and Small Business Management
Principles of Management

Elective Courses (Specializations):

Banking and Insurance
Financial Markets
E-commerce
International Business
Computer Applications in Business

Project Work and Internships
Top Specializations in Distance BCom
Different Distance BCom specialisations are available to fit various job routes and hobbies. Here are some of the best specialisations:
Other Types of BCom
Besides Distance BCom programs, there are other types of BCom programs you can pursue according to your learning styles:
Regular On-Campus BCom: Regular On-Campus BCom is a standard way to learn in which students attend university and take lessons in person. This structure emphasises learning in person, which makes it easier for students and teachers to talk to each other directly. Students learn completely because they can participate in real-time discussions, talk to people face-to-face, and use school tools. Being on campus allows you to meet new people, do group activities, and get answers to any questions or worries you have right away. It gives students an organized and immersive learning environment that encourages engagement, active involvement, and a sense of community on campus. This helps students learn more about their classes and develop important social skills.
Top 10 Universities for BCom As Per NIRF Ranking 2023
Here is a list of the top 10 best universities in India as per the NIRF Ranking 2023:
| | |
| --- | --- |
| Universities/Institutions | NIRF 2023 Ranking in University Category |
| Indian Institute of Science | 1 |
| Jawaharlal Nehru University | 2 |
| Jamia Millia Islamia | 3 |
| Jadavpur University | 4 |
| Banaras Hindu University | 5 |
| Manipal Academy of Higher Education-Manipal | 6 |
| Amrita Vishwa Vidyapeetham | 7 |
| Vellore Institute of Technology | 8 |
| Aligarh Muslim University | 9 |
| University of Hyderabad | 10 |
Online BCom: Online BCom is a way of learning mostly done through computers, giving students access to educational tools and course materials from anywhere. This format gives people freedom since they can learn from anywhere via the internet. Students can listen to classes, get study tools, and take tests from home. The online format allows for various learning styles and plans, so it can work for busy people who can't attend class in person. It encourages studying at your own pace so people can balance their studies with other personal or business obligations. Interactive tools and technologies are often used in online BCom studies to make learning more complete and interesting.
Popular & Affordable Online BCom Colleges Or Universities in India
| | | |
| --- | --- | --- |
| Private Universities Offering Online BCom | NIRF Ranking | Starting Fee Range |
| | 7 | INR 1,20,000 |
| | 38 | INR 1,26,000 |
| | 68 | INR 1,20,000 |
| | 35 | INR 84,000 |
| | 27 | INR 69,000 |
| | 39 | INR 60,000 |
Part-Time BCom: The part-time BCom program is for people who want to balance their schooling with work or other obligations. This approach lets students study more slowly, so it works with various routines and ways of life. It allows you to mix schoolwork with other obligations, making it perfect for people working full-time or with family obligations. Part-time BCom lets students move more slowly through the school by giving them a lighter study load. This way of learning works for various students, making the schooling process easier to handle and ensuring that people can finish their degrees while also taking care of other responsibilities.
The table below enlists the key differences between a regular, distance, online, & part-time BCom:
| | | | | |
| --- | --- | --- | --- | --- |
| Aspect | Regular On-Campus B.Com | Distance B.Com | Online B.Com | Part-Time B.Com |
| Mode of Learning | In-person classes | Remote and self-paced study | Online via the internet | Blend of in-person and online classes |
| Classroom Attendance | Full-time on-campus | Limited to none | Online, no physical classes | Part-time, often evenings or weekends |
| Interactive Learning | High interaction with professors and peers | Limited face-to-face interaction | Primarily virtual interactions | Moderate in-person and virtual interactions |
| Flexibility | Limited flexibility | High flexibility | High flexibility | Moderate flexibility |
| Access to Campus Resources | Full access to libraries, labs, and campus facilities | Limited or remote access | Limited or remote access | Limited access during part-time classes |
| Networking Opportunities | Extensive networking opportunities | Limited networking opportunities | Virtual networking opportunities | Moderate networking opportunities |
| Learning Environment | Structured and immersive | Self-directed and flexible | Online and asynchronous | Combination of in-person and online |
| Suitable for Working Adults | Challenging due to full-time schedule | Ideal for working professionals | Ideal for working professionals | Tailored for working professionals |
| Geographical Location | Requires physical presence on campus | No specific location requirement | It can be pursued from anywhere | Requires proximity to part-time classes |
| Scheduling | Fixed class schedules | Self-paced or flexible | Self-paced or flexible | Evening or weekend classes |
| Commute | On-campus attendance required | No commute required | No commute required | Limited commute for part-time classes |
| Career Impact | Traditional college experience, strong on-campus presence | More suitable for remote and busy learners | Accessibility from anywhere, digital skills emphasised | Ideal for advancing in a current career, practical learning |
| Time to Completion | Typically 3 years | Flexible duration | Flexible duration | Extended duration depending on part-time schedule |
| Accessibility of Resources | High access to on-campus resources | Limited access to campus resources | Virtual access to digital resources | Moderate access to on-campus resources during part-time classes |
Distance BCom Eligibility and Duration
The eligibility requirements for Distance B.Com programs may differ based on the university or institution that offers the degree. However, the following are the usual criteria for pursuing a B.Com Distance Education Program:
Candidates must have completed their 10+2 education (or equivalent) from a recognized board or institution.
According to the university's criteria, the qualifying test can be in any field (science, commerce, or arts).
Some colleges or institutions may need a minimum percentage in the qualifying test for admission to the B.Com Distance Education Program, which normally ranges from 45% to 50%.
Some universities and institutes may hold their B.Com Distance Education Program entrance exams. The requirements for taking these tests may vary. To guarantee compliance, verify the eligibility requirements of the B.Com Distance Education Program provided by the university or institution of interest. The length of a B.Com Distance Education Program can vary based on several factors, including the university or institution that offers the program, the style of study, and the student's learning rate. In most cases, a B.Com Distance Education Program lasts 3 years.
Skills Required for Distance BCom
Self-discipline: Self-discipline means keeping track of time, staying focused, and learning on time without being watched constantly.
Communication: You must clearly state your thoughts in writing and in person to do well in online classes and conversations.
Tech Proficiency: Knowing how to use computers and the internet, as well as how to find digital tools.
Critical thinking: Looking at knowledge, judging it, and figuring out how to fix problems independently.
Adaptability: Getting used to online learning settings, showing flexibility, and using various learning methods.
Organizational Skills: Setting goals, organizing chores, and meeting due dates while learning independently.
BCom Entrance Exams 2023
The following is a list of some of the most prevalent admission examinations for BCom degrees in India:
| | |
| --- | --- |
| DU JAT (Delhi University Joint Admission Test) | IPU CET (Indraprastha University Common Entrance Test) |
| CUET (Common University Entrance Test) | SET (Symbiosis Entrance Test) |
| NPAT (NMIMS Programs After Twelfth) | UGAT (Under Graduate Aptitude Test) |
Recommended Books:
| | | |
| --- | --- | --- |
| Book Title | Subject | Author |
| "Principles of Corporate Finance" | Finance | Richard A. Brealey, Stewart C. Myers, and Franklin Allen |
| "Financial Accounting: IFRS Edition" | Accounting | Jerry J. Weygandt, Paul D. Kimmel, and Donald E. Kieso |
| "Marketing Management" | Marketing | Philip Kotler and Kevin Lane Keller |
| "Fundamentals of Management" | Management | Stephen P. Robbins and David A. DeCenzo |
| "Business Communication: Building Critical Skills" | Business Communication | Kitty O. Locker and Stephen Kyo Kaczmarek |
| "Human Resource Management" | Human Resource Management | Gary Dessler |
| "Business Economics" | Economics | Paul A. Samuelson and William D. Nordhaus |
| "International Business" | International Business | Charles W. L. Hill |
| "Business Law: Text and Cases" | Business Law | Kenneth W. Clarkson, Roger LeRoy Miller, and Frank B. Cross |
| "Taxation: Policy and Practice" | Taxation | David M. Nissim |
| "Financial Markets and Institutions" | Banking and Finance | Frederic S. Mishkin and Stanley Eakins |
| "Retail Management: A Strategic Approach" | Retail Management | Barry R. Berman and Joel R. Evans |
| "Entrepreneurship: Successfully Launching New Ventures" | Entrepreneurship | Bruce R. Barringer and R. Duane Ireland |
| "Business Ethics: Ethical Decision Making & Cases" | Business Ethics | O. C. Ferrell and John Fraedrich |
| "E-commerce: Business, Technology, and Society" | E-commerce | Kenneth C. Laudon and Carol Guercio Traver |
Distance BCom Academic Fees
The fee structure for the Distance B.Com program usually runs from 5,000 to 50,000 INR. The fees depend on the university, the curriculum, and the extra tools offered. There's a program for everyone, whether you're on a tight budget or want the best of the best. Remember to look into the details of each university so that you can make an educated choice about how much you want to spend on your education.
Online BCom Admission Procedure
Most of the time, there are several steps to getting into the Distance B.Com Program. First, people who want to go to the university need to fill out an online registration form that can be found on the university's website.
Along with the application, you need to send in things like transcripts, proof of identity, and photos of the size of a visa. After the application is looked over, applicants who meet the university's standards may be asked to take an entrance test or have an interview. Then, successful applicants are sent offers of admission, which include information about how to pay the fees and when they need to join. It's important to read the university's admissions rules carefully and ensure all the required papers are sent on time and correctly. Interested students will be more likely to get a spot in the Distance B.Com Program if they follow these steps.
Why Opt for an Education Loan for an Online BCom?
Many colleges that offer Distance B.Com Programs know how hard it can be to pay for education and help with loans or EMI facilities. These choices make it easier for students to go to college by giving them more control over how they pay for school. Before you join, check with the university to see if these kinds of financial aid are available and what the terms are.
Is Online BCom Worth It?
Distance B.Com programs can be worth it, depending on your needs and goals. These programs have many benefits, but the main one is that they are flexible. Distance learning can be very helpful if you have to work, take care of your family or are looking to balance school with other responsibilities. Also, it's often less expensive than standard on-campus classes because you don't have to pay for housing or transportation.
Also, a Distance B.Com school can be a smart way to advance in your job. It lets you learn important business management, accounting, and finance skills without quitting your current job. This can help your work chances and make you more marketable in a competitive job market.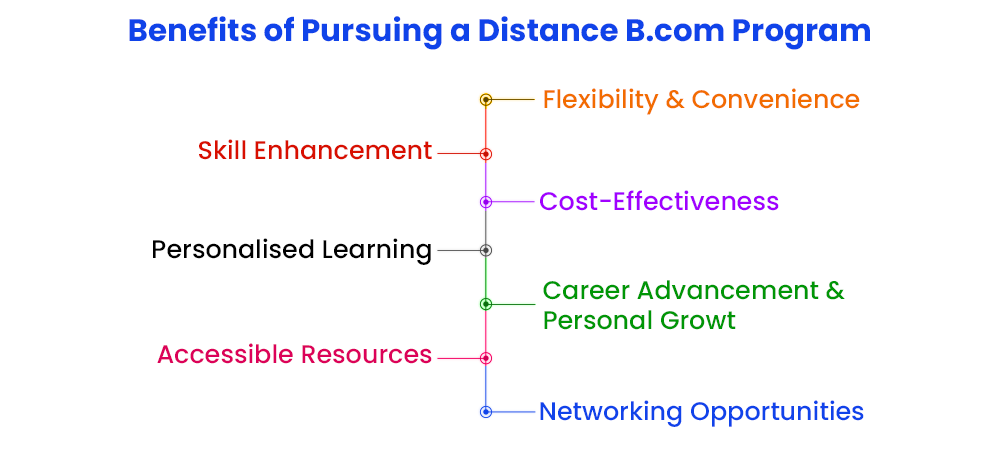 But it's important to remember that online learning requires a lot of self-discipline and drive. How well you do in these programs depends on how well you can handle your time and stay motivated without the structure of a regular classroom.
Lastly, keep in mind that, compared to on-campus programs, distance education may offer fewer chances for networking and social interaction, which can be a big deal in some job routes. To determine if a Distance B.Com program is right for you, consider your goals, how you learn, and your ability to study independently.
Job Opportunities For Online BCom Degree
Pursuing a Distance B.Com program might be worthwhile because companies often accept it as a respectable degree. Accounting, finance, marketing, economics, and business law are just a few industry-relevant subjects in the curriculum.
This comprehensive program provides students with vital abilities such as financial analysis, business management, communication, problem-solving, and critical thinking, all of which are highly appreciated by employers in various sectors. Distance learning allows students to study at their own speed, making it ideal for individuals who work or have other obligations. Here are some job prospects you can get after pursuing a Distance B.Com program:
| | |
| --- | --- |
| Accountant | Financial Analyst |
| Marketing Executive | Sales Manager |
| Human Resources Manager | Business Consultant |
| Financial Planner | Banking Professional |
| Entrepreneur | Government Jobs |
Top Recruiters
Top accounting businesses like Deloitte, Ernst & Young, and PricewaterhouseCoopers (PwC) are among the top companies that hire Distance B.Com grads. Banks and big companies often hire B.Com graduates for different financial positions. A Distance B.Com from a reputable online learning school can help you get a wide range of jobs in different fields because it is so flexible.