Distance B.Sc programs are 3-year undergraduate programs that provide quality education in various scientific areas, including physics, chemistry, mathematics, biology, computer science, and environmental science. To provide a holistic learning experience, these programs employ new distance learning approaches that combine online resources, study materials, virtual laboratories, and interactive platforms.
Distance B.Sc programs provide students with a wide selection of specialities, allowing them to customise their degrees to their individual interests and professional aspirations. There is a speciality accessible to everyone interested in physics, chemistry, mathematics, biology, or computer science. This adaptability guarantees students can advance into their chosen profession and build competence.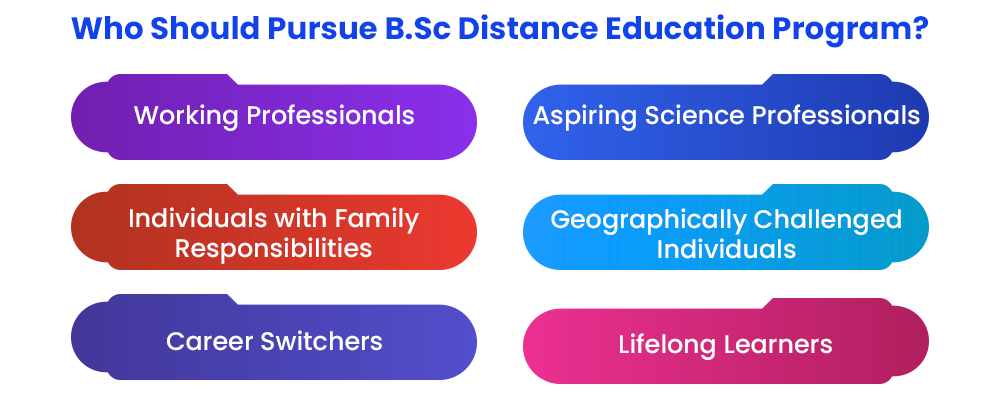 Completing a Distance B.Sc degree provides various professional options in research and development, healthcare, pharmaceuticals, education, technology, environmental sciences, etc. Graduates can work as research assistants, data analysts, quality control officers, and scientific instructors or continue their education and specialise in their chosen subjects. A strong foundation in scientific ideas, critical thinking abilities, and analytical reasoning gained via a Distance B.Sc degree prepares graduates to contribute to advances in scientific research and innovation.
Why Distance BSc?
Distance BSc programs give students the most freedom because they can learn at their own pace while exploring the complicated worlds of science and technology. People can be out of standard classes to learn with this method, making scientific information available to people worldwide. Advanced online tools, virtual labs, and a wide range of skills ensure that learning is active and useful. These programs get around physical limitations by offering a cheaper and faster option. They allow students to start a scientific journey, contribute to research, and pursue satisfying jobs, no matter where they live or their other commitments.
Distance B.Sc or B.Sc Distance Education program provides several benefits to those unable to attend regular on-campus programs. A Distance B.Sc program equips students for successful employment in numerous scientific areas through interactive learning platforms, diverse specialisations, skilled teachers, and industry recognition.
You can visit the College Vidya Portal to choose and compare the colleges and universities offering Distance BSc programs.
Who Should Pursue Distance BSc?
Distance BSc programs let many people learn in a way that works for them. People in the following groups might want to get a Distance BSc:
Working Professionals: A BSc in Distance Education is perfect for people who are already working and want to move up in their jobs without leaving their present jobs, as it gives them the freedom to balance their studies with other obligations.
Geographically Remote Individuals: This program is especially for people living where regular on-campus classes are hard to get to.
Aspiring Specialists: This course is for people interested in learning advanced science information.
Flexible Learners: Students with various responsibilities can benefit from distance BSc programs, which allow them to move through the science curriculum at their own pace and when it's most convenient.
Balancing Responsibilities: Designed for people who want to find a good mix between going to college and taking care of other things they need to do. Whether you have a job, a family, or personal interests, Distance BSc can work around your schedule without lowering your education level.
Access-Seekers: This is perfect for people who want to get a science education no matter where they are. Distance BSc ensures that anyone can learn about science through online tools and virtual learning.
When to do a Distance BSc?
Starting a Distance BSc is a good idea at different points in life. It gives working people who want to move up in their careers a flexible way to get a science education without stopping what they're doing. People thinking about changing careers can easily fit school into their plans. Distance BSc is an easy way for parents or caregivers busy with family duties to improve their skills. A Distance BSc also makes learning easy and flexible for people who want to return to school after a break or explore their scientific hobbies later in life. This shows that anyone can get a scientific education.
Top 5 Affordable Universities for Distance BSc
| | |
| --- | --- |
| University | Distance BSc Starting Fees |
| IGNOU | INR 5,500 - INR 14,500 |
| LPU | INR 12,000 |
| Annamalai University | INR 7,000 |
| Jaipur National University | INR 17,000 |
| BRAOU | INR 7,000 |