Among today's youth, engineering is a consistently popular field. This is because new opportunities are opening up in this area. The B.Tech after Diploma program is an excellent way to assist engineering diploma holders in pursuing a full-time B.Tech degree without spending their additional year of study.
B.Tech after diploma, popularly known as B.Tech Lateral Entry programs is a popular choice for students who have completed a diploma in engineering and want to further their education. Through this program, diploma holders can earn a complete bachelor's degree in engineering, improving their employment prospects and expanding their options within the sector. After-diploma B.Tech programs typically last 3 to 3.5 years and cover a wide range of courses, such as mathematics, physics, computer science, electronics, and mechanical engineering.
Also, students have the option of specializing in a particular area of engineering, such as civil, electrical, or chemical engineering. Together with hands-on training and internships that give students real-world experience, the program incorporates both theoretical and practical study. In general, students who wish to advance their engineering education and launch a lucrative career should consider pursuing a B.Tech after receiving their diploma.
Reasons to Pursue B.Tech Lateral Entry Course
There are various reasons to pursue the B.Tech Lateral Entry programs, some of which are discussed here: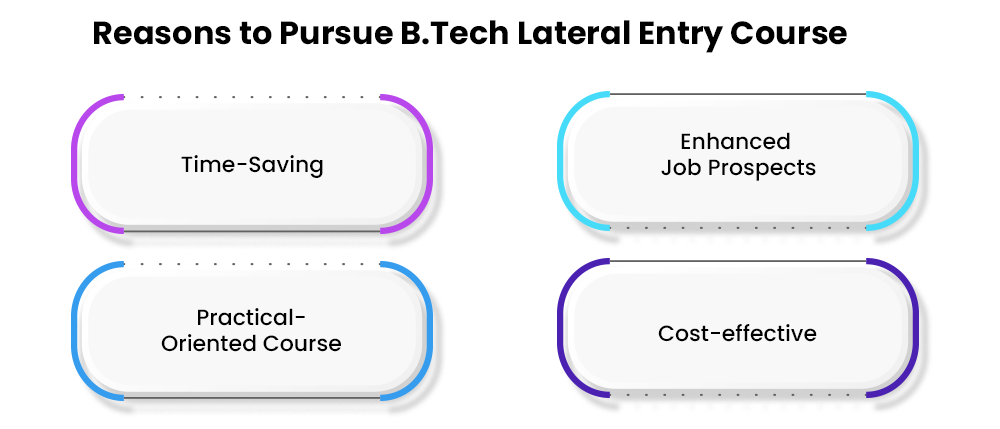 Time-Saving:

The main reason to pursue a B.Tech Lateral Entry program is that it saves you a lot of time. As we know in this program the students get directly admitted to the second year of the B.Tech curriculum. So, instead of 4 years, one completes this degree in the span of 3 years, saving 1 year of time.




Enhanced Job Prospects:

Similar to the normal B.Tech programs, the B.Tech lateral entry program also opens up various career opportunities in the engineering domain. One can work within various industries post-completion of the program.




Practical-Oriented Course:

These lateral entry programs mainly focus on improving the practical knowledge of the students, to increase their chances of getting a job. The practical orientation helps the students to learn and develop all the essential skills necessary to sustain themselves in the job market.




Cost-effective:

Choosing a B.Tech lateral entry program is a cost-effective choice because students can earn their degrees faster and spend less money on tuition and other expenses.
Therefore, we can conclude that choosing a B.Tech lateral entry program not only saves you time but also provides several other advantages that make you want to enroll in this program.
Key Highlights of B.Tech Lateral Entry Programs
The course duration of this B.Tech after diploma program ranges from 3 to 3.5 years due to direct entry into the second year of the program.

For enrolling in the B.Tech lateral entry programs it is necessary to complete a 3-year diploma program.

Students can choose from a variety of specializations that this lateral entry program offers like civil, electronics, mechanical, electrical, etc.

During the course curriculum, one not only gets to study the theoretical aspects of the course but also gets exposure to practical applications through projects, internships, hands-on training, etc.

B.Tech after diploma program opens up new career pathways in the engineering field.

One can work in diverse domains of engineering like software, electronics, mechanics, aerospace, etc.
Course Curriculum of B.Tech After Diploma Programs
Throughout this lateral entry program course curriculum, the students get the chance to learn about numerous aspects of the engineering sector. It builds up the engineering basis in the students.

As we know one gets direct entry into the 2nd year of the program and from there onwards students study specific topics pertaining to the opted specialization.

So, depending on the specialization, the syllabus differs. That's why we are unable to specify the subjects taught by this program because each specialization has a different curriculum.
Specializations Offered by the B.Tech Lateral Entry Programs
There is a variety of specializations from which one can choose, depending on their interest and career objectives. Here are some of the specializations listed below that one can check out:
There are many more other specializations also available that one can get into. Here, I have listed only some of them for a brief overview of the program.
Eligibility Criteria For Pursuing the B.Tech After Diploma Program
Students must have completed their 3 years engineering diploma program from a recognized institute in order to apply for this program.

And also must have secured at least 50% marks in their diploma program.

Sometimes, the students have to clear an entrance examination in order to become eligible for this program. It depends upon the university from which one wishes to pursue the course.
B.Tech After Diploma Course Duration
Due to the benefit of directly entering into the second year of the program, one gets to complete the B.Tech lateral entry program in the duration of 3 to 3.5 years.

This 3 to 3.5 year is usually divided into 6 and 7 semesters respectively. The extra 1 semester is for industry projects and internships.
Other Types of B.Tech Degree Courses
How to Apply for the B.Tech After Diploma?
We are unable to establish a set admissions procedure for this post-diploma program. This is due to the fact that each university has its own unique set of instructions for applying to this program.
Some universities offer their own entrance exams, while others demand a qualifying score on a national-level engineering entrance exam.

There are currently a number of B.Tech lateral entry colleges that accept admission based on merit.

This means that in order to continue with the course, a student must only have earned the minimum required marks.
Hence, the B.Tech lateral entry program admissions process differs from university to university.
Advantages of B.Tech After Diploma
There are various interesting benefits that the B.Tech after diploma offers not only it is time-saving but it also accelerates one's career growth. Let's learn about some of its potential advantages in brief.
Practical Grasp:

The students pursuing the B.Tech after receiving their diploma have greater practical expertise than the standard B.Tech students. The diploma students thus have an added benefit during the course curriculum as it is simpler for them to comprehend the course topics due to this strong practical grasp.




Specialized Course Curriculum:

Due to skipping the first year of study, the students only learn the subjects that are explicitly related to the specialization they have chosen. The students benefit from this since they are spared from studying the concepts that are covered in the first year of the course.




Economical:

The lateral entry programs are quite economically advantageous. This is because by bypassing the first year of the program, the students save on the tuition and other costs associated with this skipped course period.




Fastens Your Career Growth:

Among all the benefits, the major benefit that this after-diploma program provides is that in a comparatively shorter duration, one gets to learn various engineering domain aspects and make a great career in the relevant field.

Career Prospects Available After the B.Tech Lateral Entry Programs
Students who complete a B.Tech lateral entry program might explore several job options in the engineering sector. Software engineering, mechanical engineering, civil engineering, electrical engineering, and electronics engineering are a few of the most well-liked job alternatives. B.Tech graduates can work in a variety of fields, including manufacturing, information technology, telecommunications, building, and healthcare. They can work as
| | |
| --- | --- |
| Software Developers | Project Managers |
| Design Consultants | Data Scientists |
| Production Engineer | Research Professionals |
Education Loan Options Available for B.Tech After Diploma Programs
Pursuing a B.Tech after diploma or Part Time B.Tech can be an expensive affair, and many students may need financial assistance to fund their education. Fortunately, there are several education loan options available for B.Tech after diploma programs.
Education loans with flexible repayment choices, low-interest rates, and protracted repayment terms are available from banks and financial institutions. Students should explore the several available loan choices, contrast interest rates and terms, and confirm that they meet the eligibility requirements before applying for an education loan.
Students can pursue a B.Tech after a diploma program without financial worry and concentrate on their academic and professional objectives with the correct financial preparation and support.
Is Online/Distance B.Tech Valid?
The B.Tech distance degree obtained through online or distant education is not recognized. This is due to the B.Tech Distance Education being declared invalid by the All India Council of Technical Education and the Indian Supreme Court. As a result, a B.Tech degree cannot be earned remotely or online. Because of this, don't be duped if a university promises to offer online or distance B.Tech distance programs.
***Note: B.Tech/M.Tech for Working Professionals is recognized by AICTE as B.Tech/M.Tech with Flexible Timings.***
Explore Top Colleges/Universities for B.Tech After Diploma Programs