A certification program in CompTIA Security+ is designed to provide the training of necessary skills required to have a career in the cybersecurity domain. This 5-week long online certification training also prepares candidates for the SY0-601 exam which gives a globally recognized certification in CompTIA Security+ to the professionals. This course equips candidates with industry-relevant training in a shorter span of time.
CompTIA Security+ is a specialized field of cybersecurity. A training or certificate in this topic provides an in-depth understanding of the cybersecurity field in the terms of risk management, intrusion detection, threat management, and risk mitigation. Program of CompTIA Security+ is the fundamental program for candidates who want to explore their options in cybersecurity.
An online CompTIA Security+ certificate course enables candidates to rectify their problems rather than just identify them. The analytical understanding of the course trains professionals for securing the applications, data, and networks of organizations by installing and configuring suitable systems. The learnings of this course enable candidates to achieve the benchmark of the skillsets that are demanded by industries in this profession.
The curriculum of this course covers every fundamental topic from scratch. It covers a range of topics like threats, vulnerabilities, architecture, design, implementation, incident response, governance, and compliance. Practical and hands-on training on these topics makes you achieve the ability to handle real-world scenarios related to IT security solutions.
An online training program covered in this CompTIA Security+ certificate course is among some of the best choices for IT professionals who are preparing themselves to have a steady and growing career in the field of cybersecurity.
Key Highlights of Online Certificate in CompTIA Security+
This online program can be completed within 5 weeks.
This program is designed in a way that equips learners with the required skills as trending in the IT industry.
Industry experts deliver live classes that give better exposure to practical knowledge as well.
Lifelong access to digitized study materials and books is something that provides an edge to the learners of this course over others.
Projects allocated to learners by the instructors of this course strengthen the application-based knowledge of the individuals.
Interactive sessions between instructors and students are one of the attractive parts of this course and are quite helpful in solving the doubts of students instantly.
The skills and tools learned in this online certificate course build a strong technical foundation of this domain in individuals that make them analyze and rectify the issues at a faster rate.
Students of this course get recognition as a professional in the CompTIA Security+ after completion of this certification program gives.
Curriculum Design of Online Certificate in CompTIA Security+
The curriculum of this online program covers all the important and advanced topics of the subject. It equips candidates with the technical knowledge of the latest innovations in the field. The topics that students of this course would be learning in this certificate course are listed below:
Threats, Attacks, and Vulnerabilities

Security Posture & Incident Response

Cryptography & PKI

Identity and Access Management

Secure Network Architecture and Design

Secure Wireless Access & System Design

Secure Protocols and Services

Mobile & Cloud Security

Practicals

Organizational Security & Digital Forensics

Risk Management & Secure Application Development
Practicals are executed by learners in the CompTIA labs. The license to these labs is shared by the institutes or universities and will be valid for a year. Also, the topic of the practical will be assigned by the instructors from a pre-decided list of topics.
Eligibility Criteria for Online Certificate in CompTIA Security+
10+2 Pass out/ Diploma/ Graduation candidates who fulfill the listed criteria can take up this online Security+ certificate course.
10+2 Pass out/ Diploma/ Graduation must be completed from a recognized university.
A minimum of 2 years of experience in the IT department is a must.
Candidates with prior knowledge of basic security concepts have an edge over the others.
Duration of Online Certificate in CompTIA Security+
The duration of this online certificate cum training program is 5 weeks. This duration is as per the weekend batch and for the weekday batch, this duration might get changed. Thus, the specific duration of this course is institute and batch dependent.
Fee Structure of Online Certificate in CompTIA Security+
The most interesting part of this program is that it can be completed within the cost range of 35,000 INR to 40,000 INR. For a highly demanded course in the industry, this expense is quite affordable. Besides, this fee package might get a little changed after considering the batch choice and taxes.
Admission Procedure for Online Certificate in CompTIA Security+
The steps mentioned below can be followed to get admission to this online certificate program.
Step I: Register at the official website of the institution/university.
Step II: Fill in some personal information as asked in the enrollment form.
Step III: Select the desired online course.
Step IV: Select the desired batch.
Step V: Deposit the fee and save the confirmation details of admission.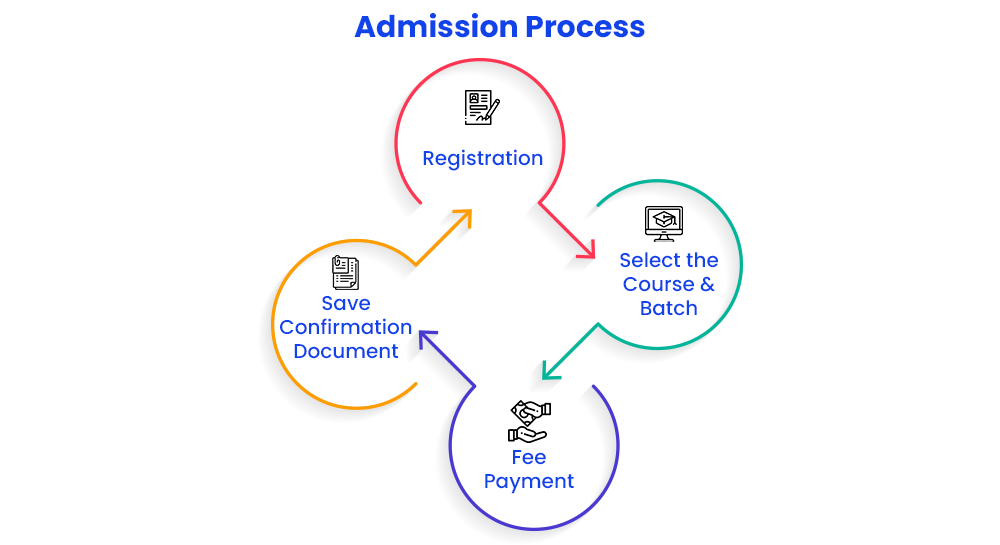 Skills Learned During Online Certificate Course in CompTIA Security+
This online certification course is designed to provide learners of this course with adequate skills that help them to cope with the latest advancements in the field. The basic skillsets added to the knowledge of learners of this course are listed here.
Network Scanning and Security
Digital Forensics
System Security Design
Cryptography and Management
Risk Assessment
Incident Response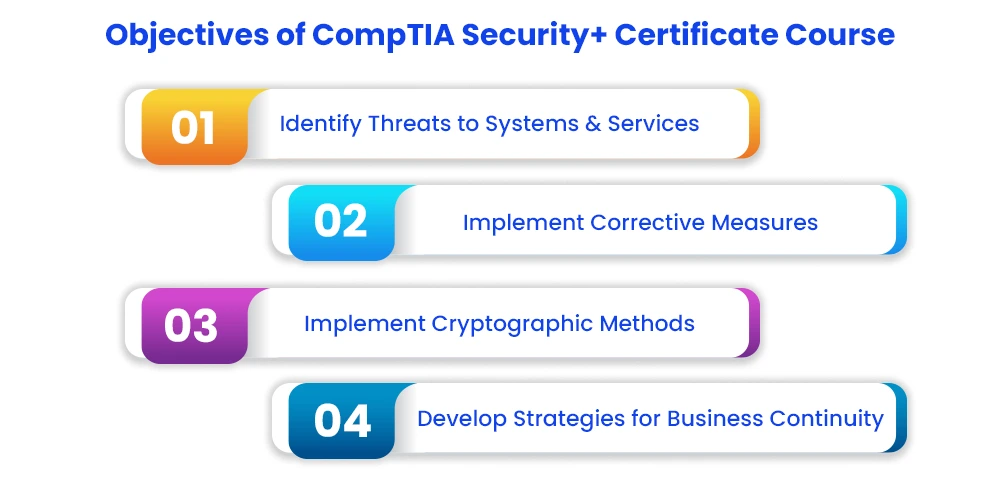 Tools Learned in Online Certificate Course in CompTIA Security+
Candidates are exposed to the technical aspects of Security+ in this online course after making them learn the functioning of tools and software used in the cybersecurity domain. Tools covered in this course to make the students industry ready are listed here:
| | | |
| --- | --- | --- |
| NMAP.ORG | Aircrack-NG | Autopsy |
| Metasploit | Netcat | Cuckoo |
| OWASP | Hping | WinHex |
| Nessus | John | theHarvester |
| Wireshark | BeEF | SN1PER |

Other In-Demand Online Specialized Certifications Programs
| | |
| --- | --- |
| Online Certificate in Ethical Hacking-CEH v12 | Online Certificate in Cybersecurity and Ethical Hacking |
Salary Package After an Online Certificate in CompTIA Security+
A professional training program is always helpful in earning high packages in the relevant industry. Likewise, this online Security+ certification program is quite valuable to you if you want to have a reputed job profile along with a handsome salary package. An annual average salary of a certified professional in this specialization is around 8 lakhs. The range of salary offered to a newbie in the field is 2-3 LPA and this reaches to amount of 19 LPA with sufficient years of experience.
Career Opportunities After an Online Certificate in CompTIA Security+
Certified security+ executives can avail a long career in the related domain with their job-ready skills and knowledge. There are a varied number of job opportunities available to the learners of this course. A list of job profiles is provided below that can be easily availed by professionals certified with a security+ training program.
Systems Administrator

Security Administrator

Security Specialist

Security Engineer

Network Administrator

Junior IT Auditor

Security Consultant

Cyber Threat Hunter

Information Security Analyst

SOC Analyst

Cybersecurity Consultant

Penetration Tester

Database Administrator

Vulnerability Analyst

Information Systems Architect
Top Companies Hiring for Certified CompTIA Security+
A number of top recruiters have a frequent demand for certified security+ professionals and they hire them at an attractive package. These high-ending packages and the organization's name actually encourage a major part of IT professionals to take up this program to have a progressive career.
A list of the top companies that hire CompTIA Security+-certified professionals is given below:
| | |
| --- | --- |
| Microsoft | Directi |
| Tata Consultancy Services | HCL Technologies |
| SAP | Accenture |
| Dell | Cognizant |
| Deloitte | Google |
| Amazon | Flipkart |
Factors To be Considered While Choosing an Online Course
Millions of thoughts cross our minds while selecting a conventional on-campus degree program but this task gets tougher by many folds when it comes to an online program. Getting into an online course is way easier and can be completed in around 1 or 2 hours, however, making the choice for an online course can take years of many "if and but."
Well, this choice can be made simpler by verifying a few details regarding a particular online program. Some of the primary information that must be confirmed before taking up any online program are jotted down in a list below.
Research the scope of the online course that you are willing to do.
Verify the accreditations or approvals of your course.
Check for the skills and tools covered under the curriculum of that course.
Check whether you fulfill the eligibility criteria for the course or not.
Choose the one that fits your budget.