The Online Executive MBA, sometimes known as the Online EMBA, is a professional degree program for working professionals in the management sector. This program is tailored for the working class and is designed to help them balance the responsibilities of a day job in their specific corporate industry with a flexible management course.
Working professionals can develop their careers by enrolling in an online executive MBA specialization program, which provides them with relevant, competent, and advanced information in the chosen domain, all in a work-integrated and flexible manner. Also Available: 1 Year MBA Programs Online!
A traditional MBA degree gives you a fundamental understanding of a company's management concepts, whereas an online EMBA program gives you advanced management and business knowledge with a more practical-oriented focus. As a result, this course is intended for those who are in the middle of their careers or have some prior working experience and are willing to move forward to managerial positions.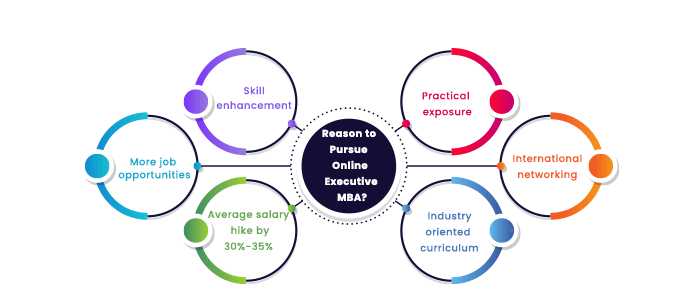 Key Highlights of Online Executive (MBA for Working Professionals)
The online EMBA program's syllabus changes according to the specialization and includes an in-depth understanding of managerial concepts.
The duration of the online executive MBA course is 12 months to 18 months.
The program is open for students who have a bachelor's degree with at least 2-3 years of work experience in the relevant industry.
There is no age limit to take admission in this program and individuals in the middle of their management careers can also take this course.
The average fee of the Executive MBA online program is between Rs. 1,50,000 and Rs. 4,50,000 depending upon the specific university you select.
Online Executive MBA Subjects
An overall list of online executive mba for working professionals subjects is given below, however, a few subjects will differ from university to university.
Semester

Subjects

Semester 1

Economics for Managers
Management Accounting
Marketing Management
Operation Management
Human Resource Management
Introduction to Financial Management
Supply Chain Management

Semester 2

Conflict and Negotiation
Organizational Behaviour
Marketing Research
Business Analytics
Project Management
Learning and Development

Semester 3

Salesforce Channel Management
Customer Relationship Management
Integrated Marketing Communication
Product Management
Business-to-Business Marketing
International Marketing
Online Executive MBA for Working Professionals Eligibility Criteria
The candidates are required to have a bachelor's degree in any specialization from a recognized university.
The candidates must score at least 45% to 50% aggregate marks in their graduation.
Also, the candidates must have at least 2-3 years of work experience in the relevant field they wish to specialize.
Online Executive MBA Course Duration
The duration of the executive MBA for Working Professionals program is 12 to 18 months and the course covers advanced topics of management suited for working professionals. The course has 2 to 3 semesters depending on the full course duration.
Online Executive MBA Admission Process
First, visit the official website of the university you wish to pursue the course from.
Register yourself for the EMBA/MBA for Working Professionals program on the website by creating unique user credentials.
Then, fill in your details in the application form.
Submit the application form along with documents and the registration fee/application fee.
Also, you need to appear for the entrance exam of the university (if any)
After reviewing your full application, the university will intimate you about the status of your admission.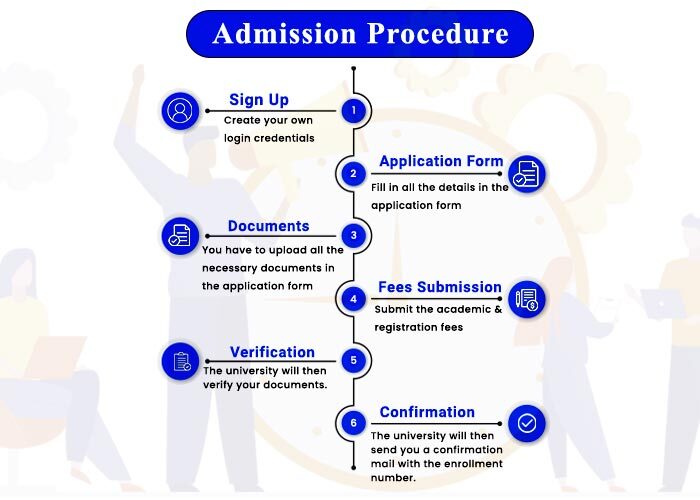 Online MBA for Working Professionals (Executive MBA) Academic Fee
The academic fee of the online EMBA program/MBA for working professionals is generally higher than an MBA degree program as it is a higher-level course. The average academic fee of this course varies between Rs. 1,50,000 to Rs. 4,50,000 and this fee differs as per specialization.
Online Executive MBA Specializations (MBA for Working Professionals)
Job Opportunities Available After Executive MBA Programs
Working professionals get better or higher-level jobs after completing their Executive MBA course in any specialization. This program is an excellent step to escalate from middle to higher and top managerial positions. The job prospects of an EMBA also depend upon the specialization that you choose. Here are some job opportunities that you can get after the EMBA program:

| | |
| --- | --- |
| Digital Marketing Manager | Business Analyst |
| Marketing Manager | Sales manager |
| Product Manager | Chief Human Resource Manager |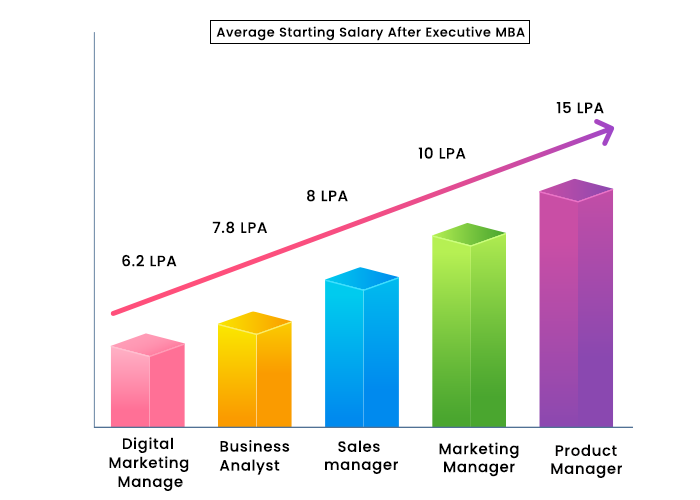 Top Recruiters of EMBA Graduates
| | |
| --- | --- |
| Goldman Sachs | BCG |
| J. P. Morgan | Barclays |
| KPMG | Deloitte |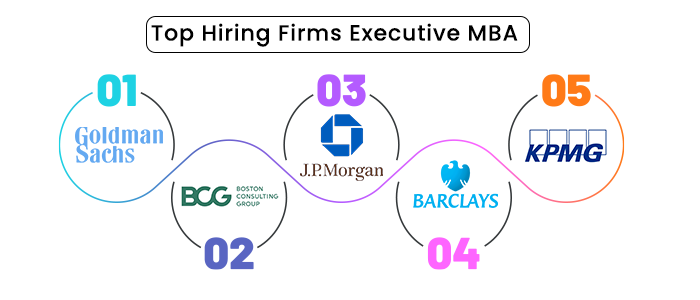 Why Opt for an education loan for Executive MBA Program?
As we know the online executive MBA/MBA for Working Professionals program is specifically designed for working professionals. This means the students enrolled in this program are already earning while learning.
So opting for an education loan for the online executive MBA program is quite a fair deal. As it would benefit the working professionals to independently take responsibility for their education. Even with the help of education loan options, one can easily pay their academic fee through easy-to-pay EMIs.
As a working professional individual purchases various things on EMI so why not an online course? It will be a great deal of funding your education along with working.
Other Types of MBA Also Available