In today's competitive era of the industry, upskilling is not a choice but it has become a necessity & this necessity applies to all domains. To deal with this aspect, the Indian Institutes of Management (IIMs) have taken a step forward by introducing short-term certification programs, especially for working professionals.
If you are working in banking & finance services and willing to upgrade or someone interested in this domain, an IIM online certification in financial data analytics is one of the best choices for you. This program is entirely focused on improving your practical understanding which ultimately enhances your work efficiency.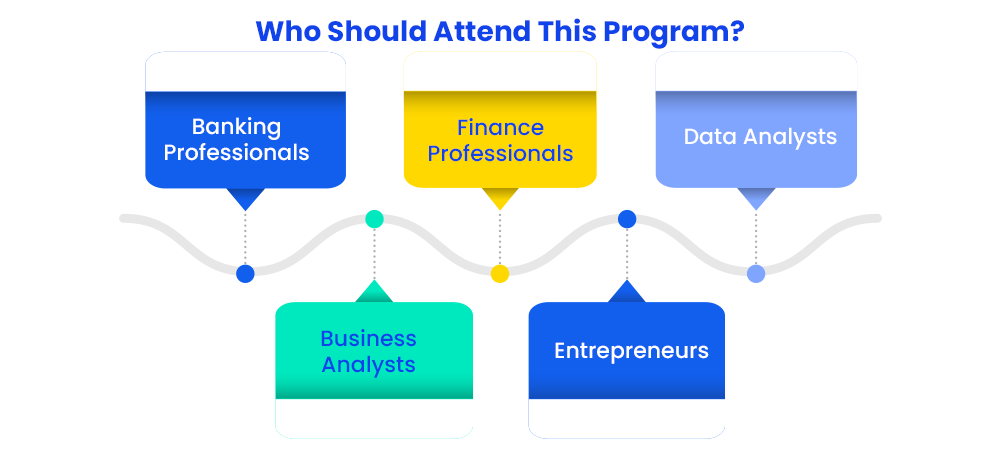 The course structure of this program is designed by an elite panel of faculty members who hold 10+ years of experience & have mastered each & every aspect of the finances. The subjects learned through this program revolve around the topics of Financial Modelling and Predictive Modelling. The technical training makes you understand the functionality of analytical tools for better & quick results.
Some of the outcomes of this program involve the analysis of complex financial data for the extraction of useful information, resolving complicated financial challenges to provide simple structured data, & proficiency in using technical & advanced tools. With all these earned skills, you can have lucrative career options that will ultimately fulfill the needs of the industry.
Key Highlights of IIM Online Certificate in Financial Data Analytics
Learn the aspects of predictive & financial modeling in a short duration from India's top-rated management institute.

Develop an in-depth understanding of the new advancements in the field with an updated course curriculum.

Learn the functionality of the new tools & understand different phases of financial analysis from Best-in-Class content & faculty members.

Improvise your practical knowledge & learn the implementation of theories with case studies & projects.

Interact with industry experts & get closer insights via virtual webinars.

Build your professional network of experienced faculty members, peers, & industry experts through the optional campus immersion program.

Get academic & non-academic assistance during the entire course session through a 24*7 available student support team.

Get global recognition post-completion of the program & secure a well-paid job designation in top corporates in India & foreign countries.
Some of the Top Trending Executive Programmes
Syllabus of IIM Online Certificate in Financial Data Analytics
The syllabus of this online certification is majorly focused on equipping executives with the technicalities of the financial field. The tools covered in this program will improvise your work efficiency by sorting the analysis & processing of financial data.

The core topics covered in this program provide you with detailed knowledge of the principles on which the analytical tools work. This understanding makes you analyze the necessity & implementation of these tools on specific financial data.
Some of the common topics learned in this certification course are listed below:
| | |
| --- | --- |
| Financial Statement Analysis | Capital Structure Analysis |
| Capital Budgeting Analysis | Financial Derivatives |
| Leasing | Financial Derivatives |
Eligibility Requirements for IIM Online Certificate in Financial Data Analytics
The primary requirements to apply for an online certification are institute specific & can be checked by the aspiring candidates via their official website. However, there are some common requirements that you must fulfill to apply for an online financial data analytics program.
These common course requirements include:
Graduation or equivalent in any discipline from a recognized university or institution.

A minimum of 2-3 years of work experience in related domains.

Proficiency in spoken & written English.
Note: Only candidates who have studied mathematics or statistics at the HSC or 10+2 level can apply for this program after their graduation.
Duration of IIM Online Certificate in Financial Data Analytics
The program is specially designed for working professionals & hence has a short course duration. The minimum time that you need to dedicate to this online certification program is 5 months which can vary with the institution providing it.
Fee Structure of IIM Online Certificate in Financial Data Analytics
The program cost of this course starts at 70,000 INR & varies depending on the institution chosen. This fee package is quite affordable & comes with an easy EMI option of 6/9/12 months.
Note: GST charges are exempted from the above-mentioned program cost that needs to be paid at the time of admission.
Admission Process for IIM Online Certificate in Financial Data Analytics
The enrollment process of this program is quite sorted & can be completed in just a few steps with an easy-to-navigate website. Moreover, the specific demands of the institutions for the same program can be fulfilled by visiting their official websites before the enrollment process.
Some management institutes demand scores for English language proficiency tests like TOEFL, IELTS, etc. Along with that, you might need to attempt quantitative aptitude tests or program-specific entrance exams to be eligible for the admission process. All of these specifications are IIM-specific & must be confirmed before commencing the admission formalities.
Here are some common steps that you need to complete to take admission to this online program:
Step 1: Visit the official website of the institution & access its admission portal. Keep all the documents ready to avoid any kind of delay/errors.
Step 2: Fill out the admission form & upload the required documents as mentioned in the application form. All the applicants are advised to keep the spelling & order in the application form consistent with their academic or professional proofs.
Step 3: Wait for the admission committee's response which usually takes a few hours to 2-3 business days. The process involves the verification of the details mentioned in the application form & for that institutions do thorough background research.
Step 4: After getting shortlisted, you may be asked to attend a personal interview either in-person or through virtual modes of video conferencing/telephone.
Step 5: After you made it through the interview, you will get an offer letter confirming your enrollment in the program.
Step 6: After completing the fee payment step, you will receive your personalized student login credentials which must be saved for any future reference.
Career Scope After Getting an IIM Online Certificate in Financial Data Analytics
The scope of the financial domain is quite wide but can be explored with appropriate skills & knowledge. An online certificate program in the same specialization is one of the ways to achieve excellence in this field. The analytical skills learned in this program fulfill the requirements of the industry & make you spot your position in some of the top-notch organizations in the country.

There is an abundance of job positions that can be earned with this certification program. These job profiles are quite rewarding & can be secured easily with your business/financial analysis skills. A few of these job titles are listed below which provide an overview of the options available after this program.
| | |
| --- | --- |
| Accounting Analyst | Treasury Analyst |
| Finance Specialist | Budget Analyst |
| Investment Analyst | Finance Supervisor |
| Equity Analyst | Fund Manager |