In today's tech-driven industry, candidates need to upgrade themselves to survive the cut-throat competition of the market irrespective of their field. In this prospect, an upper hand in the field can be earned by opting for an EMBA program from the country's best management schools, i.e., IIMs. The availability of EMBA courses in the online mode of learning at IIMs makes it the perfect choice for working professionals and students who have just started their careers.
The IIM online EMBA programs equip candidates with the core learnings of Business Planning, Operations, Marketing, Business Communication, Human Resources, Finance Management, and Business Law depending on the specialization chosen. Thus, candidates acquire the same foundational knowledge in these short-duration programs as in a full-time regular MBA.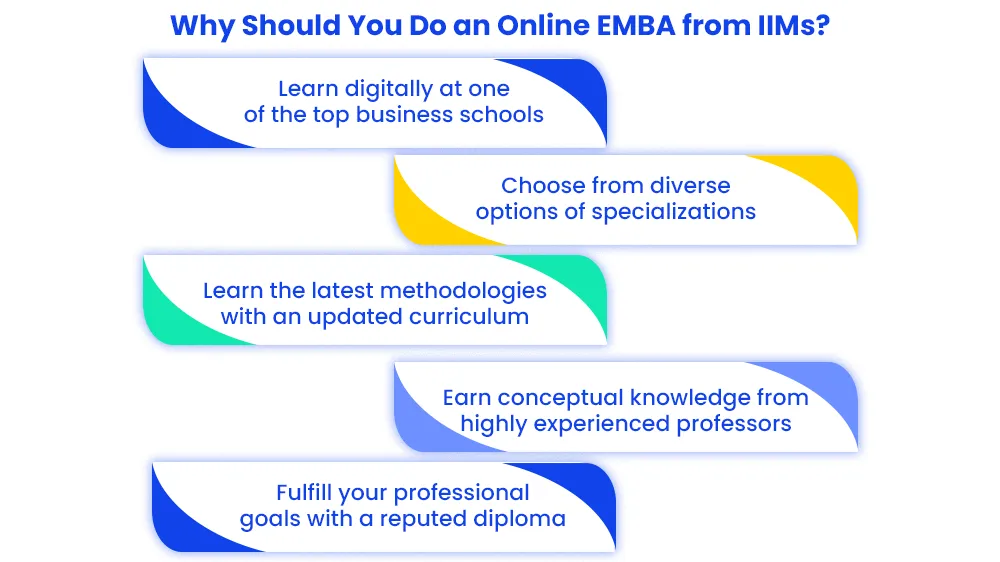 The session of these courses is conducted through live lectures, webinars, & application-based projects. Enrolled candidates also have access to the LMS of the university to get academic resources for self-study. Since these programs primarily focus on working professionals thus the live lectures are usually scheduled on weekends to provide them with a study-job balance. Also Available: IIM Online Courses for Working Professionals!
After completing these programs, candidates get equipped with the latest methods & techniques in the business field & become efficient performers in managerial tasks & leadership roles. With a diploma from IIM, individuals also get an edge over others in their work field.
Some of the Top Trending Executive Programmes
Key Highlights of IIM Online EMBA
Upgrade yourself in a short span of time with the best business schools in India without quitting your job.

Build a strong conceptual understanding from one of the best faculty panels.

Get access to digitally available academic resources from anywhere at any time.

Choose any specialization irrespective of your professional background.

Get insights into real-world scenarios through case studies, assignments, & projects.

Secure your dream job with a well-recognized diploma from IIM.
IIM Online EMBA Curriculum
The core topics involved in an online EMBA program are specific to the specialization chosen. Some of the general subjects studied under different EMBA specializations are mentioned below:
| | |
| --- | --- |
| Marketing Research | Conflict and Negotiation |
| Organizational Behaviour | Business Analytics |
| Customer Relationship Management | Financial Management |
| Business-to-Business Marketing | Integrated Marketing Communication |
| Learning and Development | Economics for Managers |
IIM Online EMBA Eligibility
There are certain requirements needed in individuals to be eligible for the online executive MBA courses as mentioned below.
Graduation or equivalent from a recognized university/college/institution.

At least 45-50% marks in the qualifying education.

Minimum of 2-3 years of work experience in the related fields.
Note: The prior experience years may vary from IIM to IIM depending on their specific eligibility criteria.
IIM Online EMBA Duration
The duration of IIM online executive MBA programs is lesser than the period of a regular MBA program, i.e., 2 years. These courses can be completed within the time span of 1-2 years. The exact course duration is specialization and IIM-specific.
IIM Online EMBA Admission Process
The enrollment procedure for these online programs is different at different IIMs. Some of these institutions offer direct admission to the candidates while others have an entrance exam-based admission procedure. The exam-aided admission process is either based on the scores of CAT/MAT/GMAT or on the specific entrance tests conducted specifically for the EMBA programs. After qualifying these entrance papers with the required passing marks, candidates will be enrolled in the specific program.

For direct admission, the following steps can be completed to get enrolled in this online program.
Visit the official IIM website at which the specific course is available.

Select the course and click on the "Apply Now" tab.

Register to the redirected webpage and create your personalized login credentials.

Re-login to the website & access the admission form.

Fill out the mandatory details in the admission form and upload the necessary documents.

Review the application & pay the course fee for the final enrollment step.

Keep the enrollment number & other relevant details shared by the university safe for future reference.
IIM Online EMBA Fees
The fee package of the IIM online MBA programs for working professionals or executive MBA programs is often higher than the regular MBA programs. This high academic fee is due to the involvement of advanced learning methodologies in the curriculum of these programs. The general fee range for this online program for executives is between 5 to 10 Lakhs.
Other In-Demand Online EMBA Programs
| | |
| --- | --- |
| Online Executive MBA Program in Management | Online Executive MBA Program in Business Analytics |
| Online Executive MBA Program in Marketing | Online Executive MBA Program in Digital Marketing |
| Online Executive MBA Program in Leadership & Strategy | Online Executive MBA Program in Operations & Supply Chain |
| Online Executive MBA Program in Applied Finance | |
IIM Online EMBA Career Opportunities
This online program opens up a variety of career options for working professionals & students in different sectors of the industry. With detailed and in-depth conceptual learning of the topics, candidates develop leadership skills that enable them to take up managerial roles in the firm. This program enhances the job opportunities for candidates in this growing market by many folds.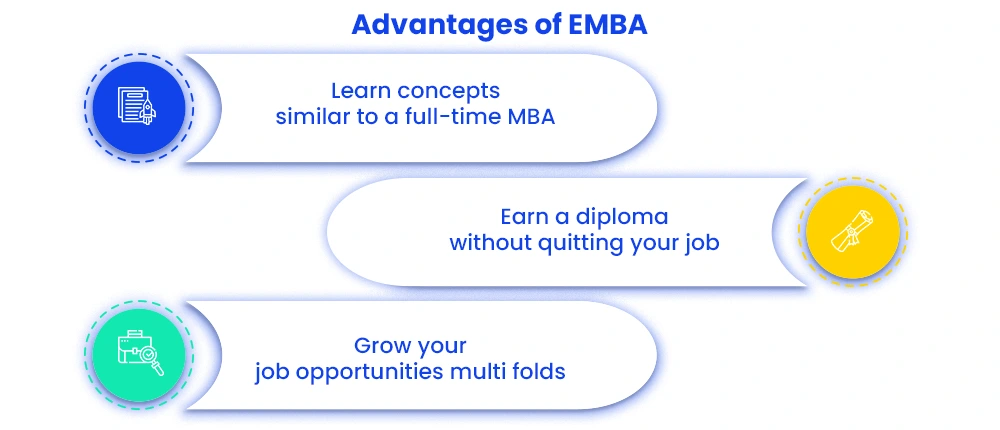 Job Roles Available After IIM Online EMBA
A varied number of profiles are available for executives after this program. Some of them are listed below.
| | |
| --- | --- |
| Financial Managers | Accounting Managers |
| Risk & Insurance Managers | Marketing Managers |
| Human Resources Generalist | Investment Bankers |
| Media Planners | Brand Managers |
| Market Research Analysts | Internet Marketing Managers |
| Chief Financial officers | Corporate Controllers |
Top Hiring Firms After Completion of IIM Online EMBA
Some of the top hiring firms that have a frequent demand for professionals after an online EMBA are listed below.
| | |
| --- | --- |
| Accenture | McKinsey |
| Boston Consulting Group | Tata Consultancy Services |
| Microsoft | Flipkart |
| ITC | Deloitte |
| EY | Adobe |
| KPMG | HSBC |