Distance MA is a two-year postgraduate program that provides a one-of-a-kind option to pursue higher education from the comfort of your own home or any other place of your choice. These programs are designed to meet the demands of those who want to balance their work, personal, and academic responsibilities. Whether you are a working professional, a parent, or someone wishing to advance your education, a Distance MA program may be your best option.
Interactive learning and involvement are also emphasized in distance MA programs. While studying remotely, you can access various online platforms and tools to help you communicate and collaborate with your teachers and classmates. Virtual talks, video conferences, and online forums allow you to actively participate in academic debates, share ideas, and engage in meaningful discussions with peers from all backgrounds and regions.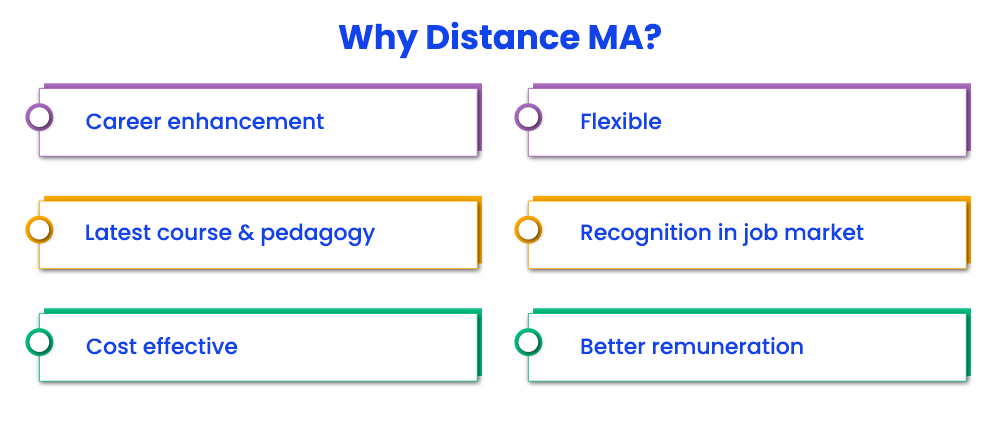 One of the most appealing aspects of Distance MA programs is their flexibility. Distance MA programs, as opposed to regular on-campus programs, provide self-paced learning choices, allowing you to study at your speed. You can design a study plan matching your lifestyle and obligations because you may access course materials, lectures, and assignments online.
Another notable benefit of Distance MA programs is the variety of specializations accessible. You may discover a Distance MA program that matches your interests and job goals, whether you are interested in literature, history, psychology, sociology, or any other discipline.
Why Distance MA?
The ability to study along with a job is the greatest advantage of this distance master's program, among its many other advantages. Aspirants (students and working professionals) who were unable to enroll in one because of their hectic schedules greatly value this feature.
Affordable fee range is another major draw of distance MA, in addition to flexibility. Due to this program's low cost, millions of people now have access to higher education. Having access to cutting-edge information, a challenging curriculum, and affordable, high-caliber career opportunities have made this program quite popular among working graduates.
Who Should Pursue Distance MA?
The MA distance education course is very helpful for people who are having trouble juggling work, family, and other responsibilities. This master's program has grown to be a top option, even for students who are denied admission to traditional colleges because of high cutoffs or expensive tuition packages. In order to accomplish their career goals, all MA aspirants, students and working professionals alike, should enroll in this easy-to-get-in program.
When to Do a Distance MA?
If your circumstances prevent you from learning in a conventional manner, you should focus on choosing the correct course rather than the right time! To help you get through all of your challenges and finish your higher education, there is a distance MA available. Universities offering this program have not set an age limit on applicants in order to make it affordable for you.
Furthermore, there are no special prerequisites for this program, meaning that graduates from any discipline, including the arts stream, are welcome to apply. You can therefore enroll in this master's program at any point in your life as long as you have graduated from an accredited university.
Popular & Affordable Private Distance MA Universities in India
| | | |
| --- | --- | --- |
| Universities Offering Distance MA | NIRF Ranking 2023 (University Category) | Starting Fee Range (Might Vary) |
| | 6 | 1.30 Lakhs INR |
| | 27 | 1.00 Lakhs INR |
| | 35 | 1.60 Lakhs INR |
| | 38 | 67,000 INR |