MCA or Master in Computer Applications is a postgraduate program that helps you delve into the core concepts related to software & technology. This distance mode course can be completed in 2 years which makes you gain on-the-job experience along with your master's degree program.
MCA distance education offers great flexibility by providing weekend classes that help you continue your job even while studying. The learnings of computer applications & modern programming language will make you avail of a varied number of career opportunities in different sectors.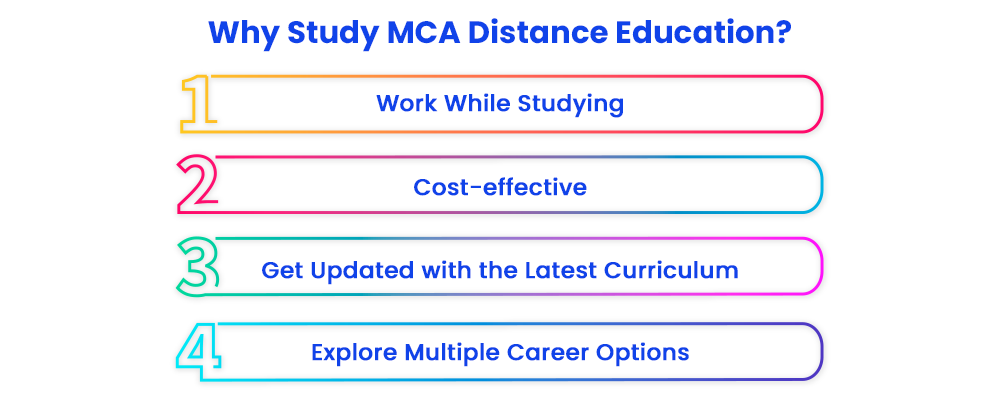 The skill-enhancing curriculum of MCA distance education prepared by highly experienced faculty members & industry experts will make you job-ready for this competitive IT industry. A highly accessible LMS portal that contains academic resources like recorded lectures, past projects, etc. will assist you in your self-paced learning journey.
Looking at the high demand for IT professionals, MCA distance education is one of the best career choices for candidates aspiring to build their career in this line. Moreover, as per the UGC guideline, the MCA distance education holds equal weightage as a regular MCA course. Furthermore, a command over computer applications, software, programming languages, etc. as learned from this program will make you secure a reputed job at a big-fat payscale in the international market.
Why Distance MCA?
With the increasing demand for technical professionals in the industry, the job opportunities in the market for an MCA graduate have been increased by many folds. Thus, MCA distance education is one best possible ways to join the team of techies without interrupting your existing routine. The advanced-level concepts of computer applications help you gain expertise in the topics of cloud computing, web technologies, programming, etc.
The flexible learning module of this distance course is one of the key highlights that has made it quite popular in the market. The freedom to work while studying feels like a blessing to the millions of masses who could not upgrade their educational level in the regular format due to their busy schedules. Moreover, the low cost of the course adds to its feasibility for the learners.
Who Should Pursue Distance MCA?
MCA distance education is open to all eligible candidates but there are some specific categories of candidates who can get the most out of it. A few of them are listed below to help you analyze your requirements.
Technical Professionals: Tech graduates who are serving the IT sector can upgrade their profile and salary package with this distance course.
Fresh Graduates: Newbies in the market who want to pursue a PG degree while earning can opt for this program and fulfill their needs.
Anyone With An Interest: Even if you do not have prior experience in the IT field still you can switch your career with an MCA distance education. Although, you might need to fulfill a few additional requirements to opt for this program.
When to Do a Distance MCA?
MCA distance education is quite a flexible program that has the simple eligibility criteria at most universities. There is no age restriction for applying for it. Moreover, it does not even come up with the mandate of prior work experience. Furthermore, it fits well with the busy job schedules of working professionals, thus, they can take up this course at any stage of their careers.
Popular & Affordable Distance MCA Universities in India
| | | |
| --- | --- | --- |
| Universities Offering Distance MCA | NIRF Ranking 2023 (University Category) | Full Fee Range (Might Vary) |
| | 6 | 1.00 to 1.52 Lakhs INR |
| | 27 | 80,000 to 1.20 Lakhs INR |
| | 35 | 1.00 to 1.60 Lakhs INR |
| | 38 | 70,000 to 1.20 Lakhs INR |