Distance MCom programs usually last 2 years and are designed to meet the demands of working professionals, graduates, and people from various backgrounds who want to improve their knowledge of commerce, finance, and related subjects. These programs offer a platform for lifelong learning, allowing individuals to broaden their knowledge base, improve critical thinking abilities, and achieve competence in particular trade areas. One of its primary benefits is its flexibility, allowing students to study quickly and conveniently and juggle career and personal obligations.
A Distance MCom program's curriculum is extensive and covers various courses such as financial management, accounting, economics, business law, taxation, and strategic management. The curriculum is meant to give students a thorough knowledge of advanced ideas, industry best practices, and new trends in the field of commerce. Students can also concentrate on finance, marketing, human resources, or international business, connecting their education with their professional goals.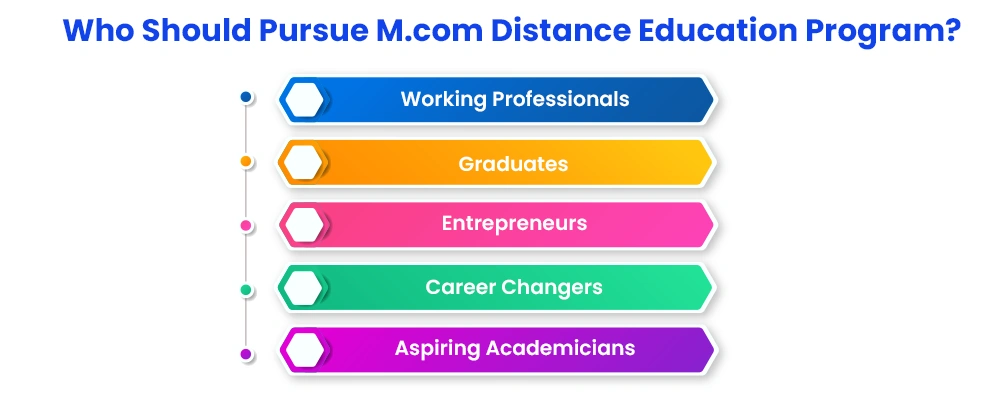 Case studies, projects, and internships are common components of distance MCom programs, letting students apply their theoretical knowledge to real-world circumstances. This hands-on experience helps students build critical thinking, problem-solving, and decision-making abilities essential for success in today's competitive business environment.
Another key benefit of a Distance MCom degree is the chance to network and cooperate with individuals from other backgrounds. Students may participate in debates, exchange insights, and establish a strong network of like-minded individuals through virtual classrooms and online forums. This networking element of online education creates opportunities for beneficial relationships, partnerships, and professional advancement.
Why Distance M.Com?
MCom distance education is one of the best possible ways to pursue your higher education with your ongoing engagements. This program provides you with a moderate level of flexibility that allows you to continue your job while learning the core & advanced topics of the finance domain. Its low fee package and equal credibility as a regular MCom are the major causes of its popularity among commerce aspirants.
Who Should Pursue Distance M.Com?
MCom distance education is an ideal fit for working professionals who do not want to leave their jobs to complete their higher education. Even for fresh graduates who are at the start of their careers, this program is quite beneficial as it allows them to get post-graduated while gaining on-field experience with a job in the commerce field. Irrespective of the years of experience in the work field, this post-graduate program can help you get promoted to managerial roles in your firm or the other.
When to Do a Distance M.Com?
There are several benefits of opting for an MCom distance education. One of the major ones is its easy enrollment procedure. This program can be taken up at any age as there is no restriction on that. Moreover, the freedom to apply for this program at any stage of your career provides you with an opportunity to upscale your designation and financial status easily.
Popular & Affordable Distance M.Com Universities in India
| | | |
| --- | --- | --- |
| Universities Offering Distance MCom | NIRF Ranking 2023 (University Category) | Starting Fee Range (Might Vary) |
| | 6 | 80,000 to 1.00 Lakhs INR |
| | 27 | 1.00 to 1.30 Lakhs INR |
| | 35 | 80,000 to 1.10 Lakhs INR |
| | 38 | 60,000 to 84,000 INR |