The online Master of Science in Data Science program offers a comprehensive curriculum to prepare students for success in this constantly developing sector. The curriculum is designed to match industry expectations, ensuring that graduates are well-prepared for the problems they will confront.
The program includes statistical modelling, machine learning, data visualisation, predictive analytics, and data mining, among other areas. Students acquire practical exposure to industry-standard tools and technologies, preparing them to solve real-world data issues. The curriculum also stresses data science ethics, ensuring graduates approach their profession honestly and accurately.
The faculties of this program are data science professionals who bring a lot of industry expertise and experience to the virtual classroom, assuring students receive a high-quality education. Faculty members provide individualised assistance and guidance to students throughout their learning experience.
Furthermore, universities providing Online MS in Data Science have close relationships with industry and organisations, providing students with significant access to real-world projects and internships. This cooperation exposes students to real-world difficulties and allows them to use their knowledge professionally. Such industry ties might help you extend your professional network and advance your career.

With interactive lectures, virtual laboratories, and collaborative projects, the online format creates a dynamic learning environment. Students can communicate with their peers and professors through online platforms and devoted faculty assistance, building a sense of community and networking possibilities.
Graduates of LJMU's Online Master of Science in Data Science program are prepared for various fascinating job options. Data scientists are in high demand, with businesses including healthcare, finance, marketing, and technology looking for experienced experts to drive innovation and inform decision-making.
Key Highlights of Online MS in Data Science
The curriculum includes a free Python programming boot camp, which ensures students have a solid foundation in one of the most extensively used programming languages in data science.
The online MS in Data Science program provides a focused career-important soft skills curriculum that strengthens graduates' total professional competency.
The program is intended for working individuals who want to develop their careers in data science.
The curriculum provides students with in-depth information and hands-on experience in diverse data science approaches and methodologies via over 500 hours of thorough study.
Students acquire practical experience handling real-world data science issues by incorporating over 60 case studies and projects within the curriculum.
The program provides group mentorship meetings with industry leaders to improve the learning experience and give students useful insights, assistance, and practical advice.
Students can access daily doubt resolution help, ensuring their questions and concerns are answered immediately.
Graduates of the program obtain the distinguished distinction of university alumnus, which gives you access to a worldwide network of experts.
Because the curriculum is delivered online, students can research work prospects globally.
The program provides an EMI option, making it more financially accessible to students.
The program includes an AI-powered profile builder to assist students in efficiently showcasing their talents and achievements to potential employers.
The curriculum includes a career boot camp that prepares students for job searches, resume creation, interview methods, and networking.
Syllabus of Online MS in Data Science
The syllabus of an Online MS in Data Science may differ significantly based on the program and institute providing it. However, below you can find a brief outline of the topics that are usually taught in an Online Master of Science in Data Science program:
| | |
| --- | --- |
| Data Toolkit | Machine Learning - I |
| Statistical Analysis and Modeling | Data Visualization and Communication |
| Topics related to your specialisation | Natural Language Processing |
| Deep Learning and Neural Networks | Data Mining and Pattern Recognition |
| Research Methodologies | Master's Dissertation |
Eligibility Requirements for Online MS in Data Science
The prerequisites for an Online Master of Science (MS) in Data Science program vary based on the university and program. However, the following are some often assumed qualifying criteria:
A bachelor's degree from an authorised university with at least 50% of marks is required for most MS programs. A degree in a relevant subject, such as computer science, statistics, mathematics, engineering, or a related discipline, may be required.
Certain topics' proficiency or preparatory study may be required. This can involve an understanding of mathematics (e.g., calculus, linear algebra, probability, statistics), programming (e.g., Python, R), and database principles.
While not necessarily required, professional job experience in a relevant industry may benefit some programs. This is especially true for online master's degrees tailored for working people.
The applicant must be fluent in English. Standardised examinations, such as the TOEFL (Test of English as a Foreign Language) or IELTS (International English Language Testing System), are often used to measure this.
It is crucial to note that these qualifying criteria are basic suggestions, and it is recommended that you study the Online MS in Data Science program's unique prerequisites.
Duration of Online MS in Data Science
An online Master of Science (MS) in Data Science program lasts 1 to 2 years. Full-time programs may be finished in approximately a year, but part-time programs are tailored for working professionals and can take 18 to 24 months. Program lengths may differ based on the university and program structure. It is critical to check the official program data published by the university providing the program for precise information on the duration and study alternatives.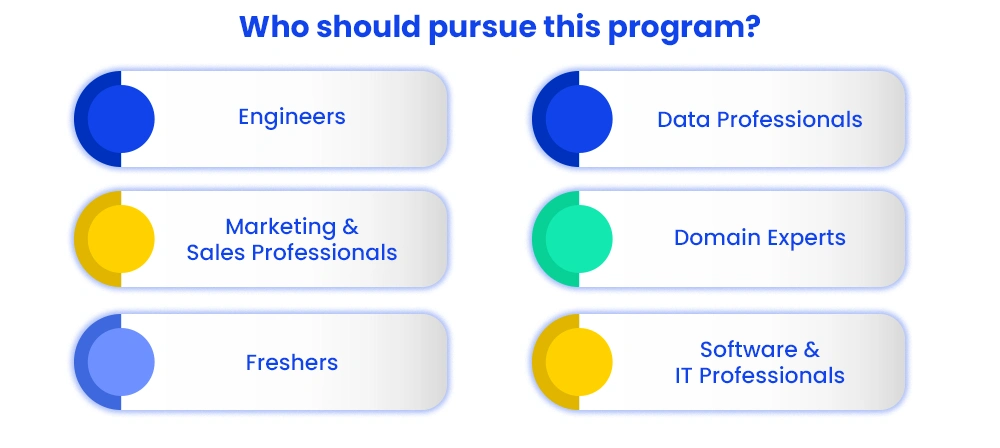 Admission Process for Online MS in Data Science
Depending on the university and program, the admission process for an Online Master of Science (MS) in Data Science may differ. However, the following is a broad outline of the processes involved in the admission process:
Begin by completing an online application via the university's admissions website. Fill in the blanks with your personal information, academic background, and relevant professional experience. Some universities may require an application fee.
Submit academic transcripts from all prior institutions or universities attended. These transcripts must show that you have earned a bachelor's degree or equivalent from a recognised institution.
Create a purpose statement explaining why you want to pursue an Online MS in Data Science, your professional goals, and how the program will help you achieve them.
Some institutions may demand standardised test results, such as the GRE (Graduate Record Examination), as part of the application process. Examine the exact requirements of the university you are applying to and plan appropriately.
Proof of English language competency may be requested for overseas candidates whose first language is not English. Standardised examinations, such as the TOEFL or IELTS, can indicate this.
Once all application papers have been received, your application will be reviewed by the university's admissions committee. They will review your academic record, exam results, statement of purpose, and any supporting documents.
Universities may conduct interviews to determine your appropriateness for the program. Interv can be held in person or over video conference.
The institution will tell you of its admission decision following a comprehensive examination. If accepted, you will get an official admission offer outlining the following stages: registration procedures and deadlines.
If you get the offer letter, fulfil all other formalities, and pay the program fees.
It is crucial to remember that these are broad guidelines and that the specific admission procedure may differ between colleges and programs. For thorough instructions and prerequisites, it is advised that you check the official admissions material offered by the university, such as Liverpool John Moores University or any other institution you are interested in.
Career Scope After Pursuing Online MS in Data Science
Given the increased demand for data specialists across numerous industries, the employment opportunities after earning an Online Master of Science (MS) in Data Science are quite promising. Below you can find some prominent companies where you can work after finishing the program.

Because of their specific abilities in data analysis, machine learning, and programming, individuals with a Master of Science (MS) degree in Data Science are in great demand. As organisations rely more on data-driven decision-making, individuals with an MS degree may use their knowledge to promote innovation and gain a competitive advantage. Here are some job prospects that you can hold after completing the Online MS in Data Science:
Product Analyst

Machine Learning Engineer

Business Analyst

Business Intelligence Analyst

Digital Marketing Consultant

E-commerce Marketing Manager

Data Engineer

Research Scientist

Data Architect

Data Consultant

Data Manager

Data Director
These are just a handful of the many employment options open to graduates of an Online MS in Data Science program. Graduates with abilities in data analysis, machine learning, programming, and data visualisation are in great demand in areas such as banking, healthcare, technology, e-commerce, marketing, and others. The breadth of a profession in data science is expanding as firms increasingly rely on data-driven insights to achieve a competitive advantage in the digital age.