Distance M.Sc is a two-year postgraduate program specially designed for individuals who cannot attend regular on-campus sessions owing to employment responsibilities, geographical limits, or personal circumstances and might benefit from the program, which offers a flexible and comfortable learning experience. Students may receive high-quality education from famous colleges and institutes through online lectures, virtual conversations, and self-paced study resources.
Individuals can increase their education and job opportunities through the Distance M.Sc program without jeopardizing their obligations. It eliminates time and distance restrictions, allowing students to get a great education from the comfort of their homes. Individuals can begin a transforming learning journey and emerge as experts in their chosen professions by enrolling in a respectable and authorized college.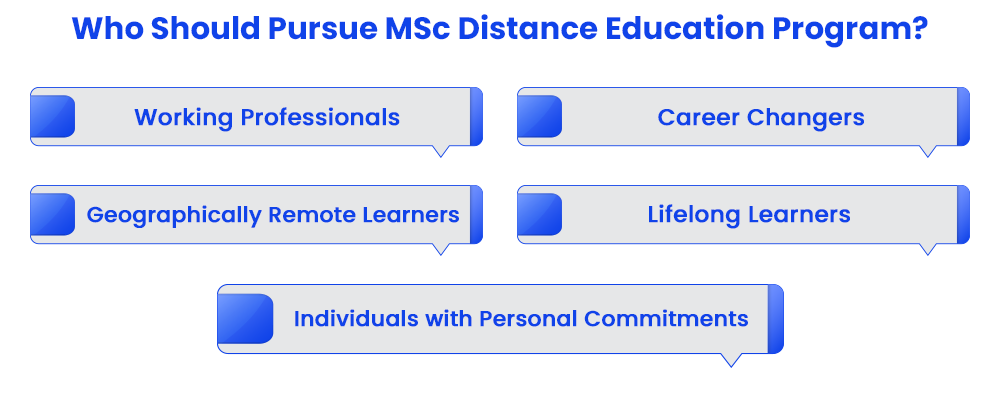 The Distance M.Sc or M.Sc Distance Education Program offers students a flexible and convenient way to gain specialized information, improve their abilities, and open doors to interesting professional prospects. With technological improvements and the rising acceptance of distance education, earning an M.Sc degree online has become a feasible and legitimate option for ambitious learners looking to make their mark in an ever-changing professional world.
Popular & Affordable Private Distance M.Sc Universities in India
| | | |
| --- | --- | --- |
| Universities Offering Online MSc | NIRF Ranking 2023 (University Category) | Starting Fee Range (Might Vary) |
| | 6 | 2.60 Lakhs INR |
| | 27 | 1.00 Lakhs INR |
| | 35 | 1.43 Lakhs INR |
| | 38 | 67,000 INR |
Why Distance M.Sc?
MSc distance education is one of the easiest ways to complete your post-graduation in the science domain. It makes you learn the core learning of your selected specialization while working. Not just flexibility but affordability is one of the reasons contributing to the popularity of this distance program.
Moreover, the career benefits you get upon completion of this course are not any different from those of a regular MSc program. Furthermore, based on the UGC's latest guidelines, the acceptability of distance degrees has been increased in both the public and private sectors.
Who Should Pursue Distance M.Sc?
An MSc distance education program is the best option for you if you are a recent graduate with financial constraints or do not meet the requirements of a traditional MSc college. Furthermore, an online postgraduate program might help you realize your career goals without requiring you to quit your existing position if you work in the corporate world and are seeking a promotion.
The following is a condensed list of applicants for this MSc distance education program:
Recent graduates in science
Professionals in the industry who are actively working
Aspiring researchers
Anybody with a passion
Professionals who wish to change their field of work
When to Do a Distance M.Sc?
One of those advanced degree programs that lets you continue your studies at any age is the MSc distance education. For those who want to pursue careers in science, this program is not only accessible but also very doable thanks to its simple registration process. Furthermore, the absence of limitations on previous job experience in the relevant sector encourages professionals and students from other fields to enroll in this master's degree to seamlessly transition into a new career.
Key Highlights of Distance M.Sc
The MSc Distance Education Program has several key highlights, some of which are mentioned below:
The MSc Distance Education Program allows you to study at your speed and leisure, allowing you to balance your education with other obligations.
Respected educational institutions create the program to provide a high-quality curriculum, skilled teachers, and rigorous academic requirements.
You can pick from various specialized disciplines of study, such as computer science, environmental science, psychology, mathematics, and others.
You may access many digital resources through online platforms, such as e-books, journals, research papers, and multimedia elements.
The curriculum uses innovative technology to create an interactive virtual classroom environment where you may connect with instructors and students through discussions, webinars, and joint projects.
You will receive specialized help from academic advisers who will answer your questions, give direction, and ensure a positive learning experience.
The MSc Distance Education Program will provide specific information and abilities to help you advance in your chosen area and open doors to new possibilities.
Regardless of distance, virtual networking events, forums, and online communities allow you to interact with fellow students, graduates, and industry experts.
Appropriate educational bodies have recognized and approved the program, guaranteeing that your degree is valuable and widely acknowledged by businesses and institutions.
The MSc Distance Education Program promotes lifelong learning by offering a platform for ongoing personal and professional growth, allowing you to remain relevant in a constantly changing work market.
Distance M.Sc Course Subjects
MSc Distance Education Programs have different curricula based on the topic of study and the institution that offers the program. However, the following are some often discussed topics:
| | |
| --- | --- |
| Foundational topics | Core Subject |
| Specialization Courses | Elective Courses |
| Research Methodology | Workshops and Project Works |
The subjects that you will study in this program will be based on your chosen specialization topic. Apart from core topics, you will also get a handful of industry projects to strengthen your application-based knowledge.
Top Specializations of Distance M.Sc
There are numerous distance MSc specializations from which you can choose one based on your interest. Some of the trending ones in the industry at present time are listed below:
Other Types of M.Sc
There are a variety of educational modes available in which you can take up an MSc program. Some credible modes are listed here.
Regular M.Sc: An on-campus master's program in science and technology is called a Regular MSc. You must visit the college campus every day to attend classes in this program. With so little room for flexibility in your education, this curriculum prevents you from pursuing other interests.
Top Universities for Regular M.Sc As Per NIRF Ranking 2023
| | |
| --- | --- |
| Universities/Institutions | NIRF 2023 Ranking in University Category |
| Indian Institute of Science | 1 |
| Jawaharlal Nehru University | 2 |
| | 3 |
| Jadavpur University | 4 |
| Banaras Hindu University | 5 |
| | 6 |
| | 7 |
| | 8 |
| | 9 |
| | 10 |
Online M.Sc: An online Master of Science degree from an accredited university is accepted by employers just as much as a traditional degree in the same field. Gaining technical and conceptual understanding through this online program is quite helpful for both your career and personal development. Additionally, the training you receive in this program without attending campus-based classes on the newest technologies and techniques will assist you in keeping up with the most recent developments in the field.
Top Online MSc Universities in India
| | |
| --- | --- |
| Universities Offering Online MSc | NIRF Ranking 2023 (University Category) |
| Manipal University | 6 |
| Chandigarh University | 27 |
| Amity University, Noida | 35 |
| Lovely Professional University (LPU) | 38 |
Part-Time M.Sc: When it comes to flexibility, a part-time MSc is superior to a remote MSc. The use of online academic resources and weekend or evening classes forces you to understand every pertinent subject in your profession. Working people like this well-balanced combination of distance and online MSc programs.
The key differences between a regular, online, distance, & part-time MSc are tabulated below:
| | | | | |
| --- | --- | --- | --- | --- |
| Specifications | Regular M.Sc | Distance M.Sc | Online M.Sc | Part-time M.Sc |
| Flexibility Level | None | Low | High | Moderate |
| Location Constraints | Yes | Yes | No | May or may not be there |
| Fee Range | High | Low | Affordable | Affordable |
| Class Schedule | Daily | Fixed Class Timings | Flexible Class Timings (Accessibility to Recorded Classes) | Flexible Class Timings (Optional) |
| Course Duration | 2 Years | 2-4 Years | 2-4 Years | 2-4 Years |
| Industry Exposure | Mostly domestic with limited international opportunities | Mostly Domestic | Global | Global |
| Technological Advancements in Learning | Moderate | Low | High | Moderate |
| Industry Acceptance | Very High | Equivalent to a regular MSc | Equivalent to a regular MSc | High |
Distance M.Sc Eligibility
The qualifying requirements for Distance MSc programs may differ based on the university or institution that offers the program. However, the following are some broad qualifying criteria:
Candidates must hold a Bachelor's degree from a recognized university or institution in a related discipline.
Many institutions have a minimum percentage of marks required in the qualifying degree, which normally ranges from 50% to 60%.
Work experience may be considered a plus point by some MSc programs. However, it should be noted that qualifying requirements differ between colleges and programs. It is strongly advised to review the precise qualifying criteria given by the university or institution delivering the desired Distance MSc program.
Distance M.Sc Duration
Distance MSc programs normally last 2 years, depending on the university and the curriculum. The program is meant to be completed part-time, enabling working professionals or those with other obligations flexibility. At some universities, the maximum period allowed to complete this program is 4 years.
Skills Required for Distance M.Sc
A few skills that will help you understand every minute detail of this master's program and get 100% assured results in your profession are mentioned below:
Analytical Skills: A professional's primary responsibility is to analyze current strategies and create new ones. Gaining a solid foundation in science subjects covered in graduation coursework will enable you to hone your analytical abilities and spot problems in your company.
Communication Skills: Being able to communicate effectively and strongly is one of the most important things you may have to make your workplace run more smoothly. This will help you communicate your thoughts and message more clearly.
Problem-solving Skills: Finding problems is one thing, but resolving them to get better outcomes is a skill that all professionals need to have. In the field of science and technology, the ability to solve problems is demonstrated by the readiness to apply the right plan of action at the right moment.
Team Management Skills: One of the hardest skills to come by, people management is a must for anyone hoping to lead or become head of their department. This ability will help you manage your team so that tasks are completed on schedule.
Is an Entrance Exam Conducted For a Distance M.Sc?
MSc distance education is one of those courses launched by universities to help professionals fulfill their academic and technical requirements. Thus, to maintain the feasibility and accessibility of this program, no entrance exam is conducted by most universities. However, you may come across a few institutions that demand for a good score in a national or university-specific entrance exam. The names of some common entrance tests entertained for MSc are listed below:
| | |
| --- | --- |
| Common University Entrance Test (CUET) PG | Birla Institute of Technology and Science Admission Test (BITSAT) |
| IIT Joint Admission Test (IIT JAM) | Indira Gandhi Krishi Vishwavidyalaya Common Entrance Test (IGKV CET) |
| National Entrance Screening Test (NEST) | GITAM Science Admission Test (GSAT) |
| Tata Institute of Fundamental Research (TIFR) GS | Odisha University of Agriculture and Technology (OUAT) Entrance Exam |
Recommended Books
You can use the books listed below to prepare if your chosen university requires a strong performance on any of the aforementioned entrance exams:
| | |
| --- | --- |
| Books | Author Names |
| Arihant Skills in Mathematics | Arihant |
| A Problem Book in Mathematical Analysis | G.N. Berman |
| General Knowledge | Arihant |
| Verbal & Non-Verbal Reasoning | R.S. Aggarwal |
| English Grammar & Composition | Wren and Martin |
Distance M.Sc Admission Procedure
Step 1: Submit the online application form with all essential papers, including educational certificates, ID verification, and a photograph.
Step 2: The university or institution verifies the candidate's eligibility conditions and documentation.
Step 3: Some universities may administer an admission exam to measure a candidate's aptitude and topic knowledge.
Step 4: Shortlisted candidates may be contacted for counseling or interview rounds to determine their suitability for the program.
Step 5: Seats are assigned to candidates depending on their merit rating and the availability of seats in the requested specialism.
Step 6: Candidates must present original documents for admission verification and confirmation.
Step 7: Selected candidates must pay the relevant fees within the deadline specified to be admitted.
Step 8: After completing all the preceding processes, applicants will get an official confirmation of their acceptance.
Why Opt for an Education Loan for a Distance M.Sc Program?
Distance MSc programs often have ways to get financial help, like scholarships, loans, or payment plans for fees. This help can make it easier for students to pay for college. Eligibility for financial aid is different for each institution or program. Prospective students should call the institution or program to find out if these options are available and to learn about the application process and requirements. Some students may also look for grants or education loans from outside sources to help pay for school.
Distance M.Sc Academic Fees
Candidates can compare the tuition costs for this distance master's program at College Vidya for different universities offering it. Simply choose your subject and provide some basic information to receive a list of authentic universities that offer MSc distance education programs.
Distance M.Sc Domestic Fee
Fees for Distance MSc programs are usually between INR 20,000 and INR 90,000. But it's important to know that tuition costs can change based on things like the program, the university that offers it, the length of the program, and the field of study. Most of the time, public colleges are more reasonable than private ones, which may have higher tuition fees. Some universities may also offer grants or other financial help to qualified students, which can add to the total cost of a Distance MSc program. Prospective students should look into each school and university to determine the exact costs.
Distance M.Sc International Fee
The cost of this MSc distance education program ranges from $500 to $1,000 for international students. Again, this number may change depending on the university you choose.
Is Distance M.Sc Worth It?
Pursuing a Distance MSc program is a highly valuable undertaking for persons who desire higher education while circumventing the limitations imposed by conventional, in-person programs. These programs provide several appealing benefits.
Firstly, Distance MSc programs provide unparalleled flexibility. This program facilitates the acquisition of a master's degree by students who are concurrently juggling professional responsibilities, familial obligations, or other personal commitments. Providing flexibility in education enables individuals to assume control over their learning, enhancing accessibility to a wider range of persons.
Additionally, Distance MSc programs frequently exhibit reduced tuition expenses compared to their on-campus equivalents. The affordability of education serves to democratize access to knowledge acquisition and professional progression by mitigating the impact of financial restraints.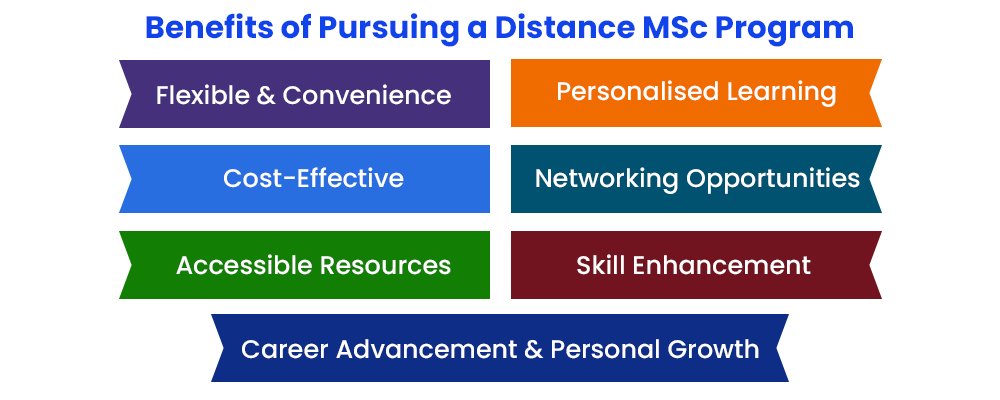 Moreover, these programs are specifically tailored to offer specialized expertise in distinct scientific domains, enabling students to acquire comprehensive understanding and hands-on proficiency. This area of expertise has the potential to greatly improve one's career opportunities and competitiveness in the employment market.
Nevertheless, pursuing a Distance MSc program should follow one's personal objectives and unique circumstances. Although flexibility offers significant benefits, it also necessitates self-discipline and proficient time management abilities. Moreover, many occupations may need conventional, in-person academic qualifications for certain positions or official recognition.
Pursuing a Distance MSc program is highly advantageous for those prioritizing flexibility, cost-effectiveness, and specialized instruction. The program provides a means for individuals to progress in their careers, develop personally, and gain specialized knowledge, rendering it an appealing choice for aspiring scientists and professionals across many scientific fields.
Job Opportunities After Distance M.Sc
To increase your chances of being acknowledged by companies and research firms, select a renowned and reputed university or institution offering the Distance MSc program. Gaining appropriate job experience and demonstrating intellectual abilities through projects and certifications can also improve employability. Here are some of the job prospects after this course:
| | |
| --- | --- |
| Scientific Researcher | Data Analyst |
| Environmental Consultant | Project Manager |
| Healthcare Administrator | IT Consultant |
| Financial Analyst | Quality Control Manager |
| Education Administrator | Market Research Analyst |
Career Scope
Individuals who want to improve their knowledge, abilities, and job prospects in a certain subject of study may benefit from pursuing a Distance MSc course. While course recognition varies by sector and organization, a Distance MSc degree from a respected and approved university is valuable and dedicated to continuous learning and professional growth.