Online BCA is a 3 years comprehensive bachelor's degree that covers a wide range of topics, from the basics of computer science to advanced code languages, databases, software engineering, and more. This all-around program ensures that students have a strong base in many different parts of computer applications and gives them the skills they need for many jobs in the tech field.
UGC-DEB has approved online BCA and has the same value as a normal BCA. One of the best things about BCA programs online is their flexibility. These programs consider learners' many tasks, such as a full-time job, family obligations, or other duties. Online learning lets students build their study plans around what they already do to keep a good mix between work, school, and life.
Even though the program is delivered online, the program also focuses on learning through interaction. Virtual classes, chat platforms, and group projects help students and teachers from different parts of the world work together. This variety of points of view makes learning more interesting and gives a taste of how tech is used worldwide.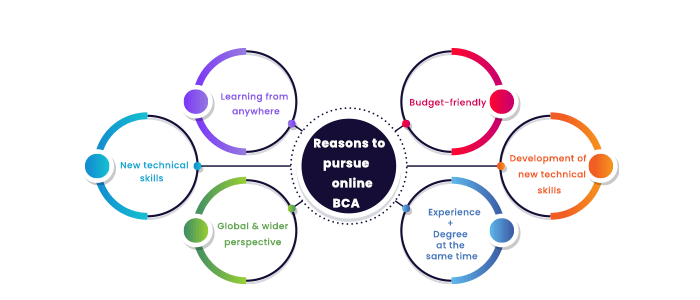 BCA courses online build their courses around what the tech industry needs. This ensures that graduates have the skills and information useful in an industry that is always changing. From computer languages like Java and Python to building websites, making mobile apps, and managing data, students learn skills that can be used immediately in the real world.
Students automatically learn digital knowledge and technical skills by pursuing an Online BCA program. Using online learning platforms, working with virtual teamwork tools, and solving tech problems have become second nature. Moreover, the program is a great way to meet new people. Students work with their peers, teachers, and workers from many fields. With a bigger network, you can work together, get job leads, and learn about a wider range of views in the tech field.
Key Highlights Of Online BCA Course
With an online BCA program, you can learn at your own pace and fit school in around work and other obligations.
The program helps students develop technical skills related to computer programming, data visualization, cloud computing, etc.
The BCA program online covers various topics, from the basics to more advanced computer tools, to prepare you for various tech jobs.
With an online BCA program, engage with teachers and peers worldwide through virtual classes and group projects for a more varied learning experience.
Learn skills needed in the job market, such as computer languages, web creation, and data management.
You can move through your schoolwork at your own pace and change it to fit your learning style and what you already know.
Learn in a digital setting to improve your digital knowledge and technical skills.
Make virtual connections with peers and professionals to grow your network and find new ways to work together and advance your job.
Use the program's flexibility to get into tech-related jobs, such as software creation and IT counseling.
Eligibility Criteria Of Online BCA
Depending on the university that offers the program, an Online BCA program's eligibility requirements and duration can differ. But there are some things that students usually need to do before they can enroll:
Applicants must have finished their 10+2 education from a recognized board or a similar test.
Most schools expect students to have gotten at least a certain number of marks on their 10+2 exams, usually at least 50%.
There may not be strict subject requirements, but knowing math and computer science can be helpful.
Since the program is taught in English, it is generally assumed that you know a certain amount of the language. Some schools might want you to take a test to see how well you speak English.
Duration Of Online BCA Course
Most online BCA programs take about 3 to 4 years to finish. This time is broken into six semesters, each about six months long. The program's framework is set up so that the courses and topics are spread evenly over the three years. This way, students can slowly build their knowledge and skills in computer applications.
Program Fees for Online BCA
Fees for the online BCA Program usually cost between 50,000 INR and 2 lakhs INR. The university name causes this difference, the program's length, how complete the education is, and what other support services are offered. The low cost of these programs and the fact that they can be done online make them a good choice for people who want to get a good education in computer applications.
In Demand Online BCA Specialization
Admission Procedure Of Online BCA
The candidates who are willing to pursue online BCA must read these steps to start the procedure of online admission:
Register yourself as a New User on the official website of the university by creating unique credentials.
Then fill in your details in the application form (contact details, prior qualifications etc.)
Upload the necessary documents on the portal.
Then submit the registration and your semester fee online.
After this process, the university will send you a confirmation message along with the enrollment number.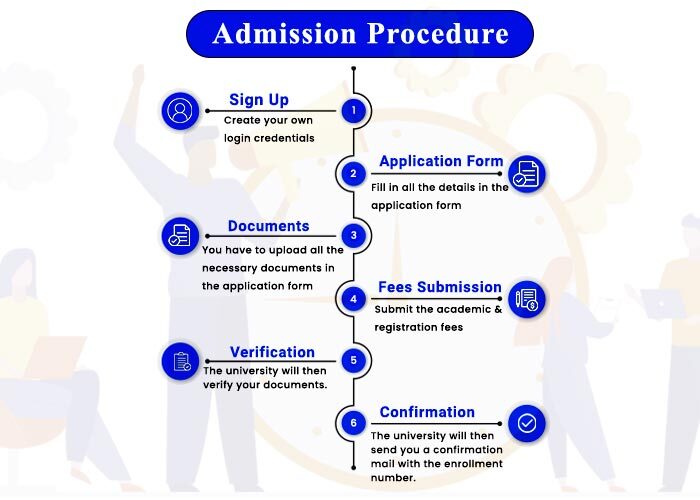 Career Opportunities After Online BCA
Graduates of online BCA programs have plenty of job possibilities, and most companies recognize the skills they've learned. The program's full coursework prepares people for jobs in software creation, web design, IT consulting, and other fields. Employers like the real skills and flexibility that graduates show through online learning, which makes them very competitive in the job market. Here are some job prospects after Online BCA.
System Engineer
Software Tester
Programmer
Backend Developer
Web Developer
Software Developer
System Administrator
Online BCA Scope, Top Companies & Salary
India's IT business has grown to be worth more than $250 billion. It is growing by 7.7% every year. India is home to many IT parks, such as those in Bangalore, Hyderabad, Pune, Noida, and Mumbai, all of which are looking for Online BCA grads. Here are some of the leading companies which are actively hiring Online BCA graduates.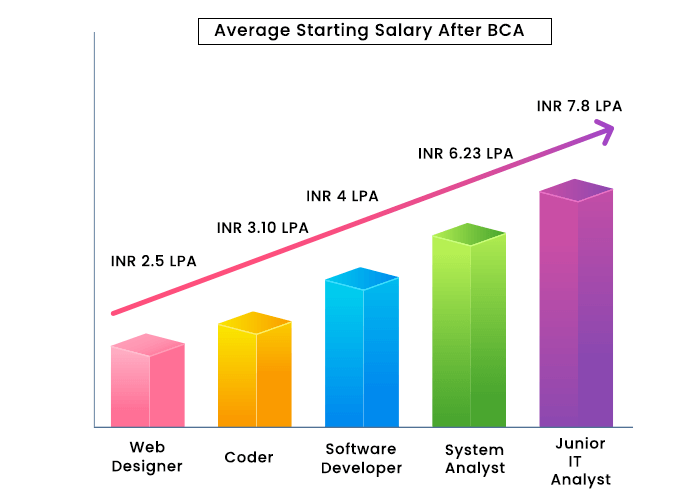 There are many MNCs that hire online BCA graduates such as TCS, HCL, WIPRO, Infosys, Microsoft, Cisco, Cognizant, and many others.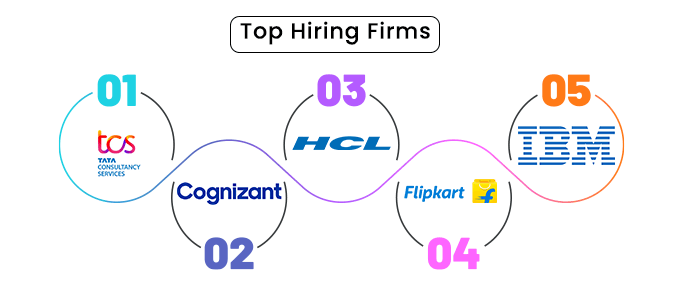 Is the Online BCA Program Worth it?
Pursuing an Online BCA is a good idea in the digital age as it offers many benefits, freedom and convenience that can't be found anywhere else. The program lets people fit their learning around other things they must do, like work, family, or personal interests. This makes education available to more people.
The courses in the online BCA program cover a lot of ground, are up-to-date, and are based on interactive learning, which disproves the idea that online learning is done alone. Students interact with teachers and classmates worldwide through virtual classrooms, conversation forums, and group projects. This creates a learning atmosphere that is diverse and rich.
Another important benefit is that it saves money. Tuition for online BCA is often less than for standard on-campus programs. They are also attractive because they save money on transportation and moving costs.
To sum up, choosing to go to an online BCA school is a smart move. In an age ruled by technological progress, its importance is shown by its flexibility, strong curriculum, interactive learning, industry alignment, global networking, technological skills, and job possibilities. It's an investment that adds to your skills and puts you at the center of a technology-driven future.

Is the BCA Program Eligible for an Education Loan?
A student loan can be used to pay for an Online BCA program. Like any other course, this can be paid for with a student loan. The minimum requirements for getting a student loan for the BCA school are the same as for the other classes. That is, the person must live in India and be between the ages of 18 and 35. They must also have a letter of acceptance from a recognized university. If you meet all of these requirements, you can apply for an education loan for any school, whether online or offline.