The Postgraduate Programme in Power Management is an online certification course for graduates and working professionals who want to explore the field of power and energy resource management. Covering several industry-relevant concepts, this course is designed to equip both freshmen and those with work experience to escalate in their careers.
An online certificate in power management is a specialized program designed to provide individuals with the skills and knowledge required to manage power systems and ensure their efficient operation. With more companies venturing into the energy sector (renewable energy, clean energy, etc.), the scope for this online certificate course is very high.
This online certification program offers a chance for professionals to gain competence in this crucial sector due to the growing demand for sustainable energy practices and the necessity for affordable energy solutions. Through this program, participants gain the skills and knowledge necessary to pursue a career in power management or advance their existing careers in the energy industry.
Key Highlights of Online Certificate In Power Management
This is a 10-month online certificate course to pursue after graduation or as a working professional.

The course covers essential areas of power management such as power economics, financial aspects of the power industry, power trading, business policies and strategy, safety in the power industry, etc.

This online course involves live lectures, virtual learning materials, and the guidance and support of experienced faculty from the universities for students to learn the concepts effectively.

This course has an approximate fee range of INR 50,000–INR 75,000, which would vary depending on the university you pursue the course at.

After completing the course, students will have a strong foundation in power system management, increasing their employability and preparing them to take on the challenges of the energy industry.
Subjects Covered Under Power Management Certificate Program
| | |
| --- | --- |
| Semester I | Semester II |
| Power Sector Economics & Planning | Business Policy & Strategy |
| Financing Energy Sector Projects | Energy Law & Policy |
| Power Pricing & Power Purchase Agreements | Health, Safety & Environment for Power Industry |
| Power Trading | – |
| Power Station Management | – |
Eligibility Criteria of Online Certificate In Power Management
This course has an educational pathway of post-graduation, so the minimum eligibility to apply to this course is that the candidate should have completed their undergraduate education, i.e., a bachelor's degree.

Most universities do not put a stream restriction on this course, and students from any stream or disciplinary background are eligible to apply.

In some cases, the candidate should meet the basic cutoff criteria, having scored at least 50–60% aggregate marks or grade points at graduation.
Course Duration of Online Certificate In Power Management
Being a certification program, this course is short-term and has a duration of 10 months. Some universities may further divide this course into two short semesters for ease of learning and assessment.
How to Apply for Online Certificate In Power Management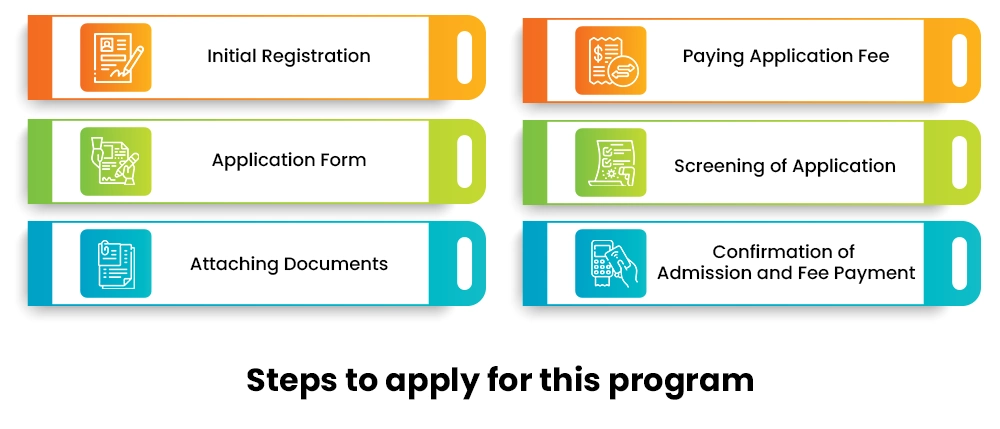 Admissions to this certification programme are completed online and based on the academic qualifications and work experience of the candidate. The admission procedure consists of the following steps:
Initial Registration: Before applying to the course, the student must first register on the official university website by creating their login ID.
Application Form: After creating their login ID, the student can log in to the university website and then fill out the application form for the course by providing details as requested about the university regarding personal information, education, and professional experience (if applicable).
Attaching Documents: The candidate at this point must attach their documents' digital copies along with their application form for verification by the university.
Paying the Application Fee: Before applying for admission, the candidate must make the registration fee payment via net banking facilities.
Screening of Application: The university/institute you apply to will conduct a basic screening procedure of the application based on their admission procedure and the status of admission will be intimated to the candidate.
Confirmation of Admission and Fee Payment: Once the university confirms the candidate's admission to the course, they can secure their seat by making the course fee payment.
So it can be noted that the admission procedure for this course is fairly simple and easy to complete without any hassles of travel to the university campus.
Academic Fee for the Power Management Certificate Program
The academic fee for this course is affordable and usually ranges between INR 50,000 and INR 75,000 for the full course. There are financing alternatives associated with this course at most higher educational institutions offering the programme so that students can pay the fee in easy-to-afford installments.
In Demand Other Online Certifications
Career Opportunities after Online Certificate In Power Management
Many employment prospects in the energy industry can be unlocked by earning an online certificate in power management. Graduates of power management programmes may work for government organizations, research institutions, engineering consulting firms, or power generation or utility companies.
They can play a critical role in the shift towards a sustainable energy future due to the increasing demand for renewable energy sources and the necessity for energy-efficient solutions. They can focus on creating and putting into practise cutting-edge solutions to improve the production, transmission, and distribution of power while also lowering energy use and carbon emissions.
Some of the job roles available for students to explore after completing this online certificate in Power Management include:
| | |
| --- | --- |
| Power Trader | Power Analyst |
| Power Market Research Analyst | Efficiency Manager |
| Power Plant Manager | Techno-Managerial Consultant |
Top Recruiters Hiring for Power Management Experts
Power management graduates are in high demand in the energy sector and are sought after by various companies worldwide. Some of the top recruiters in this field include power generation companies such as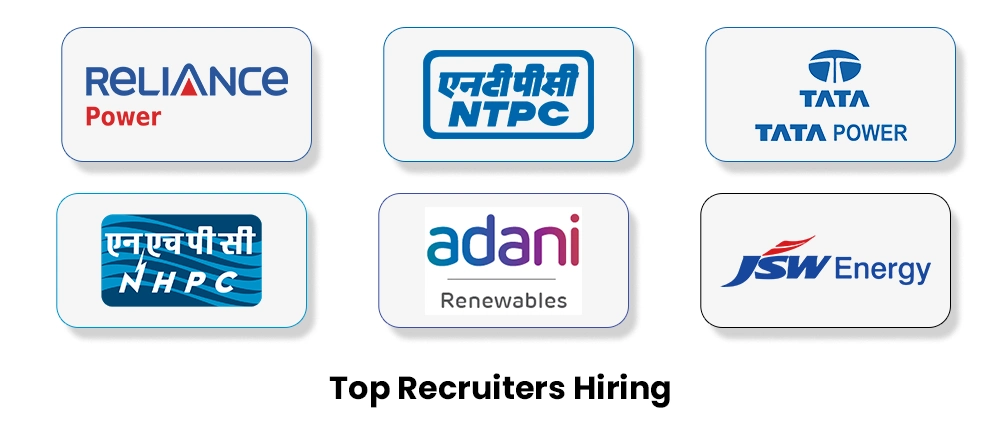 Why Pursue an Online Certificate in Power Management?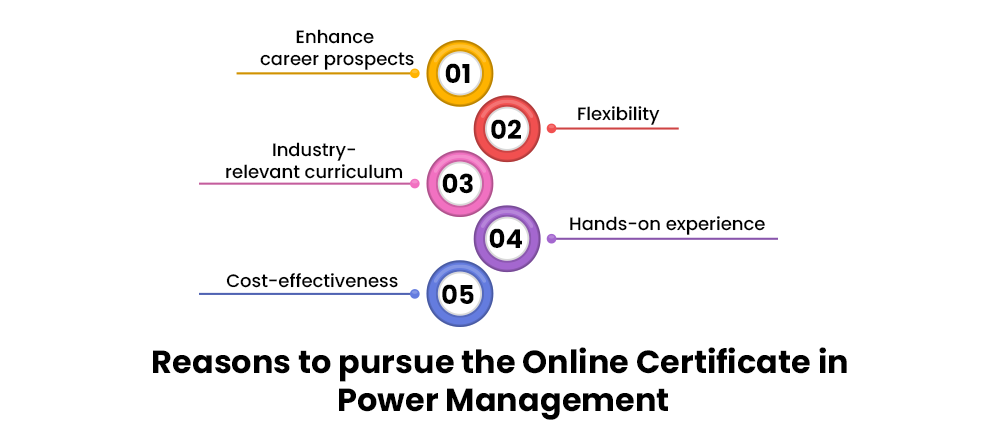 An online certificate in power management is a valuable program for anyone interested in pursuing a career in the energy sector. Some of the reasons why one should consider pursuing this certificate:
Enhance career prospects: The certificate programme gives you the information and practical skills you need to manage power systems successfully, which may help you improve your career options in the energy sector.
Flexibility: Online certificate programmes provide you the freedom to choose your own study schedule and allow you to complete your coursework at your own speed.
Industry-relevant curriculum: The online power management certificate is made to cover all the necessary power management topics, including cutting-edge technology like smart grids and renewable energy sources.
Hands-on experience: The certificate program offers hands-on exercises and real-world case studies, which help learners apply the knowledge gained in the course to practical situations. This improves learning overall and gets students ready for problems in the real world.
Cost-effectiveness: Compared to traditional classroom-based programs, online certificate programmes are typically more affordable. As a result, it is a more reasonable choice for those wishing to continue their education without going into debt.