An Executive Development Program (EDP) in Marketing Analytics is a 4 Months, specialised training program aimed to improve marketing professionals' knowledge, skills, and capacities in data-driven marketing. It focuses on providing participants with the skills, techniques, and knowledge they need to apply data and analytics for effective marketing strategies and decision-making.
Data collection and analysis, statistical modelling, consumer segmentation, predictive modelling, digital marketing analytics, marketing campaign optimisation, and marketing ROI assessment are common subjects covered in the curriculum. Participants learn to acquire and analyse data from various sources, understand findings, and transform them into meaningful marketing plans.
Hands-on training on popular analytics tools and software, including Google Analytics, social media analytics platforms, data visualisation tools, and CRM systems, is frequently included in EDPs in Marketing Analytics. This allows participants to gain skills in utilising these technologies to derive useful insights from large amounts of data.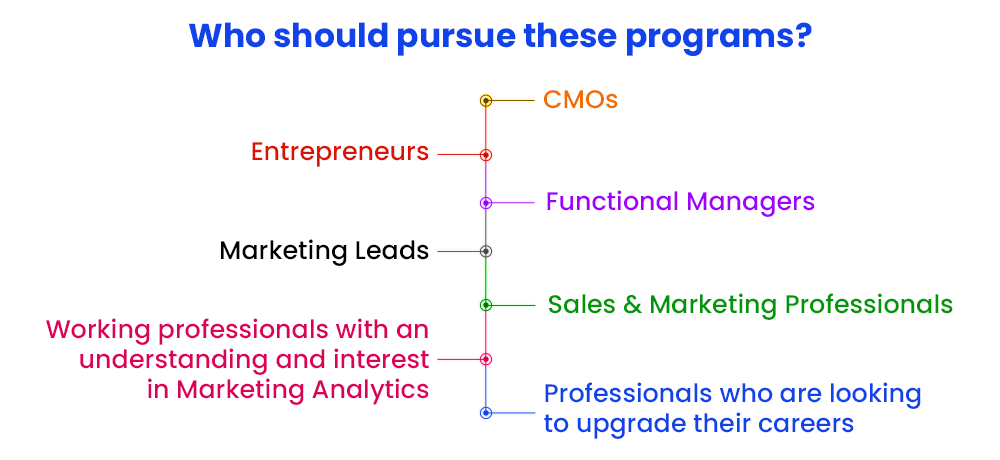 One of the primary goals of a Marketing Analytics EDP is to provide participants with the capacity to make data-driven choices. Professionals that understand how to evaluate and interpret marketing data may find trends, patterns, and opportunities that drive effective marketing initiatives. This results in more efficient marketing budget allocation, increased targeting and personalisation, and a higher return on investment (ROI) for marketing campaigns.
Key Highlights of Online Executive Development Program in Marketing Analytics
Online eDP in Marketing Analytics has several key highlights, a few of which are mentioned below:
Participants receive a thorough grasp of both qualitative and quantitative market data and how to successfully evaluate and interpret it to derive valuable insights for marketing decision-making.
The curriculum highlights the relevance of data visualisation and prepares participants to present complex data in a visually appealing and readily understandable manner.
Participants will learn how to use data to acquire insights into consumers' demographics, preferences, and behaviours of consumers. This knowledge aids in the development of focused marketing plans and campaigns.
Participants will learn to use data insights to develop effective marketing strategies. In addition, they know how to integrate marketing operations with business goals and create data-driven strategies to obtain a competitive edge.
The curriculum contains case studies and real-world examples to provide learners with practical experience and help them solve marketing analytics problems.
The curriculum is given by famous faculty members who are marketing analytics professionals. Participants will be able to benefit from their experience and receive insights into the most recent industry trends and practices.
The program provides flexible learning alternatives with weekend online sessions, allowing professionals to mix job and study.
Participants get in-depth knowledge and insights into marketing analytics, including recent trends, upcoming technologies, and best practices.
The curriculum includes hands-on instruction and exposure to popular analytics tools like R, Python, and Tableau.
The program includes a complete 15-hour Tableau Masterclass that will help you improve your knowledge of Tableau, a popular data visualisation application.
Syllabus of Online Executive Development Program in Marketing Analytics
While the specific curriculum of an online eDP in Marketing Analytics will vary based on the school and program, the following example curriculum offers a sense of the major courses commonly covered:
| | |
| --- | --- |
| Summarise Marketing Data | Workshop on R Programming |
| Understanding Marketing Environment | Segmentation, Targeting and Positioning |
| Expert Uvach | Product Analytics |
| Pricing Analytics | Expert Uvach |
| Place Analytics | Promotion Analytics |
| Measuring Consumer Responses | Calculating Consumer Value |
| Workshop on big data analysis using Python | Qualitative Data Analysis |
Eligibility Requirements for Online Executive Development Program in Marketing Analytics
The following are the eligibility requirements for the Executive Development Program (eDP) in Marketing Analytics:
Participants from India:
Graduates in any field from a recognised university (UGC/AICTE/DEC/AIU/State Government) are eligible to apply.
There is no particular field of study requirements for Indian participants.
On the other hand, a background in business, marketing, statistics, or a comparable discipline may be useful.
Although one year of corporate experience is preferred, it may only be required for some programs.
Participants from other countries:
International participants must have a bachelor's degree or an equivalent from a recognised university or institution in their home country.
The subject of study may vary, and applicants from various academic backgrounds are encouraged to apply.
Like Indian participants, one year of business experience is preferred but not required for all programs.
It is important to note that the qualifying requirements for the eDP in Marketing Analytics vary between schools and programs. As a result, it is advised to consult the official website of the individual program or contact the program coordinators for correct and up-to-date information on qualifying requirements.
Duration of Online eDP in Marketing Analytics
The Executive Development Program (eDP) in Marketing Analytics normally lasts 4 months. This length is intended to offer learners a thorough grasp of marketing analytics ideas, strategies, and applications in a short period.
Participants in the 4-month program engage in rigorous learning activities such as lectures, case studies, hands-on exercises, and projects. Online and offline program components include virtual courses, webinars, workshops, and interactive sessions.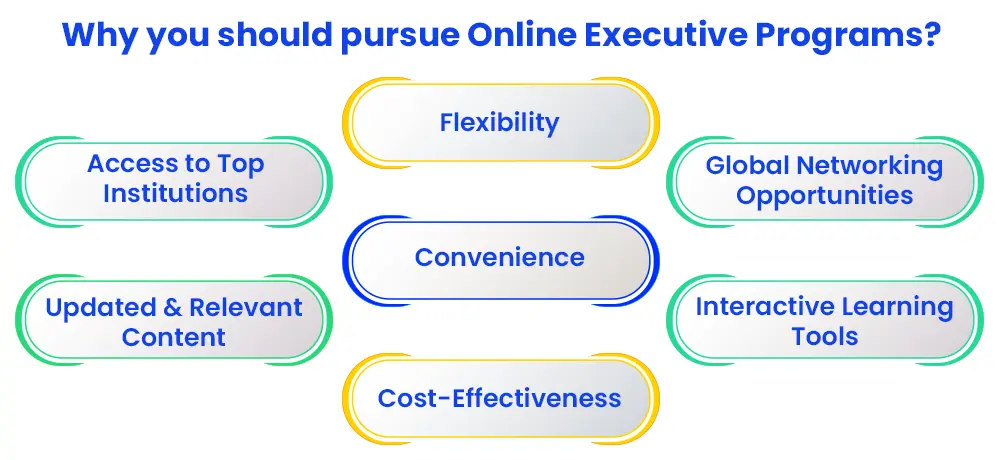 Admission Process for Online eDP in Marketing Analytics
Admission to a Marketing Analytics online Executive Development Program (eDP) may change depending on the institution or organisation that delivers the program. However, the following is a general overview of the standard admission procedure for such schools.
Step 1: Interested candidates must fill out an application form and submit it through the program's official website or approved application portal. The application form often requires personal information, school history, job experience, and any other information the program asks for.
Step 2: After the application deadline has passed, the program administrators assess and evaluate the applications that have been submitted. They look at the candidate's academic credentials, employment experience, statement of purpose (if one is necessary), and any other supporting documentation.
Step 3: The selection criteria differ based on the program and the institution. The selection committee evaluates Candidates' appropriateness based on academic performance, professional experience, motivation, and capacity to contribute to the program.
Step 4: After reviewing applications and conducting interviews (if necessary), program administrators notify chosen candidates of their acceptance status. Successful candidates get an admission offer containing program specifics, enrolling processes, and other pertinent information.
Step 5: Admission candidates must accept the offer within a certain deadline. They must finish the registration procedure, which may require them to provide further documentation, pay program fees, and confirm their participation in the program.
Career Scope After Getting Online eDP in Marketing Analytics
You may expect better professional chances and a greater variety of choices after completing an online Executive Development Program (eDP) in Marketing Analytics.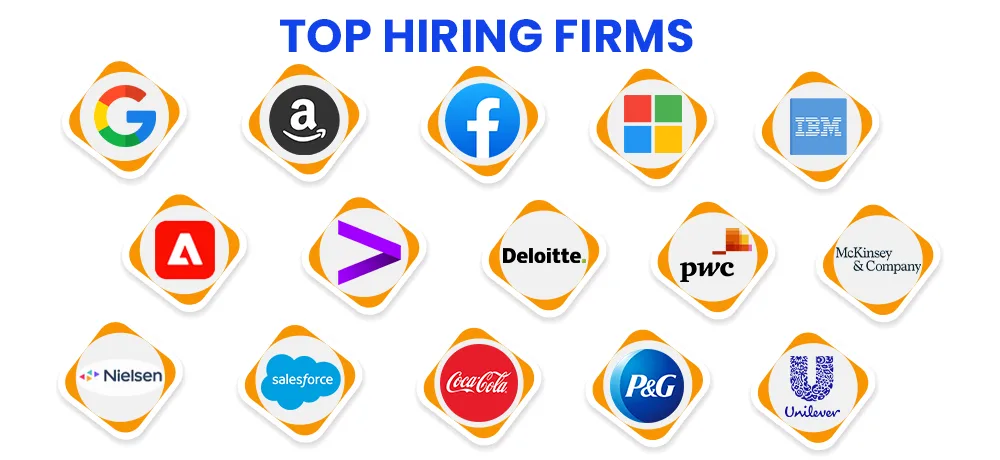 Completing an online Executive Development Program (eDP) in Marketing Analytics can lead to various employment prospects. Following completion of an eDP in Marketing Analytics, you may pursue the following career pathways and professional roles:
| | |
| --- | --- |
| Marketing Analyst | Digital Marketing Specialist |
| Market Research Analyst | Marketing Manager |
| Customer Insights Manager | Marketing Coordinator |
| Chief Marketing Officer | Marketing Strategist |
These are a few possible career options after obtaining an eDP in Marketing Analytics. Marketing analytics is a constantly expanding subject, and there is a rising demand for experts who can use data to drive marketing success. The program's skills and expertise will equip you for success in various sectors and organisations that value data-driven decision-making and marketing optimisation.