An Online Certificate in Product Management is a 3 to 12 months postgraduate certificate program that provides a comprehensive and easy learning experience and competencies to excel in this changing sector. Market research, product strategy, user experience (UX) design, agile techniques, product launches, and other subjects are covered in the curriculum. You will comprehensively grasp the end-to-end product management process via flexible online coursework, practical activities, and real-world case studies.
The program's emphasis on practical learning is one of its most notable features. You can apply your knowledge to real-world settings through hands-on activities, group projects, and case studies. This hands-on program allows you to hone the skills to solve complicated product management issues.
Experienced industry professionals create and deliver the curriculum, bringing their skills and ideas into the virtual classroom. You will learn from practitioners aware of current product management trends, problems, and best practices. Their industry-relevant insights will keep you updated on the most recent breakthroughs in the sector.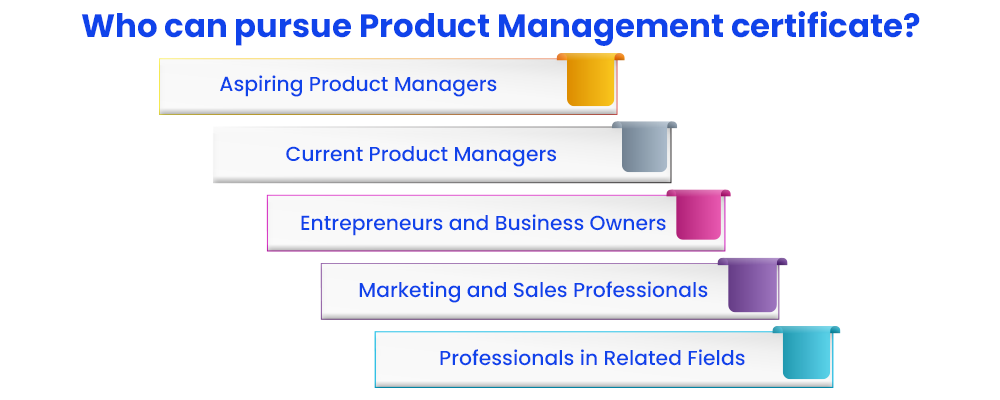 The program's flexibility and convenience are critical components. Because this is an online program, you may learn quickly and arrange your studies around your busy schedule. Whether a working professional or a busy student, the online format allows you to juggle your responsibilities while increasing your knowledge and abilities.
Online learning environments also provide great networking possibilities. You will be able to network with a broad group of individuals from all industries and backgrounds. Participate in debates, collaborate on projects, and learn from your peers and professors to broaden your professional network.
Key Highlights of Online Certificate in Product Management
The following are the highlights of the Online PG Certificate Program in Product Management:
The certificate contains a comprehensive curriculum that covers essential product management topics, including product strategy, market research, product development, product launch, and product lifecycle management.

You will be able to gain insights and practical information from industry specialists through 15+ tailored industry seminars.

The program will help you improve your abilities by working through 10+ real-world case studies that relate academic principles to actual circumstances.

The applicants will be able to participate in a 10-week Product Mindset Bootcamp and get a certificate at the end.

Qualified professors with substantial product management industry knowledge conduct the curriculum.

The credential as an online program, the credential provides flexibility and convenience.

As part of the curriculum, you will gain hands-on experience by creating your product (BYOP).

You can use a career-focused approach that includes job-search advice and industry insights.

The applicant can enjoy unrestricted access to program content for three years, ensuring continual learning and skill development.

You'll get access to a network of 300+ recruitment partners, broadening your career possibilities and opportunities.

You can attend weekend live classes to increase your learning flexibility and convenience.

You will receive high-performance coaching in a 1:1 situation to help you advance professionally as a part of the program.

The applicant can gain access to a job opportunities site that will link them with suitable employment positions.

The applicant can apply information through 'Product Teardown' exercises, which involve assessing and evaluating existing market goods.
Syllabus of the Online Certificate in Product Management
The Online Certificate in Product Management course is intended to offer learners a thorough grasp of important ideas and abilities necessary in product management. The program covers a wide variety of subjects relevant to product managers. The following is an outline of the syllabus:
| | |
| --- | --- |
| Developing a Product Hypothesis and User Personas | Product Vision and Goals |
| Product Road-mapping | Product Prototyping |
| Product Analytics and Iteration | Product Engineering and Execution |
Eligibility Requirements for the Online Certificate in Product Management
The Online Certificate in Product Management criteria may differ based on the school or program that offers the certification. However, the following are some frequent qualifying conditions that candidates may be required to meet:
Most programs require applicants to hold a bachelor's degree in any field from a recognised university. Some programs, however, may accept applicants with comparable practical experience in place of a degree.

While not necessarily required, past job experience, especially in a relevant industry such as product management, marketing, or business, might help improve the application.

Because the program is in English, individuals who do not speak English may be required to submit standardised language assessments such as the TOEFL or IELTS.
These are basic qualifying requirements, and specialised programs may have different or somewhat different requirements. Prospective applicants may consult the official website or contact the program organiser for accurate and up-to-date information on the qualifying requirements.
Duration of the Online Certificate in Product Management
The Online Certificate in Product Management's length varies according to the program and institution providing the certification. The curriculum is generally flexible, allowing participants to finish it at their speed within a specific timeframe. Typically, the period extends from 3 to 12 months.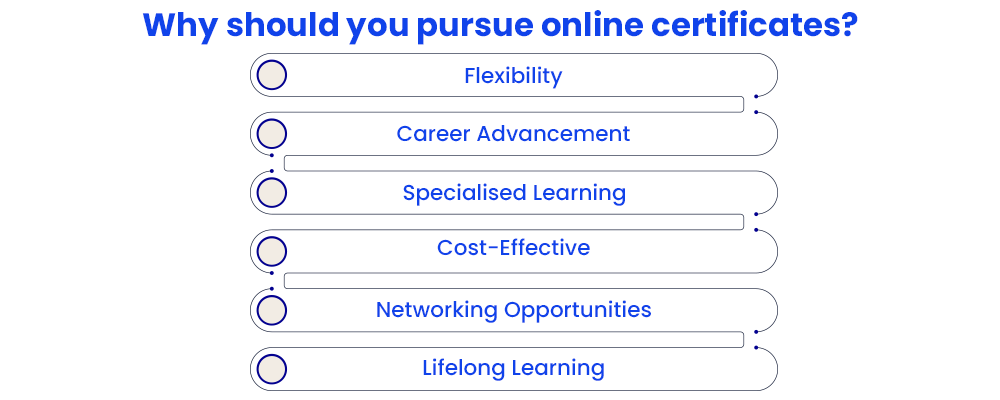 The program is designed so that participants may access the learning materials, modules, and assignments online, allowing them to study and proceed through the program according to their availability and time commitment. Some people may want to complete the program in a shorter time frame, devoting more time each week, whilst others may prefer a longer time frame, spreading their study hours over a longer period.
Admission Process for Online Certificate in Product Management
Admission to the Online Certificate in Product Management may differ based on the school or platform that provides the certification. However, the following is a broad outline of the processes involved in the admission process:
Step 1: Explore several universities that provide the Product Management Certificate. To choose the program that best meets your requirements and goals, consider criteria such as program reputation, content, faculty, and delivery mode.
Step 2: Once you've decided on a program, you must complete an online application. Personal information, educational history, job experience, and contact information may be requested on the application form.
Step 3: After submitting your application, the institution or program administration will analyse it to determine your eligibility and appropriateness.
Step 4: In addition to your application, you may be needed to provide supporting papers such as copies of academic transcripts, a resume/CV, a statement of purpose, letters of reference, or any other documentation requested by the program.
Step 5: After reviewing your application and paperwork, the institution will tell you of its admission decision by email or an online application site.
Step 6: If accepted, you must complete the enrollment procedure, which often entails providing relevant papers, signing agreements, and paying program costs. The university will provide you with specific advice on payment options and deadlines.
It is crucial to remember that the specifics of the admissions process may change between universities and programs. As a result, for accurate and up-to-date information on the admission process and requirements, it is advised that you visit the official website of the program you are interested in or contact the program administrator directly.
Career Scope After Pursuing an Online Certificate in Product Management
Companies across sectors are looking for someone who can drive product innovation, lead successful launches, and strategically manage the whole product lifecycle. If you are passionate about producing amazing products and want to build the abilities required to flourish in this industry, earning an Online Certificate in Product Management might be a game changer for your career.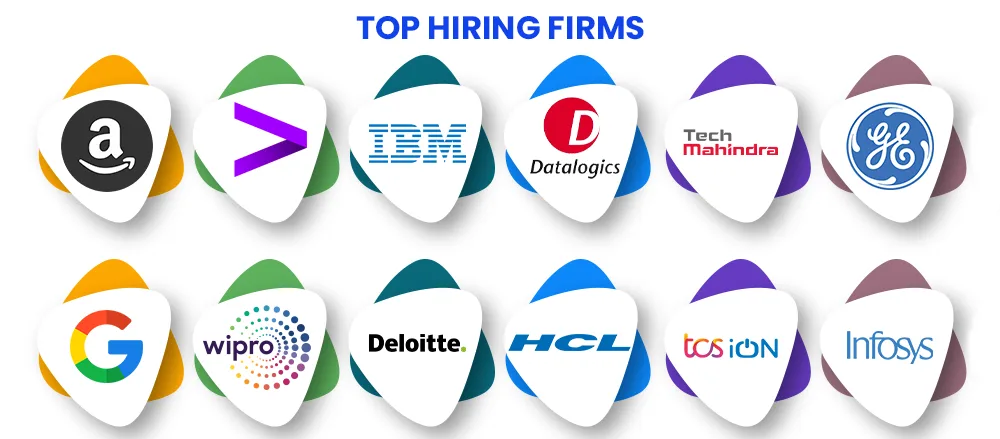 These firms, noted for their dedication to product quality and innovation, provide varied product portfolios and exceptional career progression opportunities for product management experts. There are also countless additional technological corporations, consumer products manufacturers, software firms, and consulting groups that provide interesting potential in product management.
Obtaining an Online Certificate in Product Management may lead to intriguing employment options in various sectors. Here are some examples of possible career pathways and opportunities:
| | |
| --- | --- |
| Product Manager | Product Marketing Manager |
| Business Analyst | Entrepreneur or Startup Founder |
| Project Manager | Innovation Consultant |