The Global MBA, as its name suggests, is an MBA program that teaches you numerous management techniques in accordance with international standards. It primarily aims to assist students in learning about global business management methods. It exposes the student to a variety of cultures. Students must learn about these new management specialties and the most recent developments in global business practices in order to survive in this era of globalization.
The duration of a global MBA program varies from university to university. It is a one-year curriculum in certain universities, and a two-year program in others, both of which count toward an MBA degree. The best thing is that if you enroll in this course online, you can learn from the top universities while being at home along with learning the most recent information.
Other Types of MBA Also Available
Key Highlights of Global MBA Online
The course duration of this program varies from 1 to 2 years depending upon the university from which you are doing the course.

The academic fee ranges from Rs. 4 to 8 lacs depending upon the university from which you are pursuing this course.

While learning this course students get to learn about the international MBA curriculum.

The student also gets ready for working in the international business market after completing this course.

The student would get access to a varied number of global recruiters all around the globe.

The student will also get an idea about the work culture of different countries.

If you pursue this course online, then you can learn it from various international industry experts with just one click from the comfort of your home.
Particulars

Details

Course Duration

1 year to 2 years depending upon the university

Fees

Ranges from Rs.4 to 8 lac in case of the online course.

In the case of offline courses, the fee might be increased.

Education Mode

Generally offered in Online mode
Course Curriculum of Global MBA
As mentioned above that in some universities it is a 1-year course and in some, it is a 2-year course. So, here are some of the core modules of the global MBA curriculum:
| | |
| --- | --- |
| Business Communication | Accounting and Management |
| Behavioral Sciences | Business Law |
| Accounting & Finance | Decision Sciences |
| Sales and Distribution Management | Operations and Supply Chain Management |
| Business Strategy | Leadership and People Performance |
| Research Methodology | Leading Change for sustainable future |
| Enterprise and Risk Management | Digital Innovation in Business |
| Thesis Project | HR |
These modules could vary from university to university but the basics of Global MBA are mentioned above.
Eligibility Criteria required for doing this course
Bachelor's degree with minimum 50-55% marks from a recognized university.

No specific subject specializations are required for enrolling in this course.

Minimum of 2 to 3 years of work experience is also required for pursuing this course.

Other than this several universities require some specific qualification for pursuing this course that you could check from the university website from which you want to pursue.
How to Apply for this Course?
Applying to a Global MBA Online is the same as applying to the regular MBA program. For applying to this course follow these set of guidelines:
Registration:

After checking the eligibility criteria, register yourself on the university website. After that, your login credentials will be sent to you via the contact information that you entered during the registration process.

Application Form:

Start filling out your application form after signing in by entering your login credentials. Carefully fill in all the required details asked in the application form.

Documents Upload:

After filling out the application form, upload all the required documents in the prescribed size as mentioned.

Fee payment:

After completing the whole process submit the fees required to confirm your admission process. And, take a printout of the application form for future use.

Verification and Confirmation:

After all this, the university verifies your details and qualifications and if satisfied then sends you the confirmation mail with regard to this on your e-mail.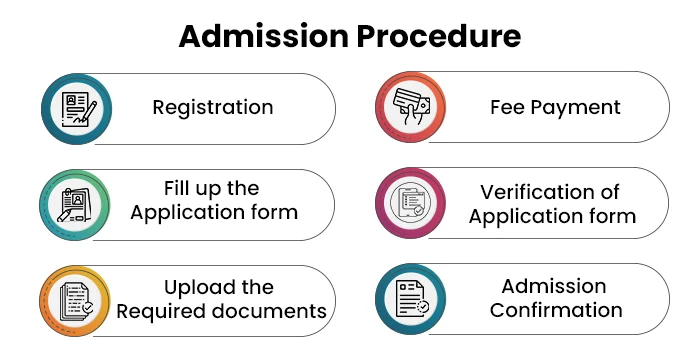 Top Universities Offering Global MBA
Several universities offer the Global MBA course in online mode. Some of the universities are listed here:
| | | | | |
| --- | --- | --- | --- | --- |
| Name of University | Course Duration | Academic Fee | Mode of Education | Approvals |
| Golden Gate University | 15 months | Approx Rs.7 lacs | Online | WES recognized |
| Liverpool Business School | 18 months | Rs. 4,20,200 | Online | WES and AACSB recognized |
| Deakin University | 2 years | Rs. 5,50,000 | Online | AACSB, EQUIS, and WES recognized |

Possible Opportunities available after completing this course
If you want to make your way through the global market then, this field is for you. A varied number of opportunities are waiting outside in several top Multinational Companies. After successful completion of this course, you can apply to a variety of sectors for several job opportunities. Majorly, a Global MBA gives wide exposure to the international business environment. Some of the sectors where Global MBA graduates can work are mentioned here:
| | |
| --- | --- |
| Global Networking | International Trade Policy |
| Global Management Consultants | Multinational Marketing Manager |
| International Sales Manager | International Trade Specialist |
| Business Development Manager | Healthcare Services Manager |
Top Companies Hiring
Several companies are out there that seek Global MBA graduates. The need for professionals in this field is rising as times are changing. Here are some of the companies listed that hire Global MBA grads:
| | |
| --- | --- |
| Tata Consultancy Services | Apple |
| Amazon | Deloitte |
| BCG | JP Morgan |
| Google | Microsoft |
| Accenture | Morgan Stanley |
| Cognizant | Reliance Industries |
| IBM | Dell |
Advantages of doing a Global MBA Online
Doing any course online has several advantages so is the Global MBA. Know about some of the advantages of doing this course online: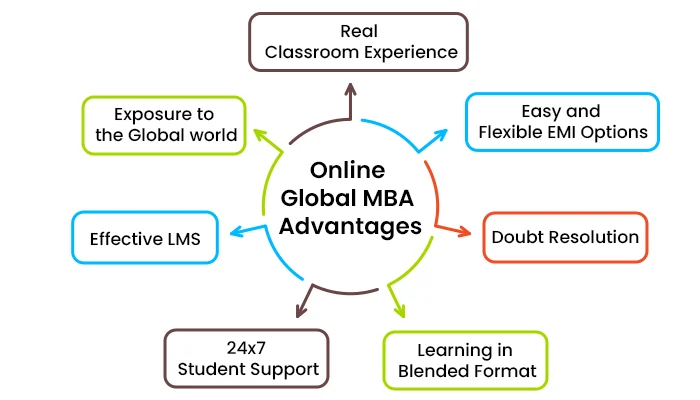 Global Exposure:

Learning this course online benefits you by providing exposure to a varied of industry experts in one place through webinars, workshops, guest lectures, etc.

Effective LMS:

The backbone of the online education system is its Learning management system (LMS). The LMS that the university should be effective and efficient for a better learning experience. All the e-content and learning materials are provided on the LMS for easier accessibility and also for learning at your own pace.

24x7 Student Support:

The student support system is always there to help you when in need. Whether it is a problem related to academics or an LMS-related problem or any other problem related to your course, the student support system is always there to support you. So, that you don't feel the necessity of campus learning.

Blended Format:

The course is provided in blended format means that along with live lectures you can also get the benefit of recorded lectures.

Get your doubt resolved:

With the best experts associated with the universities ask your doubts and get them resolved within the shortest time possible.

Easy and flexible EMI options:

The academic fee can be paid easily with the help of easy and flexible EMI options available. So no need to worry about how to pay the fees in one go.

Feel a real classroom experience:

The course is available in the online mode that doesn't mean that you feel any lesser than the offline classroom learning experience. Timely online classroom sessions, student performance analysis, term-end examinations, projects, doubt sessions, and assignments all these things will be provided during the online learning process.
Why Opt for an education loan for Global MBA Program?
Taking a look at the expensive fee structure of the Online Global MBA programs it is kind of not everyone's cup of tea to afford these online global MBA programs. So to make it everyone's cup of tea one can check various education loan options available for an online global MBA program. Opting for an education loan offers an array of benefits to an individual wanting to pursue an online global MBA program. The education loan covers the basic course fee and other study-related expenses of this online program. The easy monthly EMI options make it quite easier for the individual to repay the educational loan amount. So it is kind of a fair deal for the individual to easily pursue these expensive online programs.