Any aspirant who has completed their graduation in any stream is eligible to enroll in the Online MBA program. For admission in this program, there are some universities that take entrance examinations while some others provide direct admissions on the basis of their eligibility criteria. The aspirants having 2-3 years of work experience in a relevant industry are preferable.
The basic admission criterion is that you complete your Bachelor's education from a recognized university/institution
The minimum duration of an online MBA is 2 years and the maximum duration is 4 years. The candidates get extra 2 years to pass all the exams of their degree course. The curriculum of the program is divided into 4 different semesters of 6 months each.
There are some common steps that you need to follow to take admission to universities in an online MBA program:
The academic fee of the online MBA course ranges from INR 30,000 to INR 3,00,000. The academic fee of the course varies as per the university, for instance, if you pursue your online MBA degree from a government university then the fee will be around INR 30,000- INR 80,000 and if you go for a private management institute then the fee will be around INR 2,00,000 to INR 3,00,000 for the full course. At College Vidya, you can check the fees of most of the universities that are offering your course. For this, you need to fill in your basic information and course requirements and then you can easily compare the online MBA courses provided by a large number of universities.
Job Opportunities For Online MBA Degree
The online learning MBA course is a PG course in management with great career scope. Completing graduation may allow you to venture into entry-level jobs but higher education helps students escalate to mid-level and top-level management posts swiftly. The MBA course is essential in this regard as it provides appropriate knowledge of business management and administration to the students, which will be helpful to understand the field of management more intensely and manage the company's algorithms and grow a career in management.

Source: payscale
The online MBA course will surely help you gear up your career to heights. You can go into the field of business management, economics, financial management, human resource management, and other fields like consultancy, and risk analysis after completing this course. Online Degree Course You May Be Interested - Online MCA In India
There are many specific posts where students can apply after completing the online MBA course and a few of them are listed below, besides that students can start their own businesses by applying the strategies and can thrive in the path of careers like-
| | | |
| --- | --- | --- |
| Marketing Manager | Brand Manager or Risk Manager | Sales Manager |
| Equity Research Analyst | Digital Marketing Manager | HR Manager |
| Management Consultant | Account Manager | Project Manager |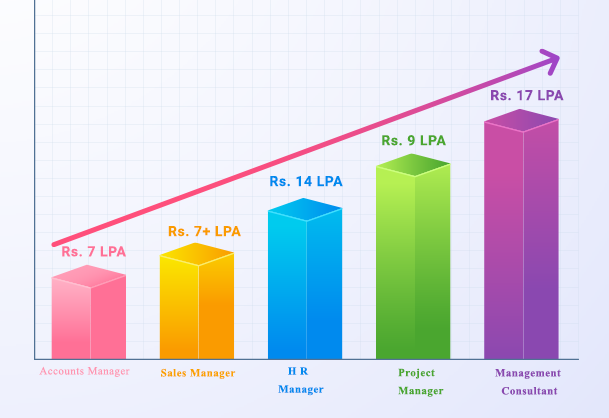 Top Hiring Firms For MBA Graduates
| | | | |
| --- | --- | --- | --- |
| Amazon | BCG | Wipro | Deloitte |
| JP Morgan | Microsoft | Cognizant | ICICI Bank |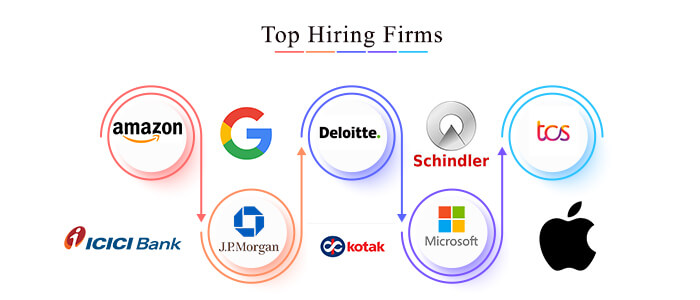 Other Types of MBA
Although everyone is aware that the Online MBA has grown to be extremely popular in recent years, there are still many more MBA options accessible. Regular MBA, Executive MBA online, Distance MBA, and more are additional forms of MBA. Let us know in brief about all the other MBA options available out there.
Regular MBA: A Regular MBA program is a postgraduate-level business degree that aims to give students a solid grounding in a variety of business disciplines, such as finance, accounting, marketing, human resources, and operations management. Regular MBA program graduates usually work in a variety of sectors, including finance, consulting, marketing, and entrepreneurship.
In addition to regular MBA programs, online MBA programs provide several advantages to students, including the freedom to learn at your own pace and balance work and studies. So, if one wants to pick amongst them, getting an online MBA is an excellent career alternative.
Online Executive MBA: An online Executive MBA (EMBA) program is a graduate-level business program designed for working professionals who want to enhance their leadership skills and advance their careers. Unlike traditional MBA programs, which typically require full-time enrollment, an MBA for working professionals course allows students to complete coursework and attend classes remotely, often while continuing to work full-time.
Students in an online EMBA program can expect to develop their critical thinking and problem-solving skills, network with other professionals in their field, and gain the knowledge and credentials needed to take on senior leadership roles within their organizations.
Online Global MBA: An online global MBA is a great opportunity for those who want to explore and learn the industry curriculum of the global market. The Global MBA program primarily focuses on helping students to learn various management techniques as per international industry standards. The Global MBA program is offered online mode which provides various additional benefits to the students.
From the comfort of your home, the students can learn from the top B-schools in the world. And get various additional skills and learnings from the global mentors present out there. The learners also get exposed to various international recruiters and get an opportunity to showcase their management skills to them.
Distance MBA: For those who want to obtain a Master of Business Administration degree without having to physically attend classes, distance MBA courses offer a flexible and practical option.
Through the help of self-learning materials students get to study the various aspects of the distance MBA program. One can get a varied number of career opportunities after the completion of the distance MBA programs.
In contrast to online MBA programs, however, students in distance MBA programs do not benefit from personalized mentoring opportunities, instantaneous doubt clarification options, or even does not get placement opportunities.
Online MBA Dual Specialization: An online MBA dual specialization course offers students the opportunity to focus their studies on two distinct areas of business. By pursuing two specializations simultaneously, students can broaden their skillset and enhance their marketability in the job market.
In Demand Online MBA Dual Specialization
Examples of popular dual specializations include finance and marketing, logistics and supply chain, and production and operations management. Online MBA dual specialization programs typically offer flexible scheduling options, allowing students to balance their studies with work and other responsibilities. Graduates of these programs may be well-suited for management roles in a variety of industries.
Popular Online MBA Colleges Or Universities in India
| | |
| --- | --- |
| Online MBA Universities | Mode of Education |
| Narsee Monjee Institute of Management Studies (NMIMS), Global Access School for Continuing Education (NGA-SCE) | Open Distance Learning (ODL) |
| Chandigarh University | Online & ODL |
| Jain Online University | Online |
| Lovely Professional University (LPU) Online | Online |
| Manipal University Jaipur | Online |
| UPES | Online |
| Amrita University | Online |
| Amity University (Online Learning) | Online |
| ICFAI University | Online |
| Dr. D. Y. Patil Vidyapeeth, Pune | Online |
| Hindustan Institute of Technology and Science | Online |
| Manav Rachna University Online | Online |
Why Opt for an Education Loan for an MBA Program?
Looking at the expensive course fee structure of the MBA program one must look out for the varied number of educational loan options available out there. The educational loan does not cover the basic course fee of the MBA program but also covers all the other education-related expenses like examination, library, etc. And as we know the major population who pursue an online MBA program are working professionals so they can easily manage and pay their academic fees through easy EMI options available at the concerned university. So we can also earn a sense of self-pride by funding our education.