Online MBA in General Management Program Overview
Online MBA in General Management is a two-year professional degree program that revolves around all the managerial activities of business and marketing. This course manages and covers all-around functions of finance, marketing, HRM, operations, IT, and other fields related to general business and management. This online course has a robust curricular base with industry-relevant concepts and courses.
This particular specialization of MBA equips you with the core and essential topics of the business field like strategic leadership, organizational design, project management, and so on. Just like a regular MBA course, you can get immense career opportunities after completing this online course. Moreover, students can explore their career options in almost all fields related to management in the government, private, and corporate sectors.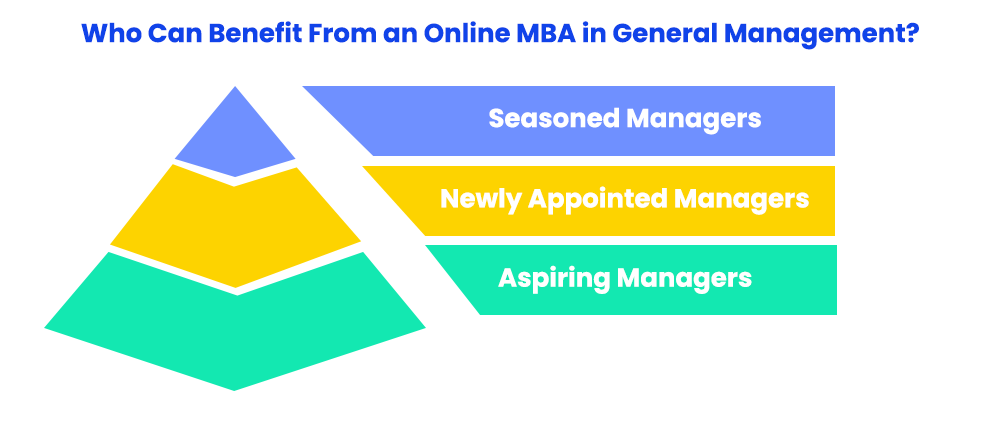 Apart from the conceptual depth, this program is quite vital in making you aware of the technical advancements in the business domain. With a varied number of facilitations like live online classes, recorded lectures, 24*7 LMS access, placement assistance services, and online forums, it makes your digital learning way more convenient and smooth.
Coming to the career prospects of online MBA general management, it is notable that due to the recognition from UGC, the acceptance rate of this degree by recruiters has increased tremendously. On the other hand, if you wish to go for a doctorate in business administration (DBA/Ph.D.), the online mode of your MBA degree won't be a barrier in your way.
Why Online MBA in General Management?
If you are planning on pursuing an MBA but are confused with specialization, General Management might prove to be an ideal choice for you. Worried about high tuition fees? Well, you do not have to even consider that with an online program for the same. Thus, online MBA General Management is an inexpensive, flexible, and skill-enhancing program that helps you achieve your career goals at a faster pace without quitting your job.
This program makes you learn advanced concepts of the business field and strengthens your basics. Upon completing this course, you can get promoted to the managerial, head, or other senior designations in your employment area including Finance, Marketing, HRM, Operations, IT, and other business-related fields.
With an online MBA General Management degree, you can even explore a variety of employment opportunities in both government and private sectors. Completed from a UGC-recognized university, this program can land you your dream job in MNCs.
Who Should Pursue Online MBA in General Management?
General Management is one of the interesting specializations of MBA which fits best in the title "Specialization For All." This title suggests that no matter which particular field you are serving you can learn the details of business and management for that field with this specialization.
An online MBA in General Management is well-suited for every management aspirant. However, the below-mentioned categories can do really well in their professions with this course.
Fresh Graduates
Project Heads
Team Leads
Newly Appointed Managers
Senior Executives
Aspiring Managers
When to do an Online MBA in General Management?
Online MBA (General Management) is offered by universities after addressing the lack of management skills in the working professionals and their needs for knowledge upgradation. Thus, its eligibility does not include any age gap for the applicants. Moreover, whether you have 10 years of work experience, 2 years of experience, or no experience at all, you can still apply for this program and learn the latest business tactics for your and your company's growth.
Popular & Affordable Private Colleges Or Universities for Online MBA in General Management in India
| | | |
| --- | --- | --- |
| Universities Offering Online MBA in General Management | NIRF Ranking 2023 (Management) | Full Fee Range (Might Vary) |
| Amity University, Noida | 28 | 1.80 Lakhs INR |
| Amrita Vishwa Vidyapeetham | 30 | 1.70 Lakhs INR |
| Birla Institute of Management Technology (BIMTech) | 48 | 2.75 Lakhs INR |
| Jain University, Bangalore | 85 | 1.50 Lakhs INR |
Key Highlights of Online MBA In General Management In India
The online MBA in General Management actively prepares the student for dealing with all kinds of management tasks that are practically orientated in the field of business and market.
This program equips you with the tricks and business strategies to handle management issues across all functional areas.
This course has been approved by UGC-DEB to be delivered in the ODL and online mode.
This is a postgraduate level management course of 2 years duration.
There are 4 semesters in this course and the last semester includes a major research-based industry project.
This online course features a practical, theoretical, and advanced approach to groom the overall personality of the student.
The engaging course pedagogy of this program including assignments, case study, quiz & MCQs, etc. help you in the self-paced learning and clears your doubts.
Virtual interaction with industry experts provides you with an insight into the corporate world and helps you get ready to face its challenges.
The online MBA in general management has a wide scope for career growth and students both working professionals and freshers get vast job opportunities on its completion.
The placement assistance offered by your chosen university gets you placed at top MNCs at competitive salary packages.
Online MBA in General Management Course Subjects/ Syllabus
The subject name/topics covered in this online program may vary based on your university choice. However, the main idea to provide you with 360-degree knowledge of the business field remains the same at all universities.
| | |
| --- | --- |
| Semester I | Semester II |
| Principles of Economics and Markets | Entrepreneurship |
| Managerial Effectiveness & Ethics | Marketing Management & Research |
| Accounting & Finance | Consumer Behaviour |
| Organizational Behaviour & HRM | Talent Acquisition & Management |
| Quantitative Techniques and Analytics | Banking & Financial Services |
| Semester III | Semester IV |
| Business Environment & Strategy | Retail Marketing & Brand Management |
| Operations Management | Digital Marketing and Data Analytics |
| Integrated Marketing Communications | Organization Development & Change Management |
| Employee Reward Management | Wealth Management & Behavioural Finance |
| Investment Analysis and Portfolio Management | Cross-Functional Elective |
| Open Elective | Project |
Top Specializations of Online MBA
Other Types of MBA Programs
Online MBA in General Management Eligibility
The primary eligibility requirements to apply for this online MBA specialization are listed below.
A Graduate in any stream from an authorized and recognized university can apply for this online MBA in General Management course.
A minimum of 45% to 55% aggregate marks at the graduation level are needed for admission to this online PG course.
Working professionals who have at least completed their graduation can also apply to the course.
Most universities conduct direct admissions to this course based on their minimum eligibility criteria.
Note: Some additional requirements may get added to the above list depending on the university that you choose.
Online MBA in General Management Duration
The minimum duration of an online MBA in General Management is 2 years, whereas, the maximum duration is 4 years. The universities provide 2 extra years to students of this online MBA to pass all the exams.
Skills Required for Online MBA in General Management
Candidates participating in this online MBA program need to possess certain core skills in order to accomplish their career goals. For your convenience, a summary of these skills is provided below.
Soft Skills: MBA recruiters highly focus on interpersonal skills, also referred to as soft skills. These talents include verbal and nonverbal communication, decision-making, problem-solving, and listening abilities.
Effective Strategy Execution: You must possess in-depth business knowledge to develop and put into practice innovative business strategies for optimal outcomes.
Communication Skills: This one involves efficiently conveying your thoughts or any other information to clients, supervisors, colleagues, etc. This way you will get your work done and deliver the project at a faster pace.
Leadership Skills: This quality will help you manage a team to finish your task on time. These traits can help you advance to the position of manager or CEO of your business.
Entrepreneur skills: Effective management skills are essential for a business to prosper. It will allow you to obtain expertise in managing a company or starting your own.
Is an Entrance Exam Conducted For an Online MBA in General Management?
In general, you do not need to take an admission exam to participate in an online MBA General Management course. Nevertheless, a few universities make an exception and offer this curriculum in exchange for high national exam scores. A few colleges even administer their specific program's aptitude test.
Below is a list of common MBA entrance exams that are considered by prestigious government and private institutions in India.
| | |
| --- | --- |
| CAT (Common Admission Test) | KMAT (Karnataka Management Aptitude Test) |
| PGCET (Postgraduate Common Entrance Test) | ATMA (AIMS Test for Management Admission) |
| CMAT (Common Management Admission Test) | MAT (Management Aptitude Test) |
| XAT (Xavier Aptitude Test) | NMAT (NMIMS Management Aptitude Test) |
| GMAT (Graduate Management Admission Test) | MAH CET (Maharashtra Common Entrance Test) |
| TANCET (Tamil Nadu Common Entrance Test) | SNAP (Symbiosis National Aptitude Test) |
Recommended Books
The MBA entrance exams are quite tough and need full dedication for preparation. You can join a training institute or coaching center to crack these exams. However, if you are more interested in following an independent learning approach, you can refer to the books tailored particularly for management entrances.
A few bestseller books in 2023 for MBA entrance exams are listed below that you can refer to for your preparation.
| | |
| --- | --- |
| Name of the Book | Author Name |
| Logical Reasoning and Data Interpretation for the CAT | Nishit K. Sinha |
| How to Prepare for Data Interpretation for CAT | Arun Sharma |
| How to Prepare for Verbal Ability and Reading Comprehension for the CAT | Sharma and Upadhyay |
| Data Interpretation & Data Sufficiency | Ananta Ashisha |
| Data Interpretation & Logical Reasoning | Gautam Puri |
| 30 Days to a More Powerful Vocabulary Mass Market Paperback | Wilfred Funk & Norman Lewis/ Simon & Schuster |
| How to Prepare for Verbal Ability and Reading Comprehension for CAT | Arun Sharma and Meenakshi Upadhyay/ Arihant |
Online MBA in General Management Admission Procedure
To be admitted to institutions/universities for an online MBA General Management program, you must generally follow these steps:
Step 1: Visit the university's (the university you are willing to accept admission to) official website.
Step 2: Register to create a new user account and enter your information in the application.
Step 3: Access the application form and fill it out. Submit it along with the registration costs and the necessary paperwork.
Step 4: In the next step pay your academic fees using any of the methods listed on the website, which often include demand draft, net banking, and UPI payment options.
Step 5: You will receive a confirmation email at the end with your student enrollment number and personalized login credentials.
Online MBA in General Management Academic Fees
The cost of an online MBA specialization in General Management is quite affordable considering the benefits it offers. However, you will see a significant gap in this range when you are opting for a government institution over a private one. The main reason contributing to this fee difference is the add-on learning facilities and placement services that are not there at government universities.
Online MBA in General Management Domestic Fee
The fee package for an online MBA (General Management) at private universities ranges between 1.5 to 3 lakhs INR. This range covers a variety of services that are crucial for your career ahead. At government institutions, you can complete the same MBA major at around 30,000 to 80,000 INR. However, this lower course fee can make you miss out on essential learning and placement assistance services offered at private universities. In addition to the program cost, you may be asked for some additional charges for one-time registration, examination fees, and GST.
Online MBA in General Management International Fee
International MBA aspirants can now apply to this online specialization at an affordable fee package. Indian universities have designed a fee structure, especially for foreign applicants which is around $4,000 to $5,000 for the entire course. This figure may vary depending on your country of origin.
Why Opt for an Education Loan for an MBA Program in General Management?
The Online MBA General Management program has expensive course fees, therefore it's important to know about the range of available student loan choices. In addition to the baseline course fee for this MBA program, the educational loan covers all other educational costs, including books, tests, and other fees. Furthermore, as most students participating in this online MBA specialization are working professionals, they can conveniently manage and pay their tuition through EMI alternatives provided by their chosen university. As a result, financing your education also boosts your self-esteem.
Is an Online MBA in General Management Worth It?
If you are concerned about expensive tuition fees and an MBA specialization for your domain, General Management can be the best option for you. An online MBA program in general management is not only affordable but skill-enhancing and helps you advance your career more quickly without having to leave your current job position.
The fundamental subjects of the business world, such as project management, organizational design, and strategic leadership, are taught in this specific MBA concentration. This training helps you reinforce your foundational knowledge while teaching you advanced business topics. You may advance to managerial, head, or other senior positions in your field of work including finance, marketing, human resources management, operations, information technology, and other business-related fields by finishing this course.
After finishing this online program, you'll have a ton of employment options, just like you would from a traditional MBA program. Additionally, students can investigate a wide range of management-related job paths in the public, private, and corporate spheres. This significant boost in recruiters' acceptance of this degree has resulted from UGC's accreditation. Moreover, the online format of your MBA degree won't stand in your way if you want to pursue a DBA/Ph.D. program in management.
Job Opportunities After Online MBA in General Management
There are numerous advantages to pursuing an online MBA (General Management). One of them is a plethora of job opportunities that are not limited to any specific field. Be it a government or private sector, this online MBA degree will get you placed at your dream job with some of the highest salary packages offered in the industry.
After completing this online MBA course, you can explore a variety of opportunities some of which are provided below:
| | |
| --- | --- |
| General Manager | General Operations Manager |
| Deputy Manager | Customer Relationship Manager |
| Human Resource Manager | Management Analyst |
| Management Consultant | Entrepreneur |
Top Recruiters
MBA graduates are in high demand in the industry. They are frequently hired by top-rated organizations irrespective of the mode they have chosen for their MBA specialization. On the other hand, the salary package offered to the ones who have completed their MBA in General Management ranges between 5-12 LPA.
Some of the firms actively hiring MBA graduates are listed here:
| | |
| --- | --- |
| Wipro | Amazon |
| Deloitte | Cognizant |
| Apple | BCG |
| Hindustan Unilever | Google |