The healthcare sector is currently one of India's fastest-growing industries. Students who want to enter this field and efficiently handle and regulate multifaceted hospital and healthcare systems are encouraged to apply for this MBA program. This program primarily assists students in learning about hospital administration and management. And providing this MBA program via online mode provides the individual with several advantages.
Individuals can learn from the comfort of their own homes thanks to online learning. Because there is no rush to get from one place to another. You can easily balance your studies and your work schedule if you are a working professional. As a result, students enrolled in this online MBA program enjoy a variety of benefits.
| | |
| --- | --- |
| Course Particulars | Details |
| Course Name | Master of Business Administration- Hospital Administration and Healthcare Management (HAHM) |
| Course Level | Postgraduate Level |
| Course Duration | 2 years usually divided into 4 semesters |
| Course Eligibility | Graduate with any stream or equivalent qualification |
| Mode of Learning | Online and Distance |
| Average Fee | Rs. 30,000 to Rs. 32,500 per semester |
Key Highlights of Online MBA in HAHM
The primary goal of the HAHM curriculum is to prepare students for the administration of complicated healthcare management systems.

The educational program is designed to meet the demands of the healthcare sector and its developments.

In addition to learning administrative fundamentals, students in this degree receive knowledge of management strategies for the healthcare sector.

The course lasts around 2 years and is frequently divided into 4 semesters, each lasting six months.

The course fee for this program normally ranges from Rs. 30,000 to Rs. 32,500 each semester, depending on the university one enrolls in.

The benefits of taking this course for working professionals are tremendous. One can simply balance their career and learning all thanks to the flexible nature of learning options.

Live and recorded lectures, readily available self-learning materials, e-books, and other tools are used in the courses to allow students to learn at their own pace.
Online MBA in HAHM Subjects
Here is the list of subjects that students studied during the program. Students gain excellent and deep learning of these subjects during the course curriculum:
| | |
| --- | --- |
| Semester I | Semester II |
| Principles And Practices of Management | Human Resource Management |
| Organizational Behaviour | Marketing Management |
| Management Accounting | Financial Management |
| Managerial Economics | Operations Management |
| Business Communication | Management Information System |
| Research Methodology | Strategic Management & Business Policy |
| Environmental Awareness and Disaster Management | Entrepreneurship Development |
| Semester III | Semester IV |
| Indoor and Outdoor Hospital Services | Hospital Administration & Biomedical waste Management |
| Ancillary Hospital Services | Operations Management in Hospitals |
| Legal Aspects of Hospital and Health Management | Generic Elective-II |
| Marketing of Health Care Services | Project Work Report |
| Community Health & Hospital Safety & Risk Management | - |
| Quality Management in Health Care Services | - |
| Generic Elective-I | - |
Eligibility Criteria for Online MBA in HAHM
If an individual is interested in pursuing this online MBA program then they must meet these eligibility requirements in order to take admission:
Any Graduate degree or equivalent.

Graduation must be done from a recognized university.

To be admitted, the individual must have received at least a 50% mark in their bachelor's degree.

No specific stream specialization is necessary to apply for admission.

Professionals who are currently employed are also encouraged to apply.
Duration of Online MBA in HAHM
This curriculum lasts for around two years and is typically broken up into 4 semesters.

Since learning can be done at one's own pace and flexibility, students have the chance to finish this degree in 4 years.
How To Apply for this Program?
If someone wants to pursue a career in this area and has an interest in doing so. In just a few easy steps, one can apply for the same:
Registration and Verification:

For applying first visit the admission portal of the concerned university to which one wants to take admission and fill up the registration form available. After filling up the registration form, the university will verify the contact information of the candidates like mobile number, and e-mail ID.

Admission Form:

After completing the registration and verification procedure, the candidate can fill up the admission form available on the website. For filling up the admission form one needs to fill in the necessary details as asked in the form.

Documents Upload:

After filling up the admission form, upload the required documents in the prescribed format and size as mentioned in the form.

Fee Payment:

After uploading the documents successfully, pay the required fee as asked to secure the admission seat.

Admission Confirmation:

After all the procedures, the university reviews the documents and the information provided by the candidate. After successful verification, the university informs the candidate through SMS, e-mail, etc about the admission confirmation.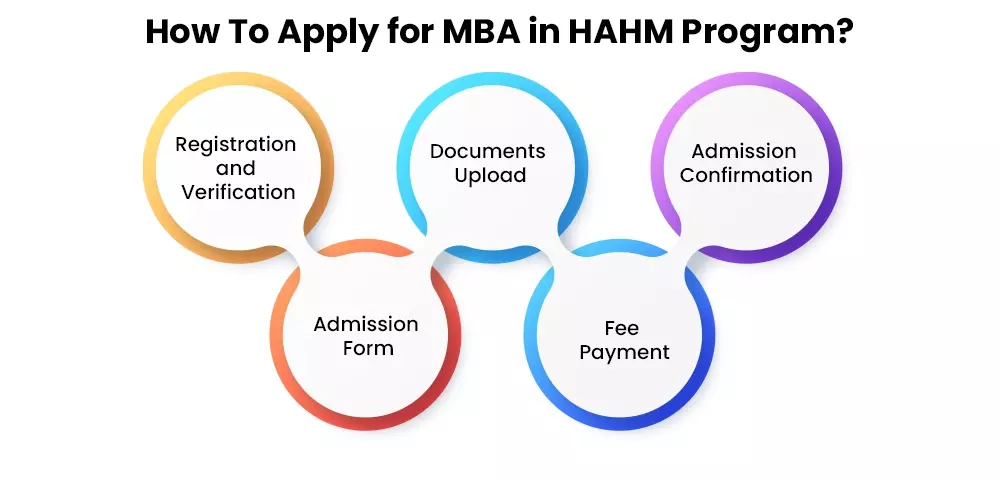 Career Opportunities After Online MBA in HAHM
Graduates of the Online MBA in Hospital Administration and Healthcare Management (HAHM) have a wide range of employment options in the healthcare industry. To efficiently manage the entire hospital administration, including the medical professionals, healthcare administrators are equally important as medical professionals are in the medical area.
The job profiles at which one can work after completion of this MBA program are as follows:
| | | |
| --- | --- | --- |
| Hospital Administrator | Medical Director | Blood Bank Administrator |
| Healthcare Finance Manager | Business Manager | Service Manager |
| Hospital Consultant | Planning Adviser | Health Administrator |
| Hospital Quality Assurance Executive | Chief Nursing Officer | Assistant Professor |
| Hospital Administrators | HR Recruiter | - |
Top sectors where one can seek employment after completing an MBA program in Hospital Administration and Healthcare Management:
| | |
| --- | --- |
| Hospitals | Clinics |
| Pharmaceutical Industries | Nursing Homes |
| Public Health Organizations and Departments | Healthcare Consulting |
| Blood Banks | Medical Laboratories |
Top Hiring Firms for Online MBA in HAHM
After successful completion of the MBA program in HAHM (Hospital Administration and Healthcare Management), one can get a varied number of job opportunities in the healthcare sector. And the top healthcare firms that are hiring HAHM experts are listed here:
| | |
| --- | --- |
| Glenmark | Star health |
| AMGEN | Pfizer |
| Omega Healthcare Management | Siemens |
| Fortis | Cipla |