An M.Com degree in India can be obtained through the regular mode or in online mode with newer innovations in education. The online M.Com course is designed according to the current education system and helps learners to gain the same knowledge and skills as they would through an offline regular course. Additionally, in an online learning course, the student can pursue a Master's degree in Commerce, and owing to the greater flexibility of learning, also take up a job or other engagements alongside.
M.Com from regular and M.Com from online mode are similar courses with curricula covering the same topics. The online M.Com course is a great learning option for those students who want to study the financial transactions of the business in-depth but wish to complete the course digitally or through correspondence. This course is beneficial to students as it not only teaches all the basics and foundations of commerce but also helps students upskill themselves simultaneously as they can work to gain professional experience alongside this course.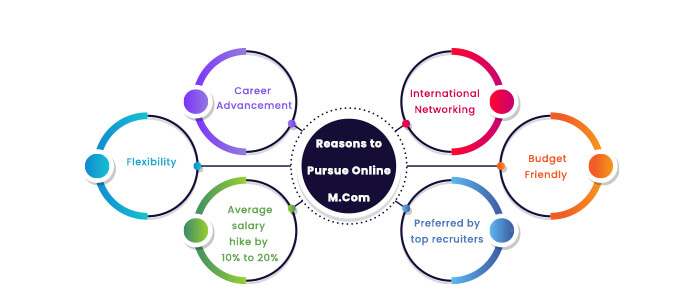 Key Highlights of Online M.Com Degree
Online M.Com is a Master's degree in commerce through online/virtual learning. The Master's degree will help you pursue higher education without physically attending lectures in offline mode.
In this course, the student will learn the financial concepts and skills that help administrate a business.
This course provides students with time flexibility as they can attend lectures based on their convenience.
The duration of the online M.Com course is 2 years, subdivided into 4 semesters.
The online M.Com course is cost-effective and the average fee is about Rs. 30,000 to Rs. 1,00,000 depending upon whether you pursue it from a government or a private organization.
For applying to Masters in Commerce the applicant must be a graduate, with preferably a background in commerce.
M.Com degree will enhance your knowledge and upgrade your career and credentials. Online Degree Course You May Be Interested In - online MBA in India
Online M.Com Syllabus
| | |
| --- | --- |
| Semester I | Semester II |
| Managerial Economics | Advanced Financial Management |
| Quantitative Techniques | Research Methods and Statistics |
| Professional Business Communication | Advance Corporate Accounting |
| Research Methodology | Microfinance Management |
| Business Environment and Regulatory Framework | Marketing Management |
| Marketing Management | International Financial Reporting Standards |
| Financial Reporting & Analysis | --- |
| Semester III | Semester IV |
| Entrepreneurship | Capital Market and Financial Services |
| Supply Chain and Logistics Management | Tax Planning and Procedure |
| Family Business Management | Business Finance |
| Research Project Report | Digital Marketing |
| Security Analysis and Portfolio Management | Corporate Social Responsibility |
Online M.Com Eligibility Criteria
The candidates who are willing to pursue online M.Com must fulfill the following eligibility criteria:
The candidates must have a bachelor's degree from a recognized university
The candidate must have 45% to 50% aggregate marks in graduation.
The candidates must have the required knowledge to pursue an online M.Com course (helpful if from a commerce/mathematics background)
Online M.Com Duration
The duration of online M.Com is 2 years and the entire curriculum of the program is divided into 4 semesters. However, the maximum duration of the online program is 4 years and so, the program is flexible and suitable for working professionals.
Online M.Com Admission Procedure
Visit the official website of the university to start the registration process and apply for the course.
Register yourself as a new user using your email ID and contact number.
Fill out the application form along with your details.
Submit the necessary documents' digital copies on the website for the verification process by the university.
Next, you need to submit the academic fee via any mode of payment available on the website (Net Banking/ UPI Payment/ Demand Draft, etc.)
Lastly, you will get a confirmation mail from the side of the university after your application has been reviewed and accepted.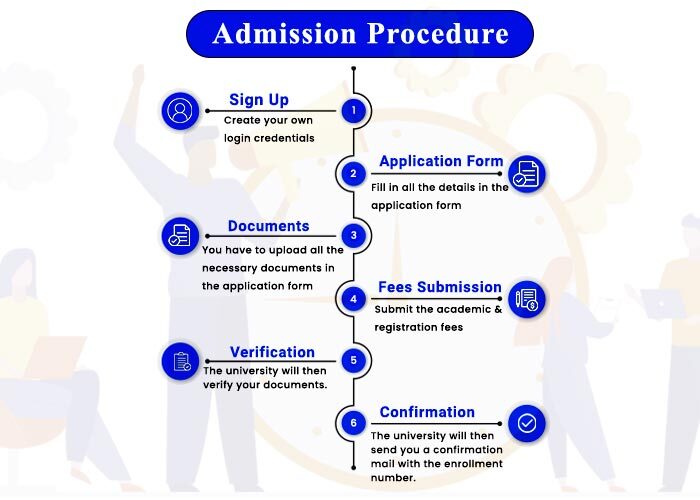 Best Online M.Com Course Specializations
Online M.Com Job Opportunities
There is a plethora of job opportunities available in the commerce and finance industries after pursuing an online M.Com. Students can also venture into banking and related fields after completing this course. Here is the list of job opportunities that are available after an online M.Com: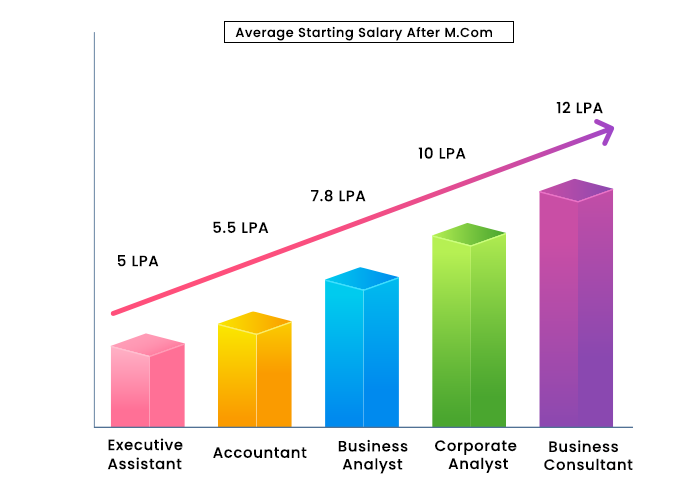 | | | |
| --- | --- | --- |
| Assistant Accountant | Business Consultant | Finance Analyst |
| Accountant | Executive Assistant | Corporate Analyst |
| Stock Broker | Finance Manager | Operation Manager |
| Corporate Banker | Investment Banker | Business Analyst |

Top Recruiters
| | | |
| --- | --- | --- |
| Goldman Sachs | Bain & Company | McKinsey & Co. |
| Barclays | Boston Consulting Group | Deloitte |
| KPMG | State Bank of India | Standard Chartered |

Why Opt for an education loan for MCom Program?
The question is why opt for an education loan? What benefits and features does the education loan provides to us?
The answer is quite simple one should go for an education loan due to the varied number of benefits provided to the students. The benefits like one can fund their education, easing the responsibility of your education from the shoulders of your parents. One gets various tax-related benefits when applying for an education loan. Anthe education loan can be easily paid after the completion of the program through monthly EMI installments. So isn't great to opt for such a thing that provides such benefits to an individual. So don't think this much and start a journey to fund your education.
Conclusion!
An online M.Com degree opens up the path for many career avenues in financial fields. The degree holder can apply for the posts like a financial manager, accountant, audit officer, business analyst, etc. in top companies, MNCs and banks, and finance hubs.
The students can pursue courses like CA, CS, FMS, or any related courses along with the degree or after completion as part of their higher education. After completing the online M.Com course, students can get a good salary package of an estimated amount of approx 4LPA to 6LPA which only hikes further with years of experience. Online Degree Course You May Be Interested In - Online MCA Courses In India