An online postgraduate diploma program in management can be pursued in several specializations. Project management is one of those specialization fields that can be pursued by working executives in online mode with great flexibility along with their job. This course is also beneficial for students who are planning to get into the management field for a progressive career.
This online management course is focused on 5 basic elements of projects that include Initiating, Planning, Executing, Monitoring, & Controlling. These points not only improvise your business skills but also builds a strong personality out of you. The online PGDM in the project management course makes you learn risk management, project analysis, and report preparations.
The curriculum of this online course equips with all the required aspects of managerial roles for a project starting from the very basic elements. It also makes you learn about the new methodologies & tools that are being used in the industry to make you proficient in the field. An online PGDM in the management of projects equips you with project audit techniques by strengthening your knowledge of the components of the project.
If you are someone who has been in the business domain for quite some time & wants to upgrade yourself, an online management diploma oriented around projects is one of the promising options for you. This program not only strengthens your theoretical knowledge but provides you with the opportunity to create projects on your own using some of the hi-tech tools like Microsoft Project and Jira.
Key Highlights of Online PGDM Diploma in Project Management
Learn the skills & art of management of projects in an online diploma course at a flexible learning schedule along with your job.

Earn an AICTE & UGC-DEB approved diploma in management of projects in a short span.

Build your conceptual learnings & prepare for the project management certification with a curriculum designed according to the Project Management Institute (PMI).

Upgrade yourself as an independent project manager by creating & closing your projects in this online diploma program.

Equip yourself with multitasking abilities, excellent communication skills, & analytical thinking to meet the demands of the industry.

Explore a variety of career options after completing an online diploma in the management of projects.
Syllabus of Online PGDM Diploma in Project Management
The curriculum of this online diploma program is designed by highly qualified experts & trainers incorporating the needs of the PMI. The study module of this program has been divided into 3 semesters of 6 months & a project term of 3 months.
The semester-wise syllabus along with the choices of Electives for this online course is mentioned below:
Semester I

Semester II

Semester III

Elective Courses (Any 1)

Project Term

Desk Research

Project Work
Eligibility of Online PGDM Diploma in Project Management
An online diploma in management of projects is a postgraduate diploma program that can only be pursued after the completion of a graduate degree. The primary requirements to be eligible for this program are listed below:
Graduation from any discipline from a Govt.-recognized University.

A minimum aggregate of 50% marks in the graduation.

Knowledge of communication English.
Duration of Online PGDM Diploma in Project Management
The usual duration of diploma courses is 1-2 years & so it is for this online diploma. The minimum time that you need to invest in this course is 21 months which is divided into 3 semesters (18 months) & 1 project term (3 months). The university also provides an extension of 6 months for the completion of the program providing learning flexibility to the students & thus, the maximum time you get to earn a PGDM in management of projects is of 2 years 3 months, or 27 months.
Fee Structure of Online PGDM Diploma in Project Management
The total fee for this online program is 65,000 INR for Indian students. The fee package for NRI students ranges between $1,800 to $2,000.
A fee waiver is provided to the students of specific categories as provided below.
20% for Specially-abled

25% for Alumni

30% for Defence personnel
The university also offers installment payment options for the course with 3 installments of 25,000 INR making the total cost of the course to be 75,000 INR. The Ist installment is paid at the time of admission, the second one is deposited within 3 months of admission, & the last one is paid within 6 months of the admission date.
In case students have to re-attempt an exam of any semester, they need to pay the examination fee per attempt of the exam. Also, this fee amount includes the cost of printed study materials. Those who do not avail of this service get a rebate of 5,000 INR from the university for their tuition fee.
NOTE: The fee package of this course is subject to change & can be confirmed from the official university website for each academic session.
Admission Process for Online PGDM Diploma in Project Management
The admission process for this online course is quite simplified & can be completed in the following steps.
Visit the official university website & go to the admission portal of the university.

Fill out the details in the admission form ensuring correct spelling & order.

Also, scan & upload the required documents on the university's admission portal specific to the category of your course.

Use the payment methods offered by the university to make the fee payments either in one go or in installments.

After verification of your document, the university will send you a Welcome Mail with the student login credentials within 3-4 days of your application submission to confirm your admission.

You will also get a Student kit within 7 working days of your admission.

You will also avail of the student login credentials & kit in case your admission status is "Provisional." The only difference is that you will only get to attempt your exams & assignments after your admission status changes to "Confirmed."
NOTE: You can also download the admission form, fill it out & then mail its scanned copy & other related documents to the university along with the fee payment slip.
Career Opportunities After Online PGDM Diploma in Project Management
There is a plethora of options available after the completion of an online PGDM course in the management of projects. The facets learned in this program like managing & leading a project & handling time constraints to close a project make you stand out of the crowd in this competitive industry. Project management as a profession is quite promising for management professionals & is demanded in almost every sector of the industry.
Project Managers are employed in some of the top sectors like Health Care, Manufacturing, Automobile, Petrochemical, IT, pharmaceuticals, & Agriculture. The average salary package for fresher project managers ranges between 4 to 28 LPA.
The salary trend of project managers in India is depicted in the graph below: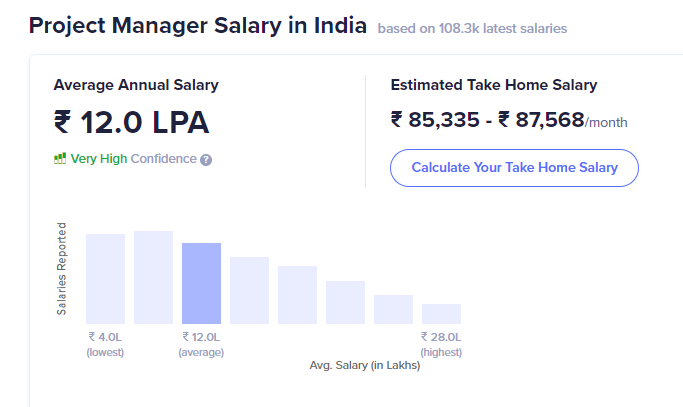 Some of the job titles available after the completion of an online PGDM in project management are listed below:
| | |
| --- | --- |
| Project Coordinator | Project Scheduler |
| Project Manager | Senior Project Manager |
| Project Planner | Product Manager |
Top Recruiters of PGDM in Project Management Course In India
| | |
| --- | --- |
| Wipro | BYJU's |
| Accenture | Paytm |
| Lenskart | Equitas |
| Bajaj Capital | Tech Mahindra |
| Flipkart | PVR Cinemas |