Online MS in Applied Data Science is a 2 years postgraduate program that allows working professionals to further their education without jeopardizing their professions. The program is meticulously designed to cover a wide range of topics, from data mining and machine learning to statistical analysis and data visualization.
Students acquire hands-on experience manipulating and analyzing data using various programming languages such as Python and R. Furthermore, it allows students to specialize in fields such as artificial intelligence, data engineering, or business analytics. These specialties allow students to customize their education to their job objectives and interests.
The capstone project is a crucial component of an Online MS in Applied Data Science, in which students work on real-world difficulties and apply their data analytic abilities to answer actual concerns faced by enterprises. These initiatives, which involve collaboration with industry partners or academic institutes, give vital experience while also building a solid portfolio to display competence to future employers.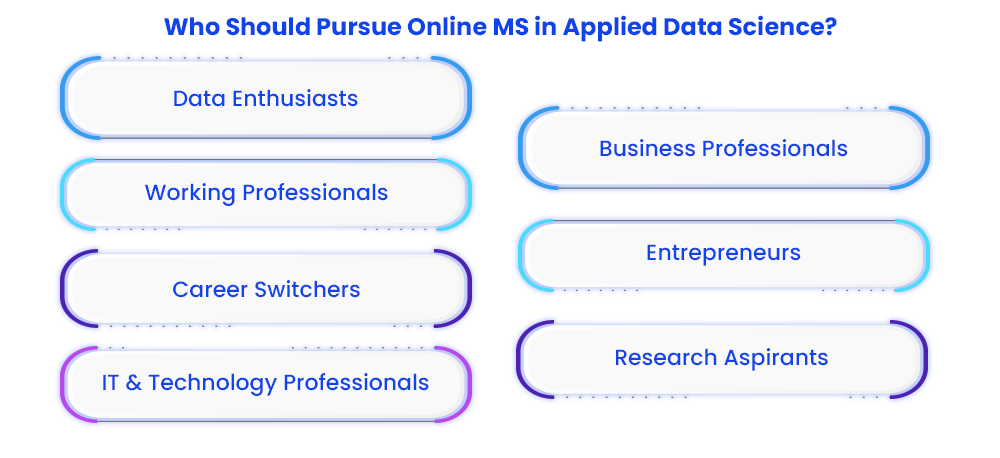 Despite being online, the program encourages networking opportunities with classmates, teachers, and data science professionals worldwide. Knowledge sharing, collaborative learning, and exposure to varied viewpoints are facilitated via virtual platforms, discussion forums, and online events.
Students may access lectures, coursework, and interactive projects from any location, allowing them to accommodate their education around their hectic schedules. Furthermore, online programs frequently use cutting-edge technology and learning platforms, allowing students to work with real-world data sets and industry-relevant projects.
Obtaining an Online MS in Applied Data Science opens the door to various exciting job prospects. Graduates can work as data analysts, data engineers, machine learning engineers, business intelligence analysts, and other positions. Finance, healthcare, e-commerce, and technology companies are especially keen to hire competent data scientists who can drive innovation and make data-driven choices.